Carla Ruiz,

AstraZeneca Spain

: "Barcelona is one of the most exciting talent hubs in Europe"

28 Jun 2023
This past March, the Anglo-Swedish pharmaceutical company AstraZeneca announced the investment in a substantial R&D reference center in Europe to be built in Barcelona. In the next five years, the corporation will invest 800 million euros and add 1,000 new employees.
The Barcelona R&D center of AstraZeneca strives to be a top European resource for clinical innovation. The facility will manage global projects in the five core therapeutic areas of their business: oncology, respiratory disorders, cardiovascular, renal, and metabolic diseases, vaccines and immunotherapies, and rare diseases.
In this interview, Carla Ruiz, HR Director of AstraZeneca Spain, explains the reasons why AstraZeneca chose Barcelona to locate the new center and what specific talent the company is already incorporating. This project has had the support of Catalonia Trade & Investment.

​​​​​​​AstraZeneca recently announced an 800 million euro investment in a new R&D center in Barcelona. What is the objective of this investment and what areas will you be focusing on?
The investment is for a new European AstraZeneca research and development hub. We want it to be a benchmark center, not only in Europe, but in the world. And it is already becoming so because we have, today, 16 different nationalities that make it an extremely diverse center in terms of culture and nationalities.
We want to increase our global footprint in research, building on what we already have as a country. We were already a point of reference in terms of clinical tests, and now we want to be the same in basic research and molecular development.
The new hub will not only cover the field of oncology and biopharmaceuticals but also rare diseases. What we want is to manage and oversee global projects and clinical studies.
We currently have around 180 ongoing studies encompassing all therapeutic areas: oncology, rare diseases, cardiovascular, renal, metabolic, respiratory, and monotherapy. It is a tremendous opportunity for Catalonia and Barcelona.
What are Barcelona's and Catalonia's strengths in the pharma sector?
I think that Catalonia and Barcelona are at the forefront of healthcare innovation. When we look at their ecosystem and the track record of pharmaceutical and medical companies, they are indeed a benchmark. This is a very positive starting point in terms of having a pool of talent.
Barcelona has 91 research centers, and over 1,300 bio-pharmaceutical, healthcare, and digital health companies. It represents 9% of the region's gross domestic product and employs 8% of the active population, totaling 250,000 people.
Barcelona also enjoys a high quality of life and is an international city, making it very attractive. This opens up a wide range of possibilities for creating this multicultural hub.
Barcelona and Catalonia hold a leading position in medical and scientific research and we've been collaborating with the ecosystem for a long time.
"Barcelona and Catalonia hold a leading position in medical and scientific research"
Carla Ruiz, HR Director of AstraZeneca Spain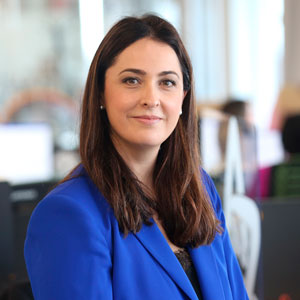 Describe your collaboration with other Catalan players in life sciences.
We have collaborated for a while across the entire clinical trial network. Spain plays a crucial role in clinical trials globally. We collaborate with research centers, hospitals, as well as startups and local institutions. This collaboration goes back a long time.
Since the launch of the hub, we have been receiving an overwhelming response. We are constantly receiving calls and working on presentations and specific talks because various institutions, including public and private ones, and universities, are collaborating with us. This project is beneficial to everyone involved.
In 2022, AstraZeneca led over 300 critical trials involving more than 4,500 patients. This puts us on the radar of this ecosystem and establishes AstraZeneca as a benchmark in the pharmaceutical industry.
Our company has three other strategic hubs located in Sweden, the UK, and the United States. The addition of Barcelona strengthens our overall value proposition by making it a leading European and international hub, complementing our existing locations.
What projects are you developing in Barcelona?
We are working on creating the José Baselga Innovative Disruption Program, which represents an investment of over €6 million.
This project is being developed in collaboration with Vall d'Hebron Hospital, specifically with the research institute led by Dr. Josep Tabernero (Vall d'Hebron Institute of Oncology-VHIO). A pilot project has been conducted to demonstrate how basic innovation can be promoted from Barcelona, and it's clear that the startup ecosystem in Catalonia is very extensive and highly positioned internationally.
The Vall d'Hebron Hospital is an outstanding institution that carries out a significant amount of international studies and attracts numerous professionals worldwide to work in Spain. Providing them with ample and sustainable research opportunities is vital, especially for researchers and scientific profiles.
The José Baselga Innovative Disruption Program is a highly significant project for AstraZeneca and led to Barcelona being chosen as the city to set up this hub. AstraZeneca conducted a global study to identify those cities that can attract top talent to this pool, and the investment in the program led by Dr. José Baselga was a key driver in the decision-making process. The three existing centers were becoming insufficient, and the pipeline of opportunities was very promising.
You announced that the new hub will generate over 1,000 jobs in Barcelona. What sort of profiles will you be looking for?
Yes, we are forecasting 1,000 jobs by 2025, and the results have been so positive that the numbers are on the rise.
These are highly skilled positions focused on research and also on technology. They are high-quality and long-lasting jobs. Our goal is to attract individuals looking to establish a career in Barcelona and stay for the long term.
We are looking for professionals such as bioinformaticians, biochemists, engineers, physicists, and so on. Our range of profiles is extensive. We need to combine research expertise with digitalization know-how. Therefore, we also require mathematicians, industrial engineers, and programmers.
Within a month, we will have hired around 250 people, marking a historic milestone for AstraZeneca.
What's your view on the access to talent in Catalonia?
Barcelona is one of the most exciting talent hubs in Europe, both for local and international talent. It brings together a high level of universities, business schools, and research centers, along with a robust healthcare ecosystem. Barcelona encompasses all the critical areas necessary to recruit and create the ambitious project that AstraZeneca has underway.
Furthermore, Barcelona is highly appealing to international talent due to its quality of life, positioning, and focus on innovation and technology, owing to the presence of currently existing projects and its cosmopolitan and diverse culture.
Barcelona also benefits from excellent transport connections, with Barcelona-El Prat Airport well-connected to many cities, which further boosts its appeal.
All of these factors make talent attraction relatively straightforward and highly positive. In fact, the caliber of candidates and the local and international talent we are presently attracting and incorporating into our team has been extraordinary.
Tell us about the support you've received from Catalonia Trade & Investment.
Our collaboration with Catalonia Trade & Investment has meant that the reach of AstraZeneca's initiative has significantly increased.
ACCIO-Catalonia Trade & Investment is the Catalan government agency for business competitiveness, and it plays a leading role in supporting the transformation of Catalan companies. That's why we have engaged with this innovation and technology ecosystem to present our research and development center.
We've done so following a collaborative model that enables us to grow together to attract the talent we need. This talent is often not found within the pharmaceutical industry, so we must conduct a more targeted search.
ACCIO-Catalonia Trade & Investment helps us complement the knowledge of the ecosystem and transmit our value proposition. It's a win-win situation because the AstraZeneca center grows and can boost Barcelona's own local economy.
We are grateful and pleased with this collaboration. We believe it is just a starting point, and with ACCIO-Catalonia Trade & Investment, we will continue to develop significant initiatives in the coming years. It has been a very fructiferous working relationship.
Catalonia is the sixth region in Europe regarding clinical trial development, with half of them focused on oncology, one of AstraZeneca's key areas of focus. What objectives does the company have in this field?
There are two areas in which we will focus heavily on in the Barcelona hub, on one hand, oncology, and on the other hand, rare diseases in collaboration with Alexion.
In oncology, the growth of precision medicine requires changes in aspects such as the design and execution of clinical trials. Oncology demands significant technological advancements and relies on the digital world to improve timelines and maximize outcomes.
The new hub will contribute to exploring new ways to enhance performance, results, and clinical trials while involving more capabilities and diverse approaches.
It is also essential to highlight the progress we are achieving in the oncology field through precision medicine and biomarkers, which provide us with a solid foundation for understanding other conditions, such as chronic diseases.
Over 90% of our portfolio currently focuses on precision medicine, making us an integral part of this innovative research. As a company, we have a very ambitious purpose: to save lives and improve the population's health.
This challenge involves transforming and revolutionizing the approaches we previously took toward disease. We are developing scientific proposals to tackle cancer from different angles. We are implementing transformative technologies based on data intelligence and artificial intelligence.
We believe that with this new center, capabilities will multiply, and we will be able to achieve more powerful tools and solutions to fight against cancer. And for that, we need the best talent to develop these solutions and grow with us.
Setting up your company

Catalonia Trade & Investment assists foreign companies in starting a business in Barcelona-Catalonia.

See more

Access to talent

Access to all sources of available talent for international companies in Barcelona-Catalonia.

See more

Barcelona & Catalonia Startup Hub

Browse over 2,000 startups and discover Southern Europe's most vibrant and dynamic entrepreneurial hub.

See more
More news

and

success stories

.