Semiconductors

,

an essential sector in Catalonia with growth potential

.
Semiconductors have become essential and sensitive components for the technological sovereignty of countries on a global scale since chips are strategic for most industrial value chains. You can search our database to find Catalan suppliers in the semiconductors sector.
Indeed, semiconductor chips impact a wide range of industries: communications, electrical and electronic equipment, vehicles, robots, and industrial machinery, and even medicine and medical equipment.
As the report drawn up by Catalonia Trade & Investment points out, while global demand for semiconductors is mainly for communications (33%) and computing (29%), automotive (37%) and industry (25%) stand out in Europe.
In this sense, Catalonia is already positioning itself as one of the most dynamic environments in southern Europe in the field of the design of semiconductors.
This is evidenced by recent investment announcements by Cisco, Monolithic Power Systems (MPS) and Intel, which have chosen Barcelona to locate their microchip design centers. Moreover, Catalan company IDEADED will open close to Barcelona the largest private semiconductor clean room in southern Europe.
Public support in the semiconductors field
The European Chips Act, introduced in February 2022, will involve an investment of more than €43 billion with the target of the EU accounting for 20% of the global semiconductors market by 2030.
Moreover, the Spanish Government is implementing public investment in semiconductors (Strategic Project for Economic Recovery and Transformation- PERTE). This financing will involve €12.25B until 2027 to develop the design and production capabilities of the microelectronics and semiconductor industry in Spain.
"Barcelona will become a meeting point for the design of high-performance chips"
Mateo Valero, Barcelona Supercomputing Center director
104 companies and research entities
​​​​​​Mapping of the semiconductor ecosystem in Catalonia
The semiconductor ecosystem in Catalonia is formed by 4,400 professionals and 104 companies and research entities, according to the study Semiconductors in Catalonia.
81% of the companies in the semiconductors sector in the region are SMEs (and 8% are startups). Moreover, 37% have an annual turnover of more than 10 million euros.
The document points out that the semiconductor industry is in a development phase in Catalonia and has significant growth projection. Its is noteworthy that 42.3% of the Catalan manufacturing industry uses semiconductors in processes or products.
It is important to note that this analysis does not yet include the projects announced in recent months by some multinationals, such as Cisco and Intel, as they are still not fully implemented.
As of 2022, Catalonia Trade & Investment is working with a portfolio of 22 potential foreign investment projects from multinational companies in this sector. If they all materialized, they would represent an investment of more than 1,600 million euros and the creation of 1,800 new jobs in the next two to three years.
Furthermore, Catalonia has infrastructures of international reference - such as the Barcelona Supercomputing Center (BSC) and the ICFO- and the ability to generate and attract talent. Catalonia has 12 technology centers with R&D activities in semiconductors and 6 Catalan universities that offer training in this field.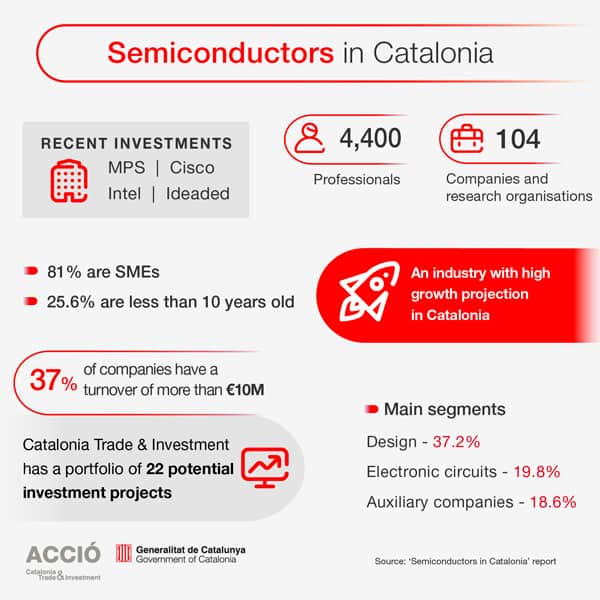 ​​​​​​​
Related news

and Success Stories


in Barcelona (Catalonia)

.