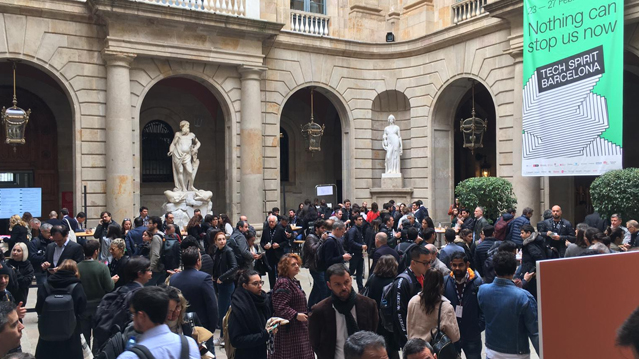 Yes, we can! How Barcelona rallied round after the unexpected Mobile World Congress cancellation
26 Feb 2020
Spoiler's alert: this is a story with a happy ending. A story about how a region characterized by a strong entrepreneurial spirit has been able to make a comeback after a very unexpected occurrence. On February 12th, the coronavirus situation caused the cancellation of the Mobile World Congress and the 4YFN, two of the most important trade shows worldwide in the digital sector, with a huge yearly impact on Barcelona's economy.
Tech Spirit Barcelona, a grassroots movement
Instead of sitting back and complaining, the response of the local digital entrepreneurship sector manifested itself in a grassroots movement. In record time and in a spontaneous collective effort, Tech Spirit Barcelona put together a new programme for startups and entrepreneurs from February 24th to 27th.
In only 4 days, about 5,000 people registered to attend the 45 conferences and 110 activities to be held throughout the city of Barcelona. More than 100 local and international investor funds have attended too, some of which had already planned to travel to the Mobile World Congress and did not cancel.
From chef Ferran Adrià to Microsoft, Airbnb or Glovo
The "Yes, we can!" spirit of Catalonia made things happen and came up with an attractive programme of events at no cost. Celebrities such as chef Ferran Adrià, or Berkeley University professor Jerome Engel, have spoken at Tech Spirit Barcelona, as well as representatives of leading companies such as Microsoft, Airbnb, Cabify, Glovo, TravelPerk or Uber.
Tech Spirit Barcelona included seminars about 5G technologies, Artificial Intelligence, Sustainable Mobility or disruptive innovation, among others, as well as investor pitching events and tons of networking opportunities.
Barcelona Tech City – a local association that brings together more than 1,000 startups – was leading the momentum, with the support of the Government of Catalonia, the Barcelona City Council, the Mobile World Capital, the Zona Franca Consortium and the Chamber of Commerce.
Catalonia Trade & Investment organised more than 1,000 business meetings at Tech Spirit Barcelona
Catalonia Trade & Investment joined the Tech Spirit Barcelona with a set of activities that were planned for the Mobile World Congress. In total, more than 1,000 business meetings took place between 450 companies, investors, and potential clients and partners.
One of the activities organised by the local agency was the Corporates & Startups Innovation Challenge, where Catalan startups proposed their solutions to technological challenges in the fields of health, fintech and connectivity raised by 35 corporate multinationals such as Volkswagen's SEAT, Nestlé, Sanofi, ASICS or Suez.
Catalonia Trade & Investment also promoted the Brokerage Event, a matchmaking event aimed at putting in touch hundreds of companies from 30 countries. The participants held 20-minute meetings to explore opportunities for collaboration.
Looking forward to the Mobile World Congress 2021
Despite the big success of Tech Spirit Barcelona, organisers have it clear that this is a one-time event. The Mobile World Congress will come back to the city of Barcelona next year, revitalised and stronger than ever.
Dates have been recently announced by the GSMA for March 1st to 4th, 2021. After a two-year period, Barcelona will be expecting a huge comeback. But this time, with the certainty that in the face of adversity, the city always wins.
Related

news

and success stories

.