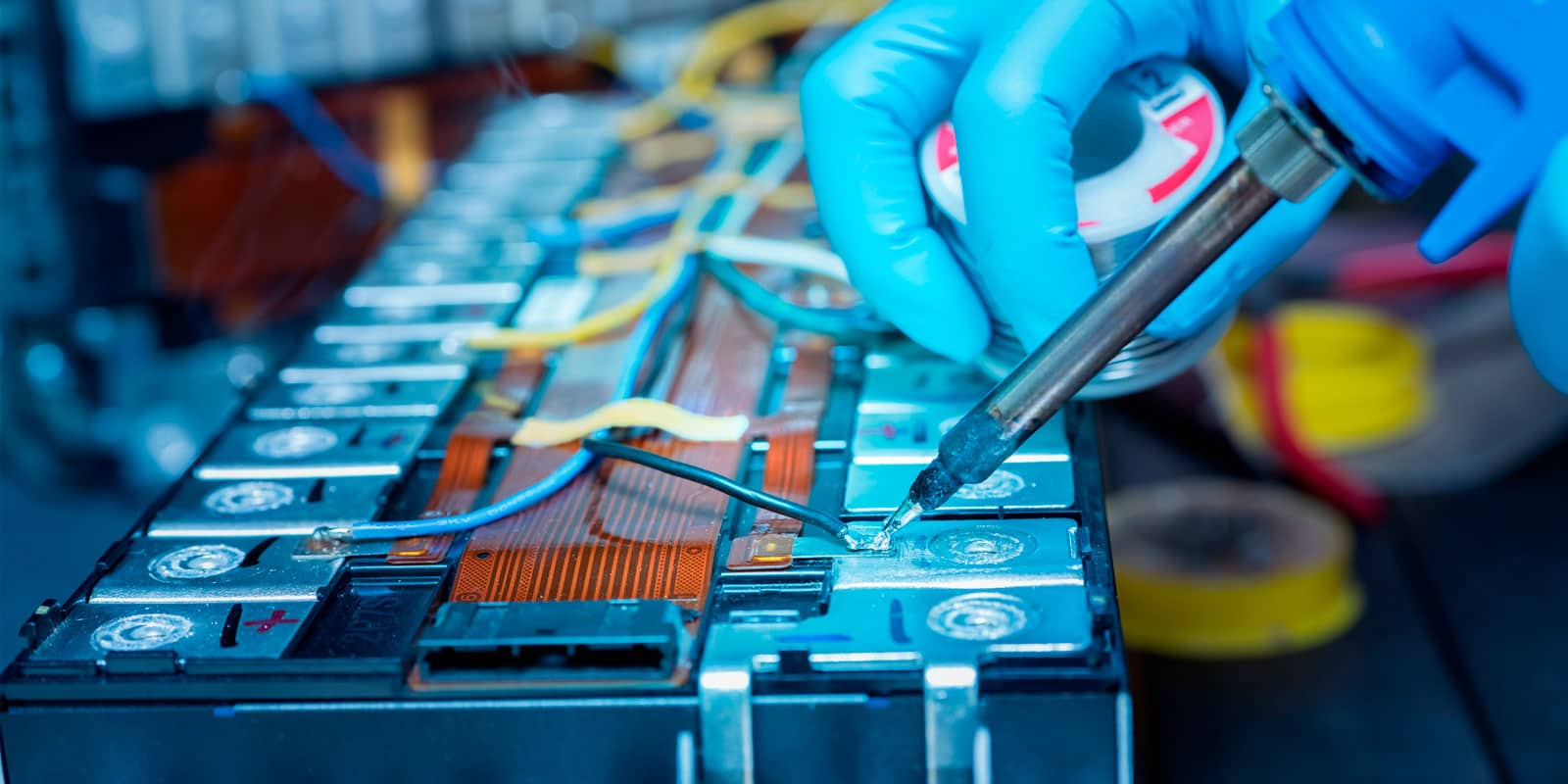 South Korean

battery component company

ILJIN Materials

will invest 600 MEUR to open its first European factory in Catalonia

15 May 2022
Business Investments · Automotive, Logistics & Smart Cities
Content available in: Korean
This was announced from Seoul by Minister Torrent after a meeting with executives of the Asian company, one of the only in the world dedicated to the manufacture of copper foils for electric vehicle batteries and other electronic products
This high added-value investment project – strategically significant for Catalonia- contemplates the creation of 500 new jobs with a 30,000 m2 production plant forecasted for opening in Mont-roig del Camp, Tarragona, in 2024
This is the largest greenfield industrial investment in Catalonia in the last 20 years
The project has been handled throughout last year by ACCIÓ-Catalonia Trade & Investment teams in both Barcelona and Seoul, in collaboration with the town's city hall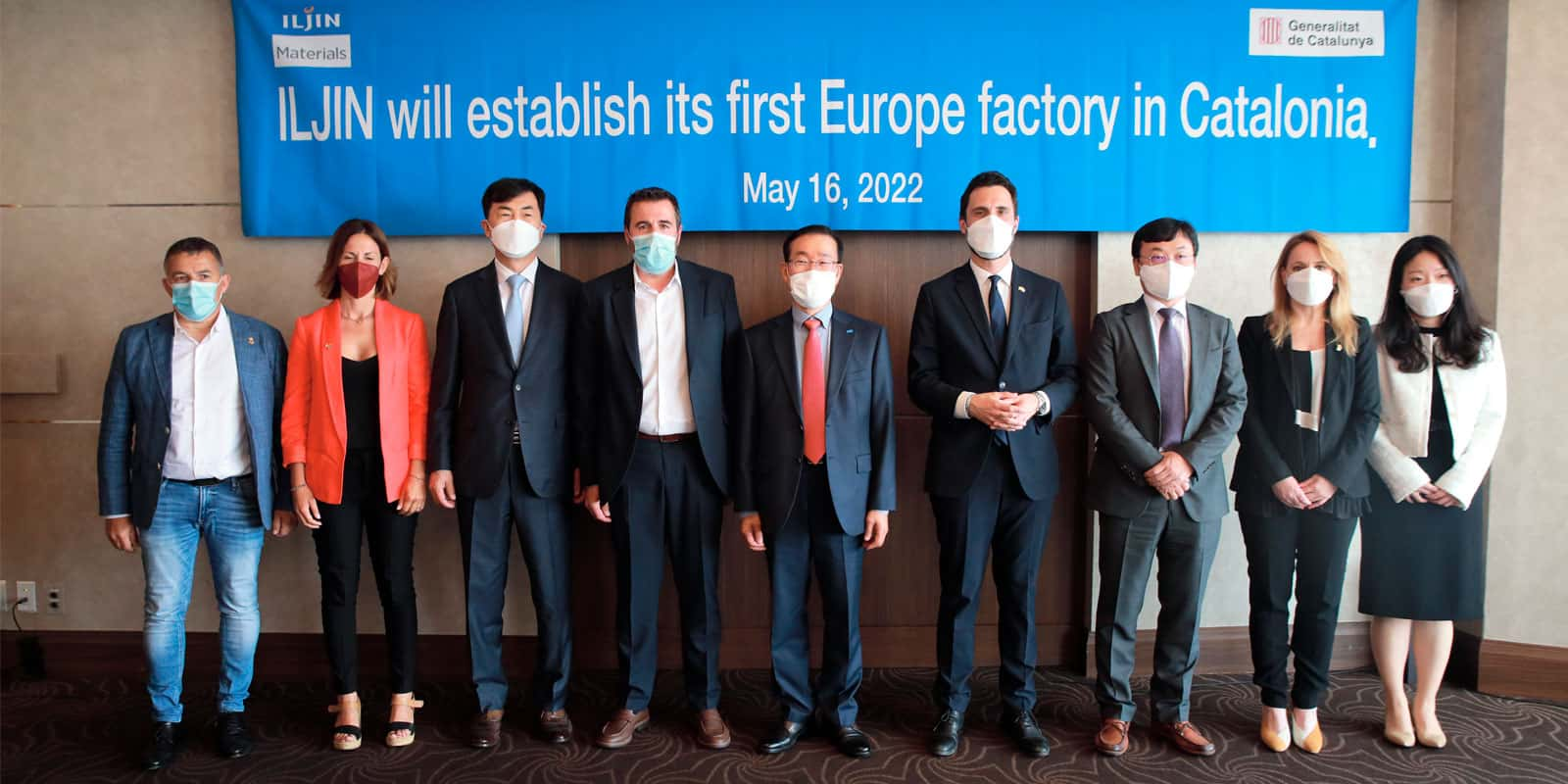 ​​​​​​​
The Minister for Business and Labour, Roger Torrent, announced that the South Korean company ILJIN Materials, manufacturers of battery components, will invest 600 million euros and create 500 jobs in Catalonia with the opening of its first European factory in Mont-roig del Camp (Tarragona). Torrent revealed this news after meeting in Seoul with company executives, one of the few global companies dedicated to the manufacture of copper foils for electric vehicle batteries and electronic products.
This greenfield investment project (investments of companies that had no previous presence in the region) has been managed by ACCIÓ-Catalonia Trade & Investment teams in Barcelona and from its Seoul office. The office in Seoul identified ILJIN Material's interest in expanding in Europe and spent last year working in collaboration with the city hall of Mont-roig del Camp to make it happen in Catalonia.
Minister Torrent stated: "This is the largest greenfield industrial investment project in Catalonia in the last 20 years". The head of Business and Labour stressed that this operation "responds to the Government's priority to reindustrialize the country taking into account green businesses, with projects of high technological value, which have a drag effect on our economy, generate quality employment and are aligned with the collective challenges of our society".
He also stressed that "this is great news for the future of the automotive industry in Catalonia" and thanked the leaders of the Korean company for its "decision to invest in Catalonia and its confidence in the Catalan productive ecosystem to choose the region for implementing its production in Europe".
ILJIN's CEO Jeom-Sik Yang, for his part, explained that one of the reasons why they have decided on Catalonia was because of the climate "since the temperature in Mont-roig is ideal for the production of this material, the electfoil. On the other hand, the support and help of the Catalan Government and the City Council throughout the negotiation has been decisive for our election, as well as the commitment of the different administrations for the automotive industry".
The strategic situation of Catalonia has also been a determining factor, he said, as "it is well connected with Europe and North Africa, with good maritime, air and rail connections that will supply all our European customers".
The mayor of Mont-roig del Camp, Fran Morancho, welcomed the announcement and said: "The tourism and the services sector account for almost 90% of the local economy, so we suffer from seasonal employment. In addition, the pandemic has severely affected the town and the recovery is being difficult, so this investment is a great opportunity, which also responds perfectly to our strategy of economic diversification and green transition".
Minister Torrent explained that ILJIN's production plant is forecasted to be operational as of 2024. It will cover an area of 30,000 m2, comprising the factory, warehousing areas, and a technical building. ILJIN Materials, founded in 1968 with its headquarters in Seoul, has 1,100 employees internationally. Since its foundation, it initially only had one production plant in Iksan (South Korea), but a few years ago it built a new factory in Malaysia. Its customers include LG Energy Solution, Samsung SDI, Volkswagen, and Northvolt, among others.
The multinational firm manufactures its patented Elecfoil, a copper foil thinner than a human hair and is a basic element for lithium batteries. This fact makes ILJIN's investment strategically significant and of high added value for Catalonia since it is a key component in cathode collectors in electric batteries used in electric vehicles and energy storage applications.
In fact, this investment is expected to have a strong multiplier effect for local suppliers as has been the case in Malaysia as well as attract new foreign investment projects linked to this area.
ILJIN was supported by and worked close to Catalonia Trade & Investment, ACCIÓ's foreign investment attraction area. This unit works in attracting new foreign investment projects in Catalonia out of Barcelona and via ACCIÓ's network of 40 International Trade and Investment Offices around the world.
Furthermore, it provides comprehensive advice to foreign companies to facilitate their investment process. In fact, 2022 marks the 10th anniversary of the opening of Catalonia Trade & Investment's office in Seoul.
South Korea, the world's leading country in R&D
With a population of 50 million people, South Korea is one of the economies that invests the most in R&D and innovation and one of the technological powers on an international scale. It leads the global ranking of the most innovative economies compiled annually by Bloomberg and annually spends more than 4% of its GDP on R&D and innovation, making it the second-largest OECD country to invest in this area.
For this reason, ACCIÓ signed an agreement with the National Research Council of Science and Technology (NST) - South Korea's leading R&D entity - with the aim of promoting technological cooperation between the two countries.
South Korea is one of the priority countries in the framework of ACCIÓ-Catalonia Trade & Investment's strategy for attracting foreign investment. It has a very significant number of companies in sectors in which Catalonia also has a strong industrial tradition, such as automotive, chemical, energy, and ICT.
Some important investment projects of South Korean companies in Catalonia are Smilegate, which recently opened its first international video game development studio in Barcelona, ​​and the chemical company Miwon, which opened its first production plant production outside Asia in Manresa.
Post-investment service

We offer an aftercare service following your company's establishment and helping you expand your activity in Catalonia.

 

 

See more

Access to talent

Access to all sources of available talent for international companies in Barcelona-Catalonia.

 

 

See more

Business Location Service

Get all the information about industrial buildings, land, business centers, or office spaces in Barcelona-Catalonia.

 

 

See more
More news

and

success stories

.