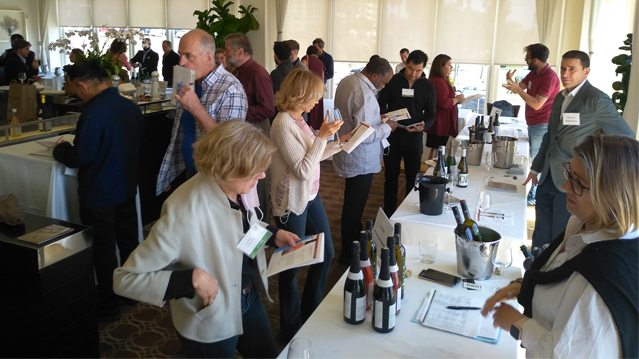 Catalonia Trade & Investment resumes the Catalan Wines program in the United States with two tastings in Los Angeles and Nashville
11 May 2022
Catalonia Trade & Investment has resumed the Catalan Wines program in the United States, organizing two wine tastings in Los Angeles (CA) and Nashville (TN). These are the first face-to-face events since the pandemic, which had forced them to temporarily suspend them.
Held by the Catalonia Trade & Investment office in Miami, the Catalan Wines program has promoted 12 Catalan wineries in front of 20 importers and distributors from the United States with the aim of encouraging trade agreements with the wine sector in Catalonia. The United States is one of the main importers of Catalan wines and cavas, along with Germany.
In Los Angeles, the tasting took place at the iconic Casa del Mar Hotel in Santa Monica. In Nashville, the meeting took place in City Winery.
The Catalan wineries that participated at the events are Agustí Torelló Mata, Albet i Noya, Alsina & Sardá, Casa Mariol, Castell d'Or, Clos Montblanc, Covides, Domenio Wines, La Vinyeta, Mas Llunes, Monestir del Tallat and Vins Claramunt.
The attendees valued their experience highly positively. Marta Vaquer, Casa Mariol's director of sales, said: "The Catalan Wines program has helped me better understand the US market, see where we want to focus and expand. The organization has been excellent".
Anna Vazquez, Export Area Manager at Covides, stated: "Catalan Wines goes beyond wine tasting. The format is ideal. We have been able to work in small groups with importers and distributors, with the possibility of dedicating the necessary time for them to taste and know what they are looking for".
US importers and distributors also expressed their satisfaction with the program. Bruno Laclotte, president and CEO at Hillside Wines, said: "We have to educate people about these new types of wines in LA, so it was nice to learn so quickly and get so much information, so we can pass it along when we choose to take these wines with us".
Kirk Kurkjian from Lac Products stated: "I think it was very efficient. We go to a lot of these types of events and in this one, we got to see a lot of things in a short amount of time. I like that they have a correlation and they come from the same place".
Catalan Wines USA
Since 2010, Catalan Wines USA has organized more than 33 professional wine tasting events in different cities in the US.
Over 75 wineries from 10 different Catalan D.O.s participated in the sessions with 2 out of 3 repeating the experience over different years. 50% of participating wineries have closed trade agreements with the United States.
Catalan Wines is planning two more events for 2022. The next one will be on October 4th in Dallas (TX) and, for the first time, the program will be presented in Mexico City on October 6th.
Related

news

and success stories

.