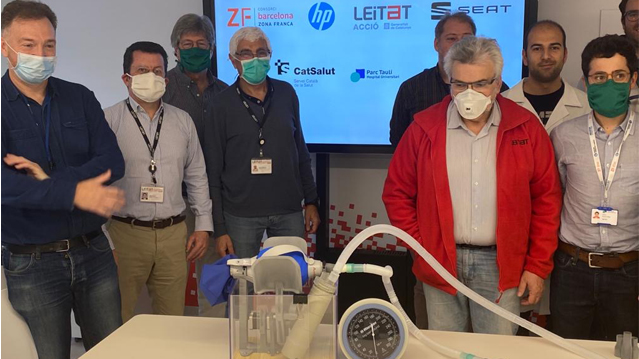 Catalonia to begin making respirators with 3D printers
25 Mar 2020
Catalonia began this week making respirators with 3D printers, after a public-private partnership resulted in a medically-validated prototype that can be manufactured on an industrial scale.
The aim of the project is to provide extra material to hospitals and especially intensive care units coping with the most serious coronavirus cases.
The partnership joins forces between the consortium of Barcelona's Zona Franca industrial estate (CZFB), American company HP, Catalan technology center Leitat, car manufacturer Seat (part of Volkswagen group), the Catalan public health system (CatSalut), the city of Terrassa's Health consortium (CST), and Parc Taulí Hospital in Sabadell (Barcelona).
The device is a field respirator named Leitat 1 whose design and components have been simplified as much as possible with the aim of developing a robust, useful and least complex medical device, facilitating its production and assembly.
The design has been made by Leitat's senior engineer, Mr. Magí Galindo, and medically validated by Dr. Lluís Blanch, Director of Innovation at the Parc Taulí Hospital in Sabadell, an expert in mechanical ventilation.
Its production will begin immediately, adjusting to the requirements that may be pending according to the Agencia Estatal del Medicamento (State's Medical Agency) for the improved model (Leitat2) on which it is already working.
The companies Airbus and Navantia have joined the alliance for its production, which will also rely on the production capacity communities of users and makers, with the aim of increasing its production capacity in very few days.
Source: Barcelona's Zona Franca industrial estate
Related

news

and success stories

.