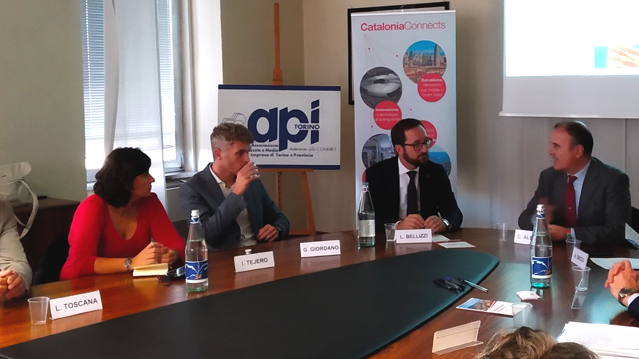 Catalonia presents its investment opportunities before Italian investors in Turin
28 Oct 2019
Catalonia Trade & Investment office in Milan (Italy) organized the event "Focus Catalonia: Opportunities, experiences and investments" in Turin last week, bringing together a group of Italian companies interested in doing business in Catalonia. The event was organized hand in hand with API Torino, the association of small and medium sized companies for Turin and the Province of Turin.
The Italian company Enerbrain – which recently opened an office in Barcelona – also participated in the event, as well as the Catalan automotive company Applus Idiada, which operates from its facilities in Turin.
Walter Greco, the Foreign Direct Investment Consultant at the Catalonia Trade & Investment office in Milan, underlined the economic connection between Catalonia and Italy: Catalonia concentrates 34% of total investment from Italian companies in Spain. Additionally, with 749 subsidiaries, Italy is the fourth country of origin of foreign companies established in Catalonia (behind Germany, France and the USA).
Some of the main opportunities, highlighted Greco, arise from an innovative culture: for instance, Catalonia, with 0.1% of the world's population creates 1% of the world's scientific production. Furthermore, Catalonia Trade & Investment has a leading role in the investment attraction. In fact, the agency has created more than 48,000 jobs and managed over 5,600 investment projects since it was set up 30 years ago.
Italian startup Enerbrain opens new office in Barcelona
Italian company Enerbrain, based in Turin, provides energy efficiency solutions and develops projects in the field of smart cities. Awarded Best European Scaleup by the European Institute of Technology, Enerbrain opened an office in Barcelona this year to operate in Spanish, Portuguese and French markets.
Giuseppe Giordano, CEO and cofounder of Enerbrain, said that "Catalonia's highly industrialized economy is very diversified, as well as innovative, technological and highly digitalized". "Catalonia's location and logistics infrastructures are unbeatable for any company that needs to operate from the South of Europe", he added.
The company had the support of Catalonia Trade & Investment for its investment project in Barcelona. "Catalonia Trade and Investment greatly facilitates networking with other companies and agents and their help is key when you need to open a business in Catalonia", said Isabel Tejero, country manager at Enerbrain.
Applus Idiada, a leading Catalan automotive company with two facilities in Italy
Headquartered in Santa Oliva (Tarragona), Applus Idiada provides engineering services for the automotive industry, employing more than 2,700 people all over the world. In Italy, Idiada has two branches for vehicle test validation and engineering projects located in the provinces of Tourin and Brescia.
Luca Toscana, key account manager for Italy, stated that both Italy and Catalonia have "an industrial business culture, as well as high expertise and know-how in the automotive technology". According to Toscana, both countries have "an open mind for a multicultural approach, attitude for problem solving and close cultural ties that helps common business understanding".
The industry in Turin
Turin is the capital of one of Italy's most industrialized regions (Piedmont) in which the automotive and chemical sectors stand out, two sectors that are also a priority for Catalonia. Piedmont is also the birthplace of many world-famous Italian companies, such as the Fiat Chrysler Automobiles Group, Iveco, Lavazza, Ferrero or Magneti Marelli. Moreover, Turin is the headquarters of important foreign companies such as Suzuki, Michelin, Petronas, Ficosa and Vodafone.
Related

news

and success stories

.