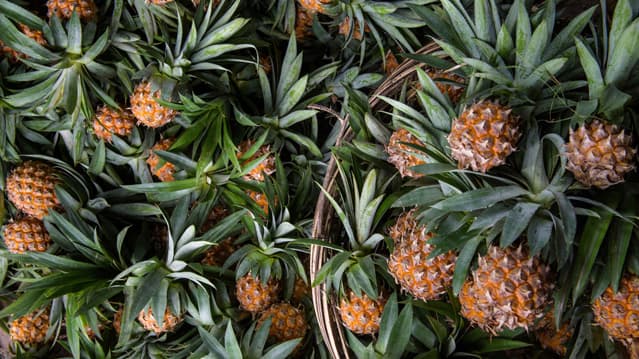 Ananas Anam

: from the

pineapple

plantation to the catwalk

22 Jun 2020
Catalan Economy · Business Investments · Chemistry & Sustainability
Ananas Anam is an incredible story about creating a unique fabric in the world. Using pineapple leaves from plantations in the Philippines, the company supplies international firms such as Hugo Boss or Paul Smith. The pineapple fiber is processed in Catalonia by suppliers the company found through the Catalonia Trade & Investment's Supplier Search Service.
The origin of everything: the Philippines pineapple
Ananas Anam came to light four years ago as a far more sustainable and respectful alternative to leather, which is highly contaminating. The Global Supply Chain Manager of Ananas Anam, Silvia Colomina, says that the founder "saw on a trip to the Philippines that pineapple fiber had already been used in clothing, and she decided to research this area."
After a few years and with a Ph.D. behind her, the company Ananas Anam, which today has a team of 20 people working on pineapple plantations in the Philippines and 13 other employees in Europe, was set up. With the resulting fabric, called Piñatex, the company manufactures clothing such as bags, shoes, or coats.
Catalonia, a pole for textile innovation
Silvia Colomina explains, "We contacted the Supplier Search Service to create a distribution center in Catalonia." Pineapple fiber enters Europe through the Port of Barcelona. In Catalonia, Ananas Anam has "a pool of suppliers that develop and finish the fabric, then prepare the orders and distribute them throughout Europe."
Why did you choose Catalonia? "Catalonia is a strategic center in the textile sector," says Colomina. "Traditional knowledge is rooted here. Although a lot of production has been moved to Asia, the know-how has remained in Catalonia, and the local textile industry has found new strengths by investing in innovation", she adds.
A logistics and commercial center
"Catalonia also has a lot of muscle at the logistics and commercial level," continues Colomina, "and from here, we can reach the global fashion markets." But not only is the fashion sector interested in Piñatex fabrics: the company is already working on orders for the automotive industry (for vehicle upholstery) or for the hospitality business (for furniture upholstering).
Future projects
In the short term, the company will move its headquarters in London to Catalonia due to Brexit: "We want to access European calls for research and R&D projects, and from London, we won't be able to," says Colomina.
In addition, the company will soon start working on plantations in Costa Rica, where it will copy the Philippines model. "We need lots of pineapple leaves!" says Colomina. Increasing the supply of raw materials is vital to managing large orders. "We need several sourcing points because the pineapple plant takes 18 months to grow and can be affected by unfavorable weather conditions", says Colomina.
Incorporating the circular economy is also one of the objectives. And they have already identified Catalan suppliers for that: "Catalan companies are concerned about environmental issues such as water and waste management." She says that "raising awareness and persuading the end customer that this is not fast fashion: it is another mentality" is missing now.
Catalonia Industry Suppliers
Ananas Anam took part in the presentation of Catalonia Industry Suppliers, a new online directory that brings together more than 5,200 suppliers in Catalonia. "It will benefit us, and we will use it for sure," says Colomina. "It's a quick way to access potential providers, but sometimes you need more information." At that point, she recommends seeking personalized advice from the Supplier Search Service.
The company plans to achieve a turnover of €1.9 million this year and has the financial support of several international investors concerned about sustainability. What is their key to success? Colomina is very clear: "This is a product that has revolutionized the world of textiles thanks to the team behind it, from the farmers in the Philippines to the commercial team," as she concludes, "We are like a family."
Connecting to local partners

We connect international companies to key partners to help them set up, succeed and grow in Catalonia.

See more

Access to talent

Access to all sources of available talent for international companies in Barcelona-Catalonia.

See more

Catalonia Industry Suppliers

Browse more than 5,000 companies and find your next provider in Barcelona-Catalonia.
 

See more
More news

and

success stories

.