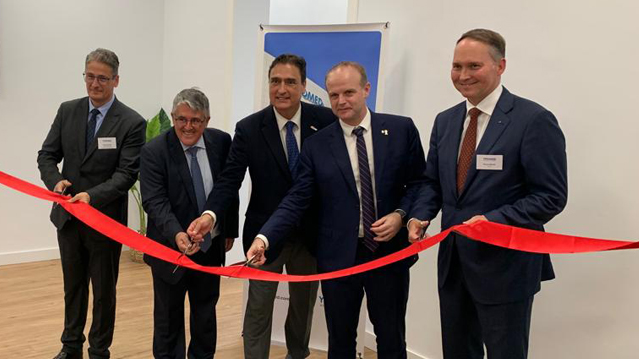 Ypsomed opens a new R&D center in Barcelona with 60 new job positions
04 May 2022
The Swiss medical technology company Ypsomed has opened the first R&D center abroad in Barcelona and expects to reach 60 workers over the next year.
The company, which specializes in the development and manufacture of injection and infusion systems for self-medication, has inaugurated the new facilities in Barcelona with the Secretary of Business and Competitiveness of the Department of Business and Labour, Albert Castellanos.
To establish the center in Catalonia, the company has received the support of Catalonia Trade & Investment. According to the agency, currently there are more than 420 subsidiaries of Swiss companies located in Catalonia.
Ypsomed's new offices in Barcelona currently operate with about 30 employees, including engineers, software developers, applications and cloud systems and data scientists. Over the next 12 months, the forecast is to double the staff to 60 workers.
In Catalonia, Ypsomed develops mobile applications and digital services connected to the cloud and the Internet of Things (IoT) technology to make it easier for users to manage chronic diseases.
During the inauguration of Ypsomed's offices in Barcelona, ​​Castellanos said: "Ypsomed represents the kind of rapid transformation we need: that of a leading hardware company that has the vision and ambition to develop a new line of business in software".
Castellanos added: "The fact that much of this transformation wants to lead from Barcelona gives us the message that we are on the right track as a country."
Ypsomed 's CEO Simon Michel stated that the company wants to strengthen its commitment to Barcelona: "The city combines the presence of qualified talent with a very powerful ecosystem in the field of health and life sciences".
Michel stated: "The demand for digital solutions in MedTech is on the rise because medical equipment needs them to reach their full potential; Barcelona is the ideal place to develop these digital solutions".
The Barcelona offices are Ypsomed 's first R&D development center outside its headquarters in Switzerland. The company also has production plants in Switzerland, Germany, and the Czech Republic, as well as sales offices in more than 20 countries.
Ypsomed works in two main lines of business: the development of infusion solutions for the management of type 1 diabetes (mainly insulin pumps), as well as providing technology for the injection of liquid drugs to pharmaceutical companies around the world.
Ypsomed has more than 2,000 employees globally and an annual turnover of 450 million euros. According to Catalonia Trade & Investment, the life sciences sector in Catalonia (which includes areas such as pharmaceuticals, biotechnology, MedTech and digital health) brings together 1,200 companies. In addition, these companies have a turnover of around 20 billion euros and together employ 55,400 people.
Related

news

and success stories

.