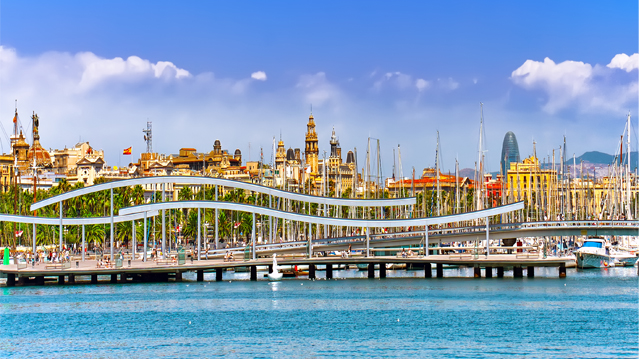 The World Ocean Council chooses Barcelona for its worldwide headquarters
27 Apr 2022
Barcelona has been chosen by the World Ocean Council (WOC) to establish its worldwide headquarters, and where it will hold leading, global and sustainable blue economy events.
The WOC is a non-governmental and non-profit business organization, which globally leads the promotion of a sustainable maritime economy, and which will now perform much of its activity out of Barcelona over the next 4 years (2022-2026).
Placing the WOC's global headquarters in Barcelona will help consolidate the city's international leadership in this new sector, reinforcing the development of new sustainable and innovative industries, in alignment with the 2030 agenda.
WOC's founder and CEO, Paul Holthus, explained: "We were looking for a headquarters to grow our organization; and in Barcelona we have found a great, internationally recognized, global port, extremely active collaboration with the City Hall and the Port of Barcelona, with a firm commitment to becoming a blue hub and the global capital of the Blue Economy".
Within this framework, the WOC will bring the Sustainable Ocean Summit to the city, an event previously held in Paris and Singapore, and which is focused on sustainable ocean development.
The Sustainable Ocean Summit (SOS) annually receives over 300 senior maritime industry executives, and regularly convenes investment groups and businesses. This itinerant summit is held every year in a different country and will take place in Barcelona every 3 years as of autumn 2022. The World Ocean Council will also organize the 1st World Conference on Blue Finance (BlueFin) in Barcelona, which will be held in the city every two years starting autumn 2022.
As a result, the city expects to attract high-level representatives from the investment and finance community of the sustainable ocean economy to Barcelona, generating opportunities for the entire ecosystem; investment funds, start-ups, accelerators, among others. Thus, local players will be able to connect more easily with already consolidated global actors.
The announcement of this agreement with the WOC is in addition to other agreements made public recently, such as the celebration of the America's Cup in the city.
The WOC declared that they chose Barcelona due to the City Hall's commitment to the blue economy and thanks the presence of the Port of Barcelona – one of the internationally most recognized ports in the Mediterranean, committed to innovation and a leader in the sector – and also due to the city's international airport connections.
In their choice they highlighted Barcelona's entrepreneurial spirit, one of the best cities for start-ups according to benchmark rankings; its technological ecosystem, with success stories such as hosting the Mobile World Congress; and the presence of multiple scale-ups as well as different unicorns that the city has produced.
Source: Barcelona City Hall
Related

news

and success stories

.