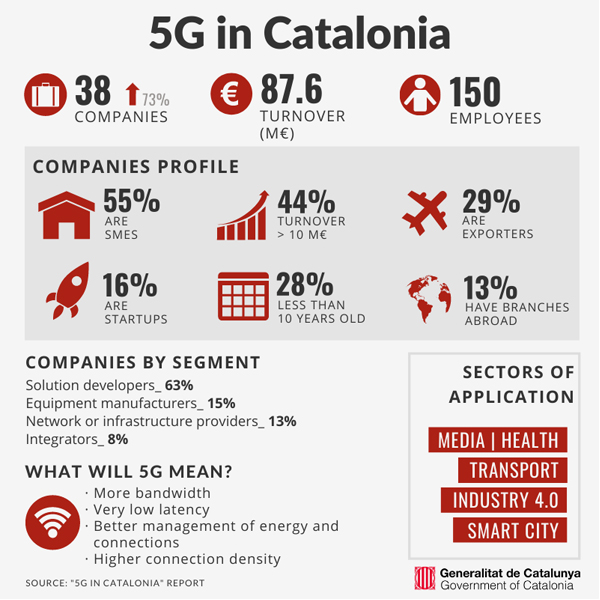 The number of 5G companies in Catalonia grew by 73%, according to a Catalonia Trade & Investment study
31 Jul 2020
The number of companies that develop activities in the 5G sector in Catalonia increased by 73% in the last year, according to the study 5G in Catalonia by Catalonia Trade & Investment and the Secretariat of Digital Policies.
The study highlights how Catalonia boasts several capabilities that make it a magnet for the development of 5G technology, such as the available telecom infrastructures and the position of Barcelona as the Mobile World Capital.
The 38 companies identified in the study generate a total turnover of €M88 and hold 150 job positions. The sector combines both large, mature companies and startups, which account for 15.79% of the total number.
The study shows that 63% of the companies are developers, 16% are manufacturers, 13% are network or infrastructure providers, and 8% of them are integrators of these technologies.
The 5G sector in Catalonia includes universities and research centers (such as the Polytechnic University of Catalonia, i2CAT Foundation, or the Telecommunications Technology Center of Catalonia), as well as institutions and associations that develop 5G-focused projects (such as the Mobile World Capital, GSMA and 5G Barcelona).
In that sense, Catalonia is a pioneering region in terms of research projects and 5G pilot projects development, such as the 5G Barcelona Initiative or the 5G Mediterranean Corridor.
The 5G Barcelona Initiative
The 5G Barcelona Initiative aims to position Barcelona as a neutral laboratory, where any agent can design, develop and test services or applications that are implemented using 5G technologies, thus placing the city as a European centre of digital innovation.
The 5G Mediterranean Corridor
The European Commission has announced the approval of the 5G Mediterranean Corridor project, promoted by a consortium of 21 entities, companies, and technology centres from six countries to develop a cross-border corridor, where autonomous and connected vehicles can be tested. The project will be launched in September 2020 and will run until November 2022.
Related

news

and success stories

.