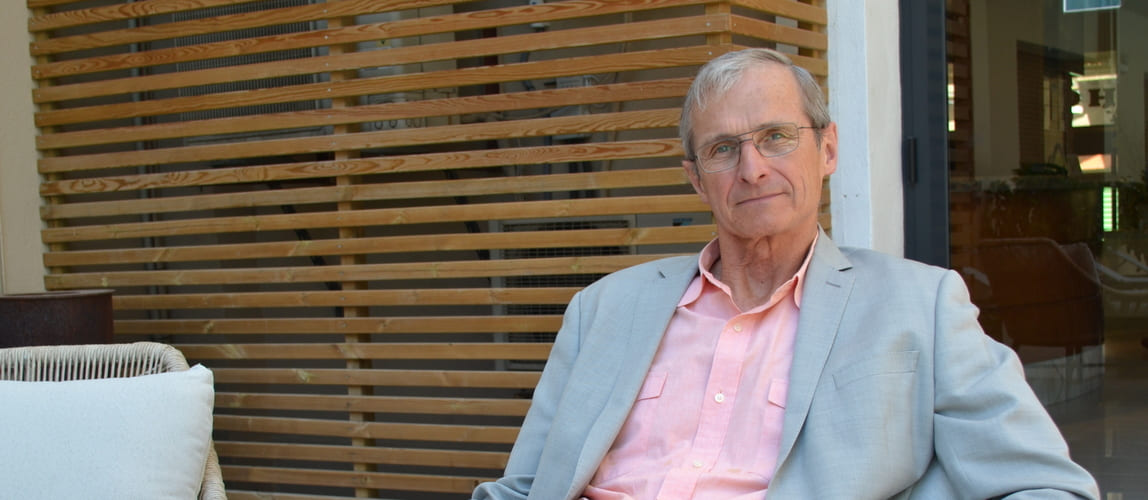 Richard Schrock

,

Nobel Prize

winner: "The chemical cluster in Tarragona is very competitive"

03 Jun 2019
Richard Schrock (1945, Indiana, US), Nobel Laureate in Chemistry 2005, visited the Tarragona chemical cluster recently and met with leading companies from one of Europe's largest chemical hubs, such as Dow, BASF, and Repsol.
Prof. Schrock's visit was promoted by Tecniospring, Catalonia Trade & Investment talent program, which aims to bring top researchers to Catalonia worldwide. One of the funded projects, being developed at the research group AMIC at the University Rovira i Virgili (Tarragona), involves using catalysts Prof. Schrock discovered.
You discovered organometallic compounds that effectively facilitate olefin metathesis, a type of chemical reaction. What are the applications of this technology?
It is applied in transforming olefins, organic molecules with carbon-carbon double bonds. These molecules are very common, so the applications are very broad. It can be used to prepare polymers, fragrances, flavors, pheromones…
Importantly, many bio renewables also contain carbon-carbon double bonds, so the technology does not depend on petroleum. We are making astounding new polymers with certain properties using engineered catalysts.
It can also be used in pharmaceuticals. All diseases practically depend on small molecules and what they do in the body. So, we could make some molecules that act as a drug for treating Alzheimer's, for instance.
What will be the impact in the long run?
People still don't realize how renewables is a big thing. It's nature's chemicals! I think it will have a huge impact, particularly in pharmaceuticals, but in organic chemistry in general.
If you can make organic molecules more simply and catalytically, you will not be making any waste. It's a very environmentally-friendly catalytic reaction that is the way to go today.
What is your opinion about the chemical cluster in Tarragona?
I think it's a highly concentrated and very competitive cluster. I came here at the invitation of University Rovira i Virgili, and I am hoping to convince the companies that we have reactions that they could make use of because the companies in the chemical cluster do lots of reactions with carbon-carbon double bonds, such as ethylene, propylene, butene, and so on. And they were generally interested.
Do you see possible ways of collaborating with the cluster?
Maybe in the future, yes! All these things take time. We would like to collaborate, helping them solve the problems they might have in this type of chemistry.
What do you like most about chemistry?
Chemistry explains everything around us: gas, liquid, and solid. If you can learn and use those properties and discover how to make things that are stronger, lighter, and more useful, that's all good. I like puzzles, so I enjoy scientific puzzles. And ultimately, I enjoy the next discovery, whatever that might be.
What does it take to win a Nobel Prize?
It takes an original discovery. Surprises are given for life's work, and Nobel Prizes are given for discoveries that have changed how people do chemistry forever.
How did it change your life?
It is a very select group of Nobel Prize winners. There are maybe 170 alive now. Everybody wants to have a Nobel Laureate come to their conference, so I get a lot of invitations, but I can't accept them. But it's just the recognition: everybody knows about a Nobel Prize. Everywhere I go in the world, people revere a Nobel Prize. It was the first scientific prize I think to be given. But it didn't change what I did professionally very much.
Doing research requires a lot of innovation and the willingness of always try new things and ideas. How do you do that? How do you innovate?
Imagination is one of the main things in terms of scientific research. Albert Einstein said, "The most important thing about intelligence is imagination". And he had a tremendous imagination. And look what happened to him: he also got a Nobel Prize!
You can't do that every day, but you do make discoveries that you find satisfying, and that really push back the frontiers of what you're doing. And you can publish it, and then it's there forever!
After winning a Nobel Prize, are there any other life challenges that you want to accomplish?
I want to be a spokesman for science more, and try to convince people like the president of my country that climate change is a real problem. We may already be beyond the point of stopping it, but he knows nothing about science. I don't know if I can change his mind, but I hope I can contribute to the general change by writing articles and giving talks.
Setting up your company

Catalonia Trade & Investment assists foreign companies in starting a business in Barcelona-Catalonia.

See more

Connecting to local partners

We connect international companies to key partners to help them set up, succeed and grow in Catalonia.

See more

Business Location Service

Get all the information about Barcelona-Catalonia industrial buildings, land, business centers, or office spaces.

See more
More news

and

success stories

.