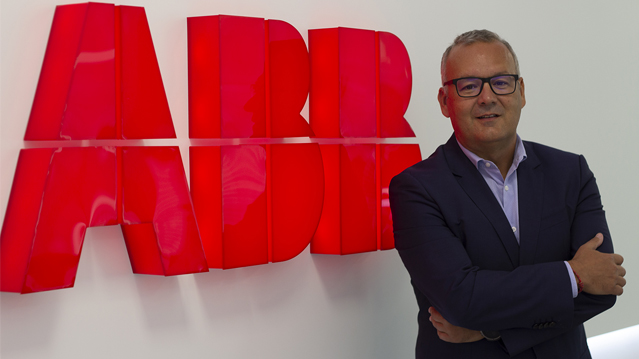 Marc Gómez

, CEO of

ABB

in Spain: "Barcelona attracts talent and knows how to retain it: it's the best place to develop your professional career"

25 Nov 2020
Business Investments · Tech & Digital Transformation
The Swiss company ABB has opened its first European customer innovation center in Sant Quirze del Vallès (Barcelona). The company specializes in digital solutions for all industry sectors and has been present in Catalonia for over 110 years, where its business has constantly been growing.
Marc Gómez, President and CEO of ABB for Spain and Portugal, says that Barcelona competed with many other locations in the world for the new center and explains in this interview all the reasons why ABB decided on Barcelona.
ABB has made multimillion investments in their Barcelona site over the last few years, including a manufacturing center for robotic cells. The company employs 500 people in Catalonia, and their innovation projects are exported worldwide.
Why did you choose Barcelona to set up your customer innovation center?
We chose Barcelona for four major reasons. Firstly, due to the region's infrastructures. Secondly, due to its important industrial base and the existing market in Catalonia, making it one of the pillars upon which a company can grow and progress.
And the other two reasons are intangible, but they are the ones that make the difference. Firstly, in Barcelona, we can see an unbeatable ecosystem that brings together start-ups, universities, and research centers: this is the differential factor that makes one decide to locate this kind of center in the city.
Secondly and finally – and probably what was key to the decision to locate in Barcelona – is the access to talent and the ability to retain that talent.
So, do you think that Barcelona, apart from being able to attract talent, can maintain it?
I'm not going to say anything new by telling you that Barcelona is most likely the best place to live in! And that Barcelona can attract talent is clear; we can see that daily. But the differential factor is the ability to retain that talent. Barcelona offers something very important: it's a platform where you can build your career.
The combination of mixing a professional career with living in a city like Barcelona - with its possibilities, the quality of life, the cost of living, and the enormous possibilities of developing your personal life - is undeniable. This is because a critical mass of companies is constantly investing and innovating.
"In Barcelona, we can see an unbeatable ecosystem that brings together start-ups, universities, and research centers"
What professional profiles do you need to implement your projects?
We look for a wide range of profiles, especially in technological areas (data analysis, mathematics...). We need creative profiles with a disruptive mindset and a willingness to innovate and grow, and in Barcelona, we can find them.
It's also important for us to do it differently: we want to find female profiles in these kinds of technologies. Diversity is one of the great challenges companies like us all face. Our high-performance teams are diverse in all aspects: nationality, culture, age, and language, and they must also be so in gender terms.
What are Catalonia's strong points as regards IT?
The future of the industry is via the combination of information technology with operational technologies: the famous IT and OT combination. Catalonia holds a privileged position in terms of its industrial base because it combines these two major areas. This is its great strength and the recipe for future success.
And this is also one of ABB's strengths: we are also able to combine both. And with a third fundamental offshoot: we understand that technology makes no sense without people. People are one of the points of the triangle made up of IT, OT, and talent. At ABB, we combine these elements in a very relevant way. And in Catalonia, we have this intrinsic spirit of collaboration and associationism.
"Catalonia's positioning is excellent, and the ABB group has been aware of that for many years"
Does part of your business involve collaborating with Catalan research institutions, universities, or other local companies?
Yes, we collaborate with universities, research centers, and trade associations... We have classrooms bearing our name at the Polytechnic University of Catalonia and the Salesian University School of Sarrià (Barcelona).
At the innovation center, we also have a co-creation space for clients, partners, and institutions that allows us to provide Industry 4.0 digital solutions for future challenges: which, for us, are present-day challenges.
What does Barcelona as a location represent for the ABB Group?
We have centers of excellence in Catalonia that are working on projects around the world. Catalonia's positioning is excellent, and the group has been aware of that for many years. They are still committed to the center and investing in it; we are excellently positioned. We share 110 years of history with Catalonia, and I am convinced that there will be 110 more.
What does Barcelona need to make it Europe's Silicon Valley?
Barcelona is better than California! We have to be what we are. If Europe, generally speaking, could learn something from the Californian culture, it should be to reduce the aversion to risk. Assume calculated risks. Accept mistakes and not stigmatize someone when they make a mistake. In that sense, Silicon Valley culture is far clearer.
How are you living through the effects of Covid-19, and how has it affected your business?
We have been able to react diligently and quickly. I'm very proud of everyone at ABB. The first thing we look for is to take care of our people and, secondly, to ensure the continuity of our operations. It has affected us, like everyone else, but we are facing up to it excellently. The reasons for this are that we were prepared to take on certain challenges, and because we are an unbeatable team.
Covid-19 is the greatest proof imaginable of the digital sphere. Businesses have proven to be more digital and faster to make changes than they ever thought they would be. However, we can improve a lot in the digitalization of SMEs, for they still have a long path to travel. It is an essential key to future competitiveness.
How did Catalonia Trade & Investment help in your location process in Catalonia?
The relationship we have with the tools that the Catalan Government puts at the disposal of companies is excellent. This is the goal of an administration: to create an environment that makes measures available to companies that allow them to activate or support the activities they perform. We use them as much as we can, absolutely.
What does ABB find in Catalonia and Barcelona that it cannot find elsewhere?
It's something I don't even consider! We've been here for 110 years. We form part of Catalonia's fabric and history. We've been here throughout all the recent industrial revolutions and thus are part of the ecosystem. Don't ask what we could find somewhere else because we'd never consider leaving Catalonia.
What are the technologies of the future for the company?
They go hand in hand with digitization and sustainability. ABB has been leading the digitalization of the industrial sector for over 40 years, and we can't do it in any other way except sustainably. 65% of our sales are linked to sustainability and energy efficiency. Our mission is to use technology sustainably.
Setting up your company

Catalonia Trade & Investment assists foreign companies in starting a business in Barcelona-Catalonia.
 

See more

Connecting to local partners

We connect international companies to key partners to help them set up, succeed and grow in Catalonia.
 

See more

Post-investment service

We offer an aftercare service following your company's establishment and helping you expand your activity in Catalonia.
 

See more
More news

and

success stories

.