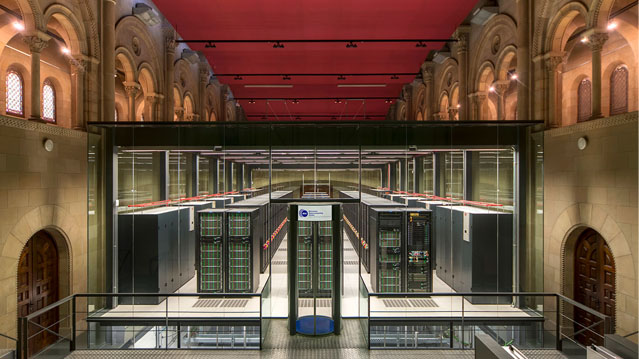 Catalan consortium to develop antibodies, drugs and a vaccine against coronavirus
27 Mar 2020
Three institutions from Catalonia are collaborating to develop new strategies to fight the SARS-CoV-2. Scientists from the IrsiCaixa AIDS Research Institute, the Barcelona Supercomputing Center (BSC) and the Animal Health Research Center IRTA-CReSA launched a project focused on the development of antibodies, drugs and a vaccine against the coronavirus.
The project is funded by the pharmaceutical company Grifols and will combine the expertise in virology, bioinformatics and animal models from the three institutions, respectively.
Three fields of expertise
The Barcelona Supercomputing Center will use the genetic sequence of the SARS-CoV-2, published on January 10th, to study thousands of antibodies and protein variants of this virus.
The team led by researcher Alfonso Valencia can determine the structure of their proteins by using the coronavirus genome. Specifically, they will focus on the Spike protein (S protein), which allows the virus to enter the host cell.
As soon as the structure of the S protein is discovered, the researchers will design a molecule to block the binding of the S protein to the receptor of the host cell, called ACE2.
Arrived at this point, IrsiCaixa will design and produce antibodies against the S protein. "This strategy, as well as the study of new small molecules that block the union between the virus and the host cell, would be a short-term solution, because they are simple to produce", says Julià Blanco, IGTP researcher at IrsiCaixa.
The molecules that better respond on the laboratory will be tested on infection models from IRTA-CReSA. The team at this institution, co-led by Joaquim Segalés and Júlia Vergara-Alert, worked with the the MERS-CoV coronavirus on the past, responsible for the Middle East Respiratory Syndrome. Before testing the molecules, they must identify the best animal model.
Source: IrsiCaixa
Related

news

and success stories

.