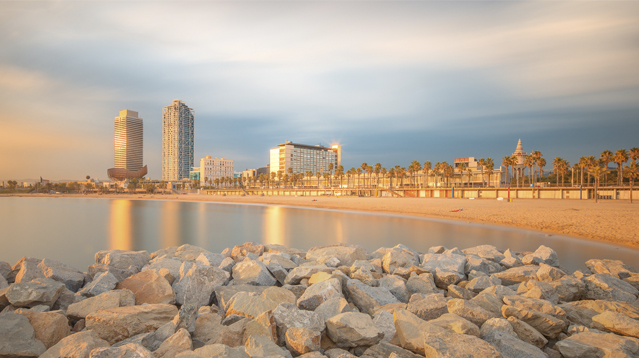 Barcelona and Catalonia, recognised as Europe's 2nd best strategy to attract foreign investment in technology sector
06 Jul 2020
This is highlighted by Financial Times group's fDi Intelligence and The Next Web in a report where London is ranked first.
The report also says Barcelona is Europe's 8th and Southern Europe's 1st tech city of the future.
According to Catalonia Trade & Investment, there are currently 1,369 foreign tech companies in Catalonia (2019 data), 21% more than the previous year.
The fDi Intelligence division of the 'Financial Times' group together with The Next Web -one of the leading European media and companies in the field of technology and startups- highlight that Barcelona & Catalonia have the 2nd best strategy in Europe to attract foreign technological investment, only behind London and ahead of cities such as Berlin and Amsterdam.
This is one of the main conclusions of the report 'Tech Cities of the Future', which analyzes seventy locations in Europe to establish the cities with the highest potential in terms of the international attraction of technological investments and startup ecosystems. As for Barcelona & Catalonia, the report highlights the presence of 1,500 startups in Catalonia, the celebration of events such as the Mobile World Congress as well as the existence of 22@ district, Pier01, scientific facilities and universities.
In this report, fDi Intelligence and The Next Web analyze indicators linked to economic potential, innovation, foreign investment attraction, profitability, the startup ecosystem and the strategy to attract new investments. In this respect, the report concludes that Barcelona ranks 8th in all of Europe and 1st in Southern Europe as a tech city of the future, ahead of cities such as Madrid, Stockholm, Frankfurt and Munich. London, Paris and Dublin lead these rankings.
According to the Catalan Minister for Business and Knowledge, Àngels Chacón, "There is no doubt that Catalonia and Barcelona are positioned as one of the best business hubs in Europe in the field of technology, a type of foreign investment aimed at the production economy and strategic sectors for the future". "It is a long-term commitment that creates links and trust, now more than ever in this environment of complexity and new global dynamics, to place Catalonia in the lists of destinations for new business projects". According to the Minister, "our priority is to attract foreign investment projects in the industrial field and tech hubs from companies around the world."
The Catalan Government leads its foreign technological investment attraction strategy through Catalonia Trade & Investment -the agency for business competitiveness that is part of the Ministry for Business and Knowledge- both from Catalonia and from tis 40 Foreign Trade and Investment Offices around the world. The Minister emphasizes that "this strategy allows us to promote Catalonia abroad, to jointly prepare applications for companies to carry out investments in Catalonia, to offer comprehensive advice throughout the investment process and the follow-up once it has materialized". In fact, the fDi Intelligence and TNW report highlights Startup Catalonia, Catalonia Trade & Investment's unit that has the aim of accelerating Catalan startups and connect them internationally.
For his part, the City Council of Barcelona's first Deputy Mayor of Economy, Labor, Competitiveness and Finance, Jaume Collboni, highlights the great work that Barcelona is doing to achieve this European position, thanks to avant-garde companies that find the best in the city space to make their businesses thrive. In this sense, Collboni remarks that "technology companies are those least job-destroying and, instead, the ones that generate the most quality employment, which has become even clearer in recent times". "The City Council of Barcelona contributes to the arrival and development of these companies, it supports -through the Cibernàrium- people in all te sectors that can reconvert towards the ICT sector to optimize the opportunities to work in the city with quality of employment and life", Collboni says, who explains that "Barcelona and Catalonia's good placement in technological foreign investment attraction encourages us to continue working in this direction and reaffirms our commitment to making the city a first-class technology and talent hub".
Barcelona City Council carries out international economic promotion and attracts investment projects that generate employment through the City's Management Department and Barcelona Activa's Business Landing Service. Barcelona Activa, Barcelona's economic promotion agency, has been boosting employment, entrepreneurship, business growth and technological training for more than 30 years.
Tech companies and startups
According to Catalonia Trade & Investment, there are currently 1,369 foreign technology companies in Catalonia (2019 data), 21% more than the previous year, which are mainly dedicated to the fields of ICT, industry 4.0, biotechnology, electronics, health and medical equipment, smart cities, digital and audiovisual content, mobile, video games and R&D. By country, companies from the United States (22%), Germany (18%), France (14%) and the United Kingdom (14%) stand out. In fact, according to data from fDi Markets, foreign investment in technology reached 493 million euros in 2019, a figure that has increased by 18% compared to previous year.
As for emerging companies, there are currently 1,500 startups in Catalonia (2019 data), 38% more than three years ago, which employ 16,900 workers, according to Catalonia Trade & Investment. 19% of the workers in these emerging companies are foreigners, 15% in the case of the founders. The study also shows that 64% of emerging Catalan companies work with technologies linked to Industry 4.0, especially in the fields of cloud computing, big data, the Internet of Things (IoT), artificial intelligence and integrated systems.
Poles of attraction for innovation, 22@ and Pier01
Companies need environments where they can set up and grow easily. Over the last 18 years, Barcelona has consolidated the 22@ district, ​​an area for urban, technological, social and economic innovation, with leading technological infrastructures, and where highly innovative companies, research centers and universities coexist with housing, public services and green areas. There are more than 9,000 companies established there, 30% of which are dedicated to technology or knowledge-intensive activities, and where more than 93,000 people work.
Also noteworthy is a second pole of innovation, the Pier01, installed in an old cargo warehouse in the Port, is the flagship of the Barcelona Tech City Association. In a privileged location of more than 11,000 m2, around 1,000 people from more than 100 companies and start-ups work together every day. Venture builders, consultants and large corporations have their innovation hubs there such as Gas Natural, Seat Metropolis Lab, MWCentures of the MWC or the Payment Innovation Hub CaixaBank, Arval, Visa, Global Payments and Samsung.
Global competition for technological talent
The determining factor for the establishment of technology companies in any city, not only Barcelona, ​​is the ability to generate and attract talent, the scarcest resource. This is a competition in which there is no absolute winner as all economies suffer from a chronic deficit of technological talent.
Barcelona is one of the relative winners, as it is proportionally able to generate and attract more technological talent and quicker than other cities. According to the "Digital Talent Overview" study of the Barcelona Digital Talent initiative, published 15 days ago, 77,000 digital professionals work in Barcelona, ​​9,600 more than last year.
This relative success is partly due to initiatives such as Barcelona Digital Talent which aims to make Barcelona a global reference pole for technological talent and in which the public and private sectors are aligned with the Catalan Government, the City Council of Barcelona, the Mobile World Capital Barcelona Foundation, CTECNO Foundation, Foment del Treball, Barcelona Tech City, 22@ Netwok and Barcelona Global.
In the creation of local talent, Barcelona Activa's IT Academy initiative stands out, which with its re-skilling program, aimed at promoting employability within the ICT sector, has been able to train hundreds of people, 75% of which have found a job in technology companies at the end of their training. In total, the Cibernàrium, as a technology and training service, has provided digital training support through different types of actions to 150,000 people since its launch.
Related

news

and success stories

.