Mental Health & Personal Automy

in Catalonia

, a fast growing sector

.
772 companies work in Catalonia's mental health and personal autonomy sector, according to a study by ACCIÓ-Catalonia Trade & Investment, the competitiveness agency of the Ministry of Business and Labor, prepared in collaboration with the Mental Health Cluster of Catalonia. Today, companies in this field have a yearly turnover of €9,244 million, representing 3.79% of Catalonia's total GDP.
In this report, mental health is defined as a state of well-being in which the individual is aware of their own abilities, can cope with everyday stress, and can work productively and contribute to their community. Personal autonomy, on the other hand, is understood as the capacity to control, face, and take personal decisions on one's initiative and develop the basic activities of daily life. The relationship between both concepts lies in the effect of mental illnesses on individuals' physical and psychological capacity, as they influence the ability to make personal decisions.
Breaking down the sector
The mental health and personal autonomy sector can be defined as the combination of 4 main sub-sectors. Firstly, the pharmaceutical and complementary, represented in Catalonia by companies such as Novartis, Grifolls, Almirall, and Esteve. This subsector's work ranges from drug development to quality of life-enhancing nutrition and functional/personalized foods.
Then the digital health sector, with companies such as Bayer, Doctoralia, and iSalus working on telehealth platforms and services and other digital platforms and applications focused on improving mental health, overcoming phobias, and enhancing personal autonomy.
Thirdly the medical tech sector with companies such as Biomet, Abbott, and Smith+Nephew, dedicated to Medi-tech products and devices, technical aids, orthopedics and ophthalmology, and ear, nose, and throat products (ENT), and also treatments and technologies applied to neuroscience.
And finally, we find service providers such as Som Via, Clínica Corachan, and Grup Mutuam offering services and treatments in mental health, home care, social care, and healthcare.
"New trends in mental health include developing solutions with technologies such as robotics, 3D printing, or immersive technologies."
Mental Health and Personal Autonomy in Catalonia
According to the conclusions of the ACCIÓ-Catalonia Trade & Investment study, companies in Catalonia's mental health and personal autonomy sector employ 62,104 people, with service providers accounting for 70% of employees in the industry. The data also shows that 82% of the total companies in the sector are SMEs and that it is a young and growing sector, as half of the companies were founded between 2000 and 2020.
It is worth noting that companies dedicated to the Catalan mental health sector had tripled compared to 2017 when this field was last quantified. However, companies devoted to personal autonomy were not considered at that time. As for the volume of billing, it is six times higher than six years ago.
Regarding business segments, 68% of all Catalan companies in this sector are mental health and personal autonomy service providers. The rest work in the pharmaceutical and complementary industry (15%), medical technology (11%), and digital health (6%). However, in terms of billing volume, the pharmaceutical industry leads the sector, accounting for nearly half of the total (48% with €4,457 million), ahead of digital health (24%), service providers (20%), and medical technology (8%). 79% of the companies in the sector are located in the province of Barcelona, with 6% in Girona, 5% in Lleida, and 4% in Tarragona.
In addition to companies, the Catalan ecosystem in the sector also includes universities, business schools, and other training initiatives; foundations and associations; public initiatives; TECNIO centers; business organizations; and fairs and congresses.
Trends and business opportunities
Apart from analyzing the Catalan ecosystem, the study also points out several relevant trends in mental health and personal autonomy. Developing specific solutions with new technologies such as robotics, 3D printing, or immersive technologies stands out among them.
In addition, in line with the growing need of vulnerable people with dependency situations to find solutions to the lack of personal autonomy, some trends focus on the design of products and environments that can be used by everyone regardless of age, those that seek the integration of services or those that focus on the person. Finally, the report also assesses business opportunities for Catalan companies in various fields. Among others, it highlights the food industry, pharmaceuticals, or sports, as well as areas of support and care for people; mobility, ICT, education, or habitat and smart cities.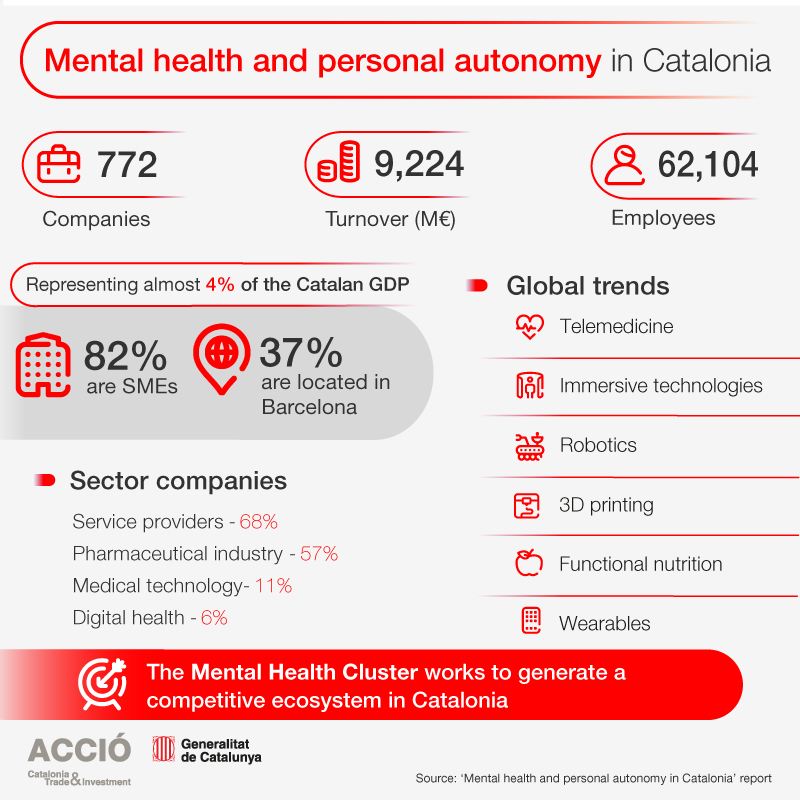 Related
news and success stories


in

Barcelona-Catalonia

.