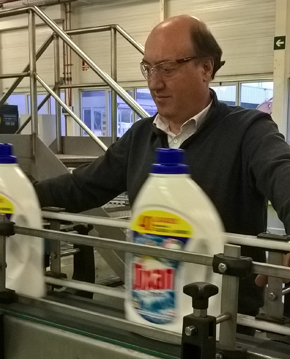 Henkel locates the company's most advanced logistics centre in Catalonia
23 Jul 2020
Jordi Juncà, plant manager at Henkel Ibérica, explains in this interview how Henkel has invested over €50M in the Catalan plant over the last two years. This is where the European hub for the aerospace industry is located, as well as the company's most advanced logistics centre.
The site's location, the area's powerful industrial infrastructure and the know-how of the Henkel team, which has been in the region for more than 50 years, are all key to Henkel's success. The company has had the support of Catalonia Trade & Investment for their recent investments.
What presence does Henkel have in Catalonia and how has growth been in recent years?
Henkel Ibérica is one of the Henkel Group's most important subsidiaries. Catalonia is home to its central offices, an insect control R&D centre and the production centre located in Montornès del Vallès, which has become a benchmark centre in constant expansion.
It employs some 500 people in facilities covering 100,000 m². This plant produces more than 200,000 tons per year of powder detergents, liquid detergents and adhesives, both for domestic consumption and for industry, and is exporting to over 60 countries.
Henkel is strongly committed to this centre, which has seen its activity and size increase in recent years by undergoing expansion projects.
We have made a new line of high-speed packaging for liquid detergents, a new plant for the aerospace industry and a future new automatic warehouse with an investment of more than 50 million euros and generating a significant number of direct and indirect jobs.
You chose Catalonia to install the new adhesive production line for the aeronautical sector. What has this investment represented? How many new jobs has it generated?
With the new aerospace adhesives project, we occupy a space of approximately 9,000 m² including new factory area and the warehouse. This means we are one of the most important production plants within the Henkel Group in the adhesives business and it makes us the European hub for the aerospace industry.
It is quite a challenge for us, as the aeronautical market is especially complex with very demanding standards. We are very proud that the Henkel Group chose us for this new project where we can offer the most cutting-edge and innovative technology.
The company decided on Montornès for a number of factors: its location, the team's qualifications and proven experience and the excellent results obtained these years in manufacturing adhesives and technologies by its automotive sector.
For this project some 70 direct, new jobs have been created for qualified workers.
Do you have any future projects at the Montornès plant which will continue positioning the company as a benchmark in Southern Europe?
Yes. We are working on the launch of the new state-of-the-art automatic warehouse that will become the new logistics centre for Southern Europe for our detergents division.
This project is part of Henkel's commitment to digitalization and industry 4.0. Industry 4.0 is welcoming a new generation of distribution centres that will be fully integrated with the productive side of the business and with the current warehouse through advanced communication and automation systems.
The project means the current logistics capacity will be increased by 24,000 m². It will have two sections; one section will be fully robotic and the other will be more conventional with Picking and Copacking activities.
It is expected to be fully operational by September and will be able to move more than 1 million pallets per year. We are very pleased that the Montornès plant has been chosen once more to expand its capacity after the investment made to house the European hub for the aerospace industry.
What professional profiles are needed to carry out your projects? What availability of talent have you found in Catalonia?
For these new projects, the professional profiles we are looking for are mainly for chemists or engineers. Therefore, we maintain a close relationship with the leading universities in these fields to attract talent and provide opportunities within the company.
Are you collaborating with Catalan research institutions, universities or other companies here for your business?
Yes. We're collaborating closely with research institutions such as Leitat or the Alba Synchrotron, with which we develop joint projects, as well as with vocational schools and universities where we support different initiatives, programmes or master's degrees.
A very high percentage of new hires come from this group because we are committed to young talent and to offering opportunities for professional growth.
What can Henkel find in Spain and in Catalonia that it can't find elsewhere?
Henkel Ibérica has been in Spain for over 50 years and with centres of relevance in Catalonia. Here we can find a great location which is extremely well connected with the rest of Europe, a solid industrial base and highly trained talent as well as institutional support.
To develop many of these projects we have had the support of Catalonia Trade & Investment, ICEX-Invest in Spain, CDTI (Centre for the Development of Industrial Technology) and the Montornès del Vallès City Council.
Related

news

and success stories

.