Silver economy

,

a growing sector in Catalonia

.
The silver economy, largely accepted to be those products and services consumed and purchased by people over 55, is a growing sector globally as life expectancy and improved health conditions for older generations mean they are becoming a significant demographic in economic terms.
In Catalonia alone this sector represented almost 4% of the GDP in 2021. The number of companies dedicated to silver economy has increased 29% since the pandemic and amounts to 700.
According to Catalonia Trade & Investment's report in silver economy, Catalan companies in the sector generate €9,76 billion euros in turnover, a figure that has increased 8.4% since 2017. This is not surprising when we consider that today 32.6% of Catalonia's population is over 55 and the average life expectancy is 84.5.
A varied demographic with different needs
Of course, the silver economy demographic cannot be defined in simple terms, given that there are great differences in the needs of those that are healthy, and those that suffer from illnesses.
Breaking down these needs of products and services we can classify them into four large groups: health, healthcare services, active ageing, and independence and quality of life. Some of these sectors overlap but all offer different opportunities, especially considering by global trends in new technologies, medical devices, brain fitness or mobility.
An active ecosystem full of opportunities
703 companies work in Catalonia in the silver economy with 56% specializing in this sector, i.e., generating over half their income from it. The subsector generating the most turnover with €4.69B and 202 companies is, unsurprisingly, health.
This includes companies like Bayer, Novartis and Nestlé producing silver economy products, as well as specialized health services areas such as eye and dental care, traumatology, for example.
Active ageing comes next with 137 companies and €2.41 B in turnover, ranging from services such as senior travel and leisure, cosmetics and medical insurance. In third place, independence and quality of life with 115 companies and a turnover of €1.55 B. This sector includes eyewear, hearing aids, hygiene and orthopedic products, to mention just a few.
Finally, in the healthcare services sector, with 249 companies and €1.11 B in turnover, we find companies working in geriatric care and its auxiliary services such as food services, equipment and furnishings, for example.
€9,76 billion euros in turnover
​​​​​​All this activity has also attracted the attention of foreign investors
Catalonia has also recently seen a significant number of interesting investments in the silver economy. Worth mentioning are, for example, Essity, the Swedish multinational paper manufacturer of products such as Tena, which located its center of logistics excellence in Barcelona to manage the group's logistics worldwide, creating 120 new jobs in the process.
Neuraxpharm, a European leader in pharmaceuticals for disorders affecting the central nervous system, has invested €11 M in the expansion of its production facilities in Sant Joan Despí and Castellbisbal.
And proof that there is space for innovation in this sector, the Catalan start-up Pensium, which enables older homeowners to pay for their retirement home by renting out their residences, raised €10,25 M between 2019 and 2021 in two financing rounds to boost their expansion.
Startups have set their sights on the silver economy
Today, 41 startups in Catalonia are creating and marketing products and services specifically targeting older people. Almost 50% offer products or services for detection, diagnosis and even treatment of ailments linked to ageing, such as dementia, and cardiovascular and respiratory diseases.
Healthcare services and monitoring solutions are considered to be specific business opportunities of interest for startups interested in capitalizing on growth in these areas.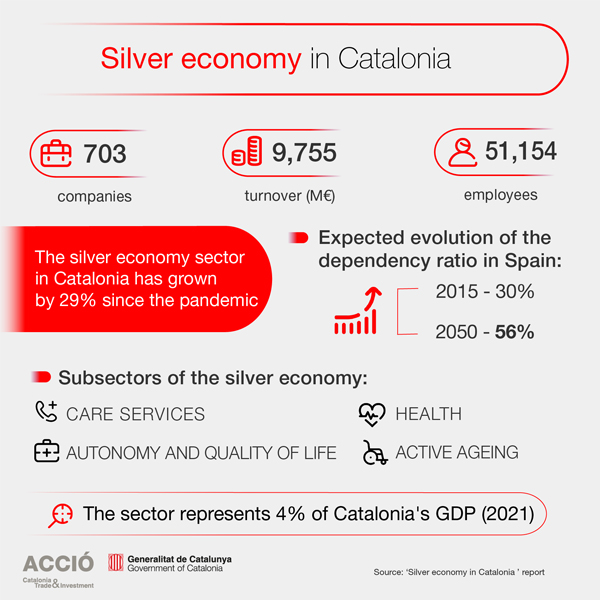 ​​​​​​​
​​
​​​​​​​
Check below which are the main institutions and players that make Barcelona-Catalonia life sciences sector a success.
Related

news and success stories

.