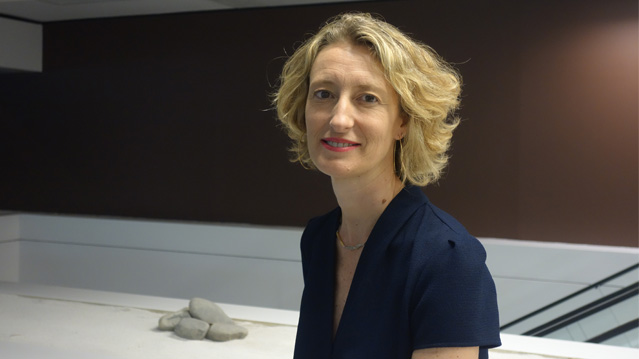 Natalia Berenguer

,

Danone

: "We invested 12M€ to become the first factory in Europe that produces both dairy and plant-based yogurts"

22 Sep 2021
Business Investments · Food & Beverage
Danone is one of the world leaders in the food industry. The company has been present in Catalonia for over 100 years, with a production plant in Parets del Vallès and an R&D center in Barcelona.
Natalia Berenguer, General Secretary for South Europe at Danone, talks about the latest investment in the Catalan plant and the firm's commitment to innovation and R&D. Danone is also the first FMCG company in Spain to receive the B-Corp certification.
When was your company established in Catalonia, and why?
In 1919, Isaac Carasso made the first Danone yogurt in Barcelona. His love for his son Daniel, pioneering spirit, and entrepreneurial vision motivated Carasso to make yogurt in a small laboratory workshop in the Raval neighborhood.
At that time, children suffered from intestinal problems, and yogurt was considered a pharmaceutical product since it was known to lengthen life and cure stomach disease.
Barcelona saw the birth of our first yogurt and provided us with the foundations to become a global multinational with a presence in over 100 markets.
How has the company evolved over the years?
Today, more than 100 years later, at Danone, we are still loyal to our mission of bringing health through food to as many people as possible, and we maintain that same innovative spirit.
Danone counts on three business areas: dairy and plant-based products, specialized nutrition, and water. In Spain, the company employs more than 2,000 people. It has production plants and facilities located in 8 autonomous communities to reach the almost 4 million people who consume Danone products daily.
In fact, we celebrated our centenary in 2019 with the organization of "The Love Behind Food Summit" in Barcelona, ​​a meeting with more than 600 attendees. Along with over 20 top-level worldwide and local nutrition and education experts, we shared the vision of the future of food, health, and the planet, as well as the challenges and trends to promote the food revolution and help new generations grow healthier.
What is your latest investment in Catalonia?
To confirm our commitment to promoting the adoption of healthy, sustainable, and inclusive eating and hydration habits, this year at Danone, we invested 12 million euros in our factory in Parets del Vallès (Barcelona) to start up a new production line for plant-based references. With this new line, the Parets plant has become the first hybrid Danone factory in Europe to produce both dairy and plant-based yogurts.
What's your assessment of Catalonia's R&D environment?
Innovation is in the company's DNA. In Spain, we have two R&D centers; Barcelona and Madrid. The Barcelona R&D center is located in downtown Barcelona and is named after the company's founder and his son, Issac, and Daniel Carasso. It has 47 employees ranging from 7 different nationalities and leads the research and development of dairy products, specifically yogurt, carrying out 150 innovation projects a year.
Reaffirming our commitment to a healthier, more sustainable, and inclusive diet and responding to the needs of consumers, who increasingly demand more varieties of tasty and environmentally friendly products, we have continued innovating in plant-based products, a trend that continues to increase.
In addition, in the post-COVID context, and with the return to normality, the interest in playing sports and physical activity has returned, so we have prioritized on-the-go formats and protein-based references for sports people.
What are the main challenges facing Danone nowadays?
The pandemic has revealed great challenges, such as economic and social inequalities, obesity, food waste, and CO2 reduction. At Danone, we have taken a step forward in each of them and implemented actions to lead the change toward a more sustainable, healthy, and inclusive model.
Since our origins more than 100 years ago, we have tried through food to care for people's health in the same way as the planet. In addition, we believe that there can be no economic growth without social growth. These commitments have led us to become the first FMCG company in Spain to receive the B-Corp certification. This movement recognizes the best companies in the world for their good practices in social and environmental performance, transparency, and responsibility.
More recently, in recognition of our social and environmental commitments this year, the French Chamber of Commerce in Barcelona awarded Danone with the Prix Pyrénées. This award acknowledges companies, entities, or people who, due to their activity and dynamism, have contributed to the development of relations between France and Spain.
I would also like to highlight our purpose with animal welfare, which we bring to life through the local family and proximity farms we work with throughout Spain. In this sense, Danone has been recognized by the NGO Compassion in World Farming, a leading farm animal welfare organization, for our mobile application for evaluating animal welfare in cows.
Interested in investing in Barcelona - Catalonia?
We are the one-stop shop for international companies looking to establish or expand their operations in Catalonia. Contact us, and we will help you grow.
Setting up your company

Catalonia Trade & Investment assists foreign companies in starting a business in Barcelona-Catalonia.
 

See more

Connecting to local partners

We connect international companies to key partners to help them set up, succeed and grow in Catalonia.
 

See more

Post-investment service

We offer an aftercare service following your company's establishment and helping you expand your activity in Catalonia.
 

See more
More news

and

success stories

.