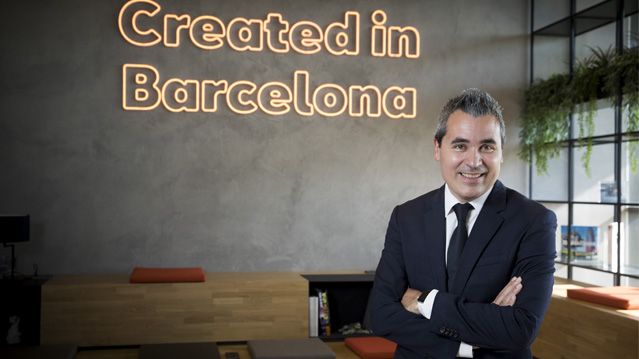 Josep Maria Recasens

,

SEAT

: "Catalonia has an industrial pool of suppliers highly qualified to respond to technological changes"

23 Jul 2020
SEAT, a member of the Volkswagen Group, has recently announced an investment of 5 billion euros, a clear example of its commitment to the electric future.
Josep Maria Recasens, Chief Strategy Officer at SEAT, details the objectives of the new strategic plan for the next five years and highlights the strengths of the automotive sector in Catalonia.
SEAT has just announced an ambitious €5B investment plan for Catalonia. Can you give us more details and the plan's objectives?
SEAT's new strategic plan envisages 5 billion euros over the next 5 years. The investment considers development and R&D and is aimed at creating new products and transitioning to the electric car through hybrid and electric vehicles, and also enhancing aspects related to the connected car and digitization.
Moreover, we will invest in the three production centers – Barcelona, El Prat de Llobregat, and Martorell- to continue modernizing them to enhance their competitiveness. We want to move forward in automation, robotization, and especially decarbonization and sustainability.
Why was Barcelona chosen as a base to promote electric vehicles? What business opportunities have you identified?
SEAT is clearly and forcefully committed to the environmental and sustainable transition towards a better world and to meeting the goals of Paris. In fact, we have already started on this path with the SEAT Mii electric and the future CUPRA el-Born.
Within our sector, we also have some legal requirements that we must comply with year after year in relation to CO2 emissions per kilometer. Here, the electric car is the key element in reducing vehicle emissions.
What will SEAT's transition to electric vehicles be like?
In mass-producing companies like ours, any transition to electric cars needs to be coordinated and staggered. Estimations on demand tell us that two technologies will coexist for at least for around 10 years: traditional combustion cars living with hybrid cars and electric cars.
In SEAT, we want to firmly lead this push so that all the players needed to democratize the electric car can accompany us. We are an important player but not the only one.
We need the energy sector to put sufficient charging infrastructure around the country. SEAT can offer 100% electric cars, but they need recharging points to be used.
Secondly, looking at the recharging infrastructure, we must ask ourselves what energy mix is used for charging cars. Because the electricity needed can be renewable (solar or wind), or it can be nuclear or coal.
And thirdly, we also need the support of public administrations to facilitate this transition and to implant stable and standardized regulations nationwide. That's how the democratization of the electric car and its whole ecosystem can be easily put into practice while also being scalable.
What competitive advantages does Catalonia have in the automotive sector?
We have a highly skilled industrial pool of suppliers that can respond to technological changes. And at present, we are undergoing a period of technological disruption.
Catalonia has a good network of universities where students are being trained in new technologies. We have a significant knowledge base in the Automotive Cluster to focus on digitization, the connected car, and the electric car. They are important elements to bear in mind and make us attractive.
When added to the above points, our location and climate are also extremely advantageous in attracting talent.
What markets do you work for from here?
SEAT is established all over the world. We are present in over 75 countries and export more than 80% of our vehicles. Out of our turnover of 11 billion, more than 9 come from exports. We are an international and global company.
In the global context, our focus is on Europe as a whole. We also have activity in South America and Mexico in particular, which is one of the top 10 markets for SEAT. We are also working in North Africa.
SEAT has recently created the SEAT:CODE Centre for software development. What role will digital transformation play in the automotive industry?
A very important one. Digitization, before Covid-19, was a topic that was beginning to become apparent, but with post-Covid scenarios, digitization, big data, and artificial intelligence will all play an important role.
Especially in knowing customer needs, who may not leave home as often as they did in the past, and we will need to take advantage of all this data.
And it is in this context that SEAT:CODE plays an important role. And it also connects directly with Catalonia's competitive advantages, with its solid innovation base influenced above all by being a hub for startups and technology centers.
At SEAT:CODE, we will have a group of around 150 people, programmers with a different technological profile than those today at SEAT. With them, we're opening up a new line of knowledge based on technology, which complements us as a company and can also help to act as a driver in the ecosystem surrounding SEAT:CODE in Barcelona.
Can you give us an example of SEAT:CODE projects?
We're talking about mobility-related projects. For example, developing fast lane projects: trying to get a consumer, in less than 5 clicks and in less than two weeks, to choose their car and get it delivered to their home without long waiting times.
What professional profiles will be needed to implement SEAT's new strategic plan? What availability of talent are you finding in Catalonia?
We need people trained in new fields related to connected cars, digitization, and electric car technology.
SEAT is a full-fledged company; therefore, we also need any profile that adapts to the value chain of the car. To be prepared for technological disruption, any technological engineering profile is a future profile.
We actively believe in dual training, in public-private cooperation between the company and the university, to put knowledge into practice and understand the real world.
Do you collaborate with Catalan research institutions, universities, or other companies here for your business?
We have several active projects with Catalan universities, especially with the UPC, from an industrial and technological point of view. We have other educational collaborations with the business schools IESE and ESADE. And we're also collaborating with the healthcare world - and were doing so even before Covid-19.
How is the SEAT Martorell plant in Catalonia positioned within the Volkswagen group? What assets do you have for the group?
It is one of the Volkswagen Group's most competitive factories. The proof of this is that in recent years Audi has been manufactured in Martorell (premium segment vehicles), and the quality we have delivered is excellent. Our competitive edge is high.
But we want to keep moving ahead: that is why in the investment of 5 billion euros, the idea is to continue modernizing the Martorell factory, making it even more competitive to compete globally.
What are the synergies between Germany and Catalonia? How do you think they complement each other?
We have the competitive advantage of economies of scale. Being part of a group that sells more than 10 million cars annually is a competitive advantage. And in these economies of scale, synergies are typical of a multinational industrial group.
That is why we have a technical development center working for SEAT in Catalonia. Still, thanks to its capacity, know-how, and competitiveness, it can support and participate in global projects in which the Volkswagen Group can be involved.
Setting up your company

Catalonia Trade & Investment assists foreign companies in starting a business in Barcelona-Catalonia.

See more

Post-investment service

We offer an aftercare service following your company's establishment and helping you expand your activity in Catalonia.

See more

Business Location Service

Get all the information about Barcelona-Catalonia industrial buildings, land, business centers, or office spaces.

See more
More news

and

success stories

.