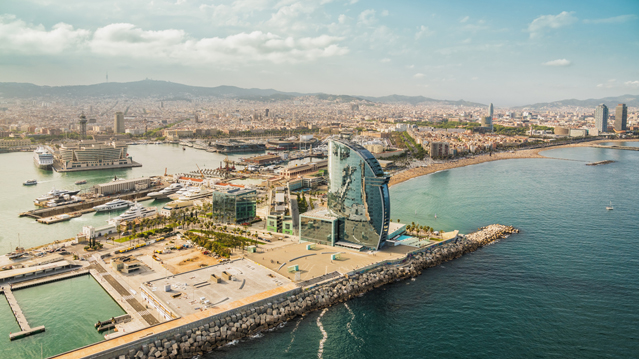 Report: Foreign Investment in Catalonia 2020
12 Jul 2021
The COVID-19 pandemic impacted globally on FDI flows, showing a dramatic and worldwide 42% drop in 2020. Catalonia was obviously affected, although fortunately its fall in FDI was roughly half the global average, at 22.7%, according to official MINCOTUR (Ministry of Industry, Trade and Tourism of Spain) data.
According to the report Foreign Investment in Catalonia 2020, if we look at the figures from a five-year period perspective, we can see that Catalonia is still undergoing strong growth. Between 2016 and 2020 Catalonia attracted €22.84BN in FDI, 26.2% more than in the 2011-2015 period while FDI projects increased by 39%.
Talent, one of Barcelona-Catalonia's main assets
FDI related talent recruitment increased 121% between 2016 and 2020, putting Catalonia in second place in western European regions in terms of jobs created for foreign investment projects in 2020, with a total of 15,138. In city rankings, Barcelona also came second, with 9,416 jobs created due to foreign investment.
For 2020, an average of 108 jobs were created for each FDI project (10% more than in 2019) with more than 15,000 new jobs created through foreign investment. These figures show clearly the importance of available talent in attracting foreign investment projects.
The role of Catalonia Trade & Investment
Catalonia Trade & Investment continued to play a key role as a catalyst for foreign investment projects in Catalonia. The volume of investment attracted through projects implemented with the support of the agency amounted to €479M, 31% more than in 2019 and the fourth highest amount ever attracted since 1985.
Industry and technology stand out as key sectors
Catalonia continues to consolidate its position as an industry and technology investment destination. Industry itself was the main investment sector and represented 30% of total FDI in 2020; while for the 2016-2020 period, the sector overall accounted for more than half of all investment.
As regards the top specific sectors, these were food and beverages, electrical equipment and chemicals. Furthermore, from a technology perspective, six out of every 10 foreign investment projects implemented in Catalonia in 2020 were R&D projects.
And between 2016 and 2020 overall, investment in technology projects grew 64% to reach a record 262 projects. This success in attracting tech investment was recognized by the Financial Times that named Catalonia as having Europe's second best technological investment attraction strategy in 2020.
North America growing rapidly as an investment source
With 162 investment projects materialized between 2016 and 2020, we can see that not only does North America top the list as an investor in Catalonia, but that foreign investment from this region increased almost fivefold in the last five-year period with respect to the previous one. Its share in total FDI almost quadrupled (7.4% vs 28.3%). And more recently, in 2020, the US tied with Germany as regards the number of investment projects, 25 from each country.
Barcelona-Catalonia's standing in global investment rankings
In 2020, senior executives of foreign companies investing in Barcelona-Catalonia highlighted the high concentration of available talent and the industrial cluster as the main reasons for investing in Catalonia. And this positive perception is also reflected in rankings published recently.
The Financial Times Group named Catalonia Southern Europe's most attractive destination for foreign investment in 2020 and 2021. Catalonia also came second in Western Europe regions in terms of job creation due to foreign investment, according to fDi Markets for the period 2016-2020. Furthermore, EU-Startups also named Barcelona as Southern Europe's leading start-up hub in 2020.
Download the report Foreign Investment in Catalonia 2020
More news

and

success stories

.