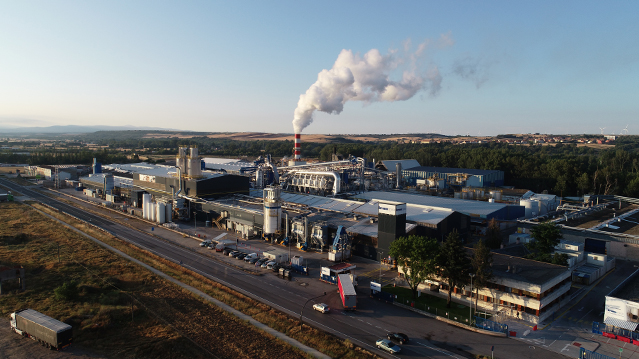 Kronospan to invest 230 million euros and create over 180 jobs at a new plant in Catalonia
24 Nov 2021
The Austrian company Kronospan will invest 230 million euros in a new manufacturing plant of wooden panels for the furniture industry in Tortosa (Catalonia). It is the largest foreign investment ever recorded in the area and will mean the creation of at least of 187 direct jobs.
The general manager of Kronospan Spain, Javier Macicior, emphasizes in this interview that this is a 100% sustainable project that is fully in line with the concept of circular economy. Precisely, Catalonia hosted the Circular Economy Hotspot for the first time this November, which drew attention to its assets in this sector.
Javier Macicior explains that this investment's economic impact will be highly significant as it will involve the concentration of a cluster of related companies near the new factory. Kronospan has a global workforce of more than 14,500 workers and more than 40 factories worldwide.
What work will be done in the new Kronospan plant?
We work with 100% recycled wood as our raw material. This is sourced from discarded end of life domestic furniture which is then collected by our suppliers and sent to us at the factory. We get over 100 trucks of recycled wood per day; and then at Kronospan we clean it, crush it, and turn it into wooden boards once again.
Our Tortosa installations will cover 25 hectares with an advanced factory equipped with state-of-the-art technology. The crushed wood is put into a some 40-metre-high cleaning tower, and the photocells separate the wood from non-wood. All our energy comes from biomass, and we also have a solar energy installation on the factory roof. We are a very good example of a circular economy.
How is the investment positioned within the group's plants?
This is going to be Kronospan's largest global investment in 2022. And it will be operational by the end of next year, we're not wasting any time.
The Kronospan group invests a lot every year, and is growing more in Eastern Europe, especially in Russia and Ukraine. It has also grown in England. We are expanding at a rate of two or three factories per year. We've been in Spain for 8 years, in Burgos, and 2021 gave us a turnover of 240 million euros.
Why did you opt for Catalonia with this project?
In terms of recycled wood, I think Catalonia is one of Spain's most advanced communities. Due to the positioning of the board factories in Spain, there was the option of placing it either in Andalusia or in Catalonia. And finally, Tortosa had the advantage in that it is located between Barcelona and Valencia, two very important centres in terms of wood.
Our market is very local and being located in Catalonia is also relevant because there are many large furniture-making customers. We also import a lot of recycled wood from France. We have to see if we can get rail access, which would give significant export advantages. One plus is that here there are two track widths here – the Spanish and the European – and that gives a us a lot of leeway in terms of rail exports.
Where are you planning to export?
We focus on local markets to avoid logistics costs. Currently, the factory's target area is Catalonia, the Levant, Aragon and southern France. If we can get a rail connection into the factory, that will give us the option to export to Italy, Germany, and other European countries, as logistics costs will go down a lot.
Is this investment is going to have a knock-on effect amongst Tortosa's auxiliary industry?
The option of creating a cluster of companies is highly feasible in Tortosa. The future possibilities are huge. We have a lot of clients and manufacturers who are asking us if they can position themselves beside the factory.
We have a competitive advantage over another supplier when we create a cluster: the logistics cost for our clients, which usually runs at 20%, fall to zero. Any kind of manufacturer who uses our panels (for drawers, cupboards, doors…) can place themselves near us.
We see the possibility of growing dramatically in Tortosa and I think the impact in the area is going to be huge.
How did Catalonia Trade & Investment help you in this project?
It's a great pleasure to work in Catalonia. It's incredible. They gave us their all ever since we started this project three years ago. They helped with in everything: looking for land, holding meetings with mayors, etc. It was amazing.
They gave us help in everything we asked for. Not to mention extremely quickly and with full and absolute availability. In fact, if we even requested meetings on Saturday or Sunday, they were there for us. And it is not easy to find the location we needed, because we were talking about 25 industrial hectares!
Related

news and success stories

.