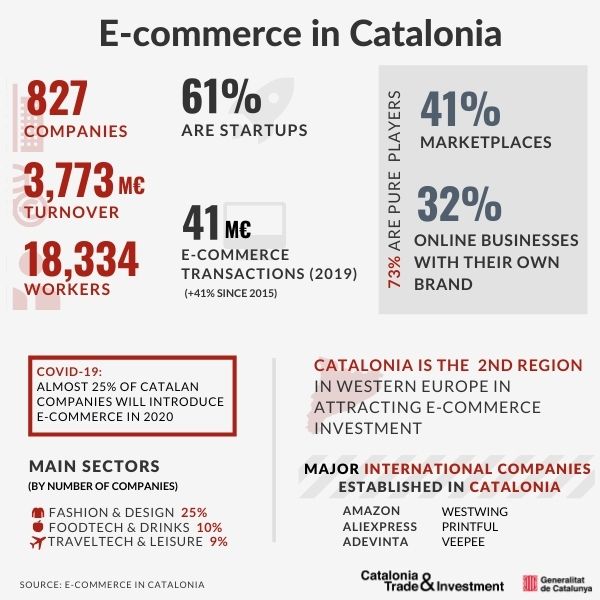 E-commerce turnover rises to 1.5% of Catalonia's GDP according to a study by Catalonia Trade & Investment
04 Dec 2020
E-commerce turnover has risen to 1.5% of Catalonia's GDP in 2019, according to a study by Catalonia Trade & Investment. This figure is a result of the 827 companies currently working in e-commerce in Catalonia. Showing a combined turnover of some €3,773M, they employ more than 18,000 workers.
These companies range from marketplaces (41%) to brands native to an online digital sales environment (32%), as well as companies providing third-party ecommerce solutions (11%), technology developers (9%) and logistics (4%). The majority of the Catalan e-commerce companies are young, with 61% still in the startup phase.
In terms of incoming investment, Catalonia is an internationally leading destination for e-commerce FDI, as the 3rd region in Western Europe in number of projects, the 2nd in terms of job creation and 2nd in capital investment in the e-commerce industry. Major e-commerce players are established here, such as Amazon, Adevinta, Westwing, Lidl, Printful, ManoMano and AliExpress.
E-commerce transactions hit 48M in 2019, up 41% since 2015
Between 2015 and 2019, there were 48 million e-commerce transactions in Catalonia, an increase of 41%, proving the growing activity in the sector, with Catalans spending most on leisure (entertainment, culture, travel, accommodation) and technology, according to 2020 figures, followed by food & drinks and fashion.
Behind all this activity, we can also see that Catalonia has a dynamic trade fair and congress sector related to e-commerce, with major events celebrated here such as the yearly Mobile World Congress and 4YFN, as well as the Eshow, the Retail & Brand Experience World Congress and the Barcelona New Economy Week.
The Covid-19 pandemic also drives e-commerce in Catalonia
Covid-19 has also motivated a fresh sense of urgency as regards online activity within Catalan companies. 13% of firms introduced e-commerce over June-August 2020, and 10% more are planning to introduce it before Christmas 2020. Furthermore, the year also showed a marked increase in services such as home delivery, greater online marketing activity and the renewal and creation of company webpages.
Last mile logistics in Catalonia
It is also worth mentioning that growth in e-commerce in 2020 has accelerated the development of sustainable last mile delivery in Catalonia. Specifically, in its capital Barcelona, in order to reduce traffic, noise and pollution. Here, the City Council has promoted two distribution microhubs that distribute via bicycles or clean vehicles, and this is planned to expand to one microhub per city district.
Distribution is further being transformed with electric bikes and gas-run vans delivering more efficiently and sustainably in areas of difficult access or with time restrictions, such as the Old Town district. Private initiatives are also on the rise, with new operators arriving on the market.
Learn more about the E-commerce sector in Catalonia here.
More news

and

success stories

.