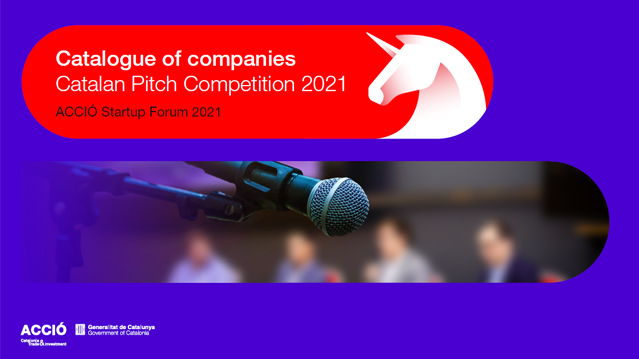 Catalan Pitch Competition 2021: the most promising 50 startups in Catalonia
24 Nov 2021
The Catalan Pitch Competition 2021 catalogue of companies includes 50 of the most promising startups in Catalonia. These are projects selected to participate in the ACCIÓ Startup Forum, standing out for their differential innovative value, social impact, and the commitment of the entrepreneurial team.
All 50 startups operate in sectors such as health, ICT and deep tech, among other technologies. The aim of the catalogue is to connect them with private investment.
For each startup, the catalogue includes information such as the product or solution, the market they aim to reach, the business model, competitors, financial projections and goals, who are the team members, and contact information. Download the catalogue here!
ACCIÓ Startup Forum 2021
The Catalan Pitch Competition (formerly known as Catalonia's Investment Forum) held its 26th edition this year as one of the activities included in the ACCIO Startup Forum. The event included a networking site that brought together face-to-face meetings between investors and entrepreneurs.
A total of 24 of the 50 startups in the catalogue were selected to pitch their projects in front of investors, entrepreneurs and venture capital funds.
The audience at the Catalan Pitch Competition chose Nixi for Children as the winner of the 2021 edition, a startup that has developed a virtual reality-based system to help children prepare for medical procedures.
Want to know more about startups in Catalonia?
Check out the Barcelona & Catalonia Startup Hub and discover more than 1,700 startups in Catalonia.
More news

and

success stories

.