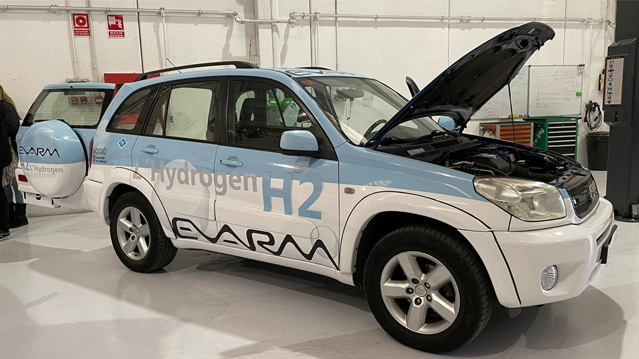 Catalan company EVARM creates the first vehicle running with green hydrogen in Spain
04 Apr 2022
Catalan engineering EVARM has presented the first prototype vehicle powered by green hydrogen developed in Spain.
The company plans to create 30 new jobs this year with the opening of a 3,000m² assembly plant in Sant Boi de Llobregat (Barcelona) for this new business line.
For this R&D project, EVARM has received 200,000 euros from Catalonia Trade & Investment.
During the presentation of the vehicle, EVARM's CEO, Xavier Ribas, explained that the technology developed by the company "is an innovative solution because it is easier to bring to the real world than other alternatives and is closer to the market".
"With the R&D process and the construction of the prototype, we have shown that it is an efficient technology and that it is a solution for everyone," he said.
For his part, the Secretary of Business and Competitiveness of the Government of Catalonia, Albert Castellanos, said that "the business activity of EVARM marks what should be the transformation of the production model and, in particular, the mobility and automotive sector".
Castellanos highlighted the company's "drive, courage and ability to take risks in such a changing sector" and the fact that "it is an innovative project that will create highly skilled jobs in Sant Boi de Llobregat, with the aim of bringing this technology to market".
Specifically, the company has adapted the vehicle's power line - the propulsion system, the engine, the hydrogen management system, among others - and has incorporated the hydrogen storage system.
Part of this structure will be manufactured at the company's facilities in Sant Boi de Llobregat and other components will be integrated from other suppliers.
The engineering company began the R&D process in 2019. Their goal is to bring it to market in 2023 and scale it to industrial vehicles.
In this way, any combustion vehicle could be adapted to run on green hydrogen, according to the company. EVARM, which currently has around twenty employees - mostly engineers and technicians - is already adapting combustion vehicles so that they can run on biomethane.
More news

and

success stories

.