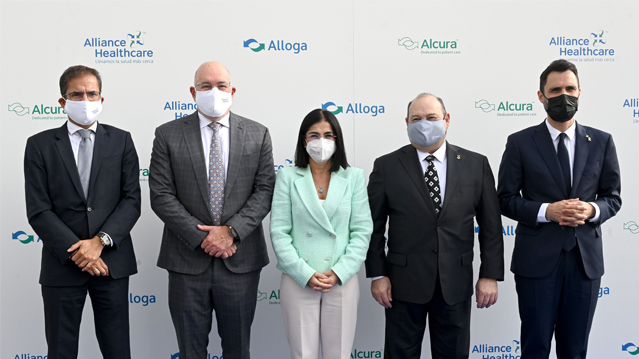 Alliance Healthcare invests 35 million euros in a new logistics centre in Catalonia
15 Oct 2021
Alliance Healthcare, a company dedicated to pharmaceutical distribution (AmerisourceBergen group), has opened its new corporate headquarters and logistics centre in Viladecans (Barcelona).
With an investment of 35 million euros, the new headquarters covers 25,300m2 and increases its logistic capacity by 40%. Moreover, the new centre triples the area devoted to services and specialised activities for the pharmaceutical sector. The headquarters is well connected being very close to the airport and with easy access to the Port of Barcelona.
With this new centre, Alliance Healthcare has a total of 28 delegations throughout Spain. The new plant houses an International Clinical Trials Hub, one of the most innovative product areas with the greatest growth potential, which constitutes a centre of excellence for the group, with around 500 clinical trials per year.
Global clinical trial support
Alliance Healthcare also offers solutions for the distribution of vaccines and treatments for Covid-19. The plant incorporates cold, cryogenic warehouses, with temperatures as low as -20°C, for pharmaceutical products requiring special treatment, such as vaccines.
Another distinguishing feature of the new infrastructure is that it integrates services for pharmacies and pharmaceutical laboratories in the same space, with the aim of providing a global solution to the market, through the offering of services concentrated in a single space, such as clinical trial management or the enhancement of sell-in.
In terms of the role of pharmacies, the new headquarters facilitates synergies between distribution and pharmacist support activities, enabling pharmacists to perform their healthcare role more effectively and profitably.
Cutting edge technology
The new operational centre is also equipped with the latest technological resources and specialised services to meet market needs. 80% of the 60,000 daily product lines ordered from pharmacies are handled by fully automated systems, which provide greater speed and efficiency.
The company is a leader in pharmaceutical distribution, logistics, clinical trial support and other innovative healthcare solutions for pharmacies and pharmaceutical laboratories. With its headquarters in Weybridge (UK), Alliance Healthcare is present in 10 countries (UK, France, Spain, Netherlands, Norway, Turkey, Romania, Lithuania, Czech Republic and Egypt) and has partnerships in three other countries (Portugal, Algeria and Croatia).
Source: Alliance Healthcare
More news

and

success stories

.