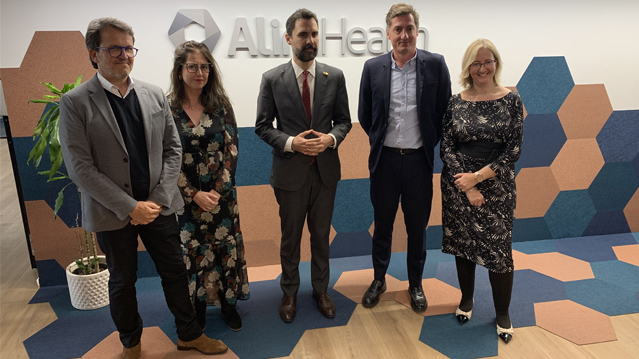 Alira Health to create 100 new jobs with the expansion of its offices in Barcelona
25 Apr 2022
The American company Alira Health will create 100 new jobs in the next two years in its offices located in Barcelona. This decision will make its headquarters in Catalonia one of the largest of the company on an international scale.
Alira Health, dedicated to consultancy for pharmaceutical companies in medical technology and biotechnology to develop, test and bring new products to market, has been present in Barcelona since 2018 with 100 employees.
The expansion was announced by the Minister of Business and Labor, Roger Torrent, and the COO and co-founder of the multinational, Benjamin Chambon.
The company has the support of Catalonia Trade & Investment for this expansion project in Catalonia. According to the agency, there are currently almost 1,100 subsidiaries of American companies located in Catalonia.
After holding a working meeting with the company's executives, Minister Torrent emphasized that Alira Health's growth plans in Barcelona "are great news for the creation of quality jobs" and for the whole sector in Catalonia.
In this sense, he assured the importance of projects such as that of the American company "to consolidate Barcelona and Catalonia as an international reference ecosystem in the field of health, with a great future".
Torrent highlighted the potential of the local ecosystem: "It has many good researchers, hospitals and a good healthcare system to attract and consolidate talent."
According to Nerea Blanqué, Senior Vice President of Market Access and Pricing at Alira Health, the multinational decided to locate in Barcelona "because there is a lot of talent and for the quality of the pharmaceutical industry, hospitals and education. Being in Barcelona is a very easy way for talent to come and work at Alira Health".
Blanqué added: "The company is mainly looking for technological profiles because we are very focused on the fields of health technology and digitalization, but we are also looking for profiles with doctorates and experience in the health sector".
Founded in 1999, Alira Health is headquartered in Framingham, Massachusetts, with offices in San Francisco, Toronto, Paris, Milan, Cambridge and Munich, among others.
The company, which has more than 600 employees that include scientists, economists and biostatisticians on a global scale, works with 80% of the world's leading companies in the field of medical technologies and 75% of pharmaceutical companies.
More news

and

success stories

.