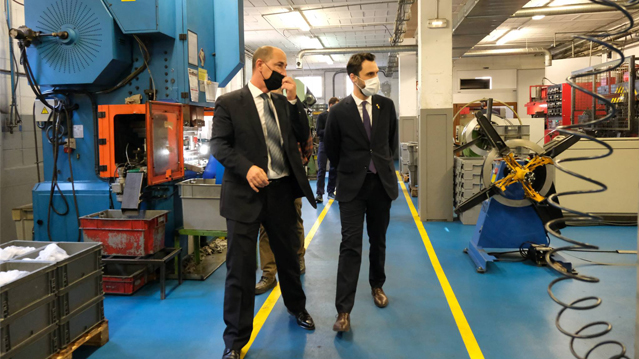 The Chinese company PXI Automotive opens its first European plant in Catalonia
12 Nov 2021
The firm has acquired a 100% shareholding in Mecàniques Troem, a Catalan company located in Torelló
PXI Automotive has performed an initial investment of some 1 million euros that will maintain all the factory's current jobs and plans to double the workforce over the next 5 years.
The Chinese company PXI Automotive, based in Suzhou, has opened its first European plant to manufacture parts for Catalonia's automotive sector. It has done so via the acquisition of 100% of the shareholding in Mecàniques Troem (Torelló, Osona), a Catalan firm dedicated to deep metal drawing and cold stamping.
In this operation, PXI Automotive has made an initial investment of about 1 million euros that will allow the plant to continue in its current activity as well as maintaining all places of work.
To establish itself in Catalonia and to ensure no jobs were lost, the company was supported by ACCIÓ- Catalonia Trade & Investment, the agency for business competitiveness belonging to the Catalan Government's Ministry of Business and Employment.
PXI Automotive received a visit from the Minister of Business and Employment, Roger Torrent i Ramió, who emphasised that "this is the kind of industrial reinvestment that our country needs, especially in a sector as important and strategic such as the automotive industry".
Torrent added that "from the Government, through ACCIÓ, we are committed to supporting our industrial base by offering direct support and facilitating the materialization of projects such as PXI Automotive".
According to David Prats, CEO of PXI Automotive Spain, the company decided to buy Mechanics Troem because "we connected from day one: Mecàniques Troem was already exploring the possibility of selling and the agreement we reached has been beneficial for both parties". Prats added that the aim is to "expand the Torelló plant by bringing in other global customers of the PXI Automotive group and making the most of all the synergies that can be established".
Along these lines, the company will open a new production centre in a warehouse in Sant Pere de Torelló this November. Covering an area of 2,700 m², this new plant will work in manufacturing curved tubes and machined parts, new products in its portfolio, and also intended for the automotive sector.
PXI Automotive Spain will close 2021 with a turnover close to 3.6 million euros, a 25% increase over the previous year. Prats explains that the company's 5-year expansion plan envisages tripling this year's turnover and doubling its workforce, which now stands at 29 employees.
PXI Automotive runs production plants in China and Mexico and works primarily for about fifteen Tier 1 automotive suppliers worldwide. Prats adds that the fact that Catalonia has a significant automotive cluster "has undoubtedly been relevant to the company's decision to establish itself in Catalonia". Until now, Mecàniques Troem exported mainly to France and Poland, and exports and destination countries are expected to increase from now on.
The company has received the support of Catalonia Trade & Investment, ACCIÓ's foreign investment attraction area. This unit works from Catalonia and out of ACCIÓ's network of 40 Foreign Trade and Investment Offices around the world to attract new foreign investment projects in Catalonia, at the same time as it comprehensively advises foreign companies to facilitate the investment process.
More news

and

success stories

.