Barcelona-Catalonia, a
testing ground

for

smart cities solutions

.
Barcelona -the third smart city in the world and first in Europe, according to Juniper Research (2022)- is the Mobile World Capital and has a powerful ICT sector that connects, facilitates and empowers all the multiple smart solutions.
These solutions range from efficient energy systems and smart transit solutions (parking, public transport, etc.) to predictive security models or water usage solutions, not to mention telehealth and m-Health, improvement in tourism and commerce (computer systems, payment methods) or management in terms of learning and education. You can search our database for Catalan suppliers of smart city solutions.
Smart city companies in Catalonia grow by 7.3%
A study elaborated by Catalonia Trade & Investment (2022) shows that the smart cities sector in Catalonia is made up of 471 companies, with a workforce of 46,077 people.
In relation to 2018, the number of companies has increased by 7.3%. Their collective turnover, solely linked to the smart city sector, came to 10,445 million euros, a growth of 7.5% compared to 2018. This figure represents 4.3% of the Catalan GDP, proof of how important this sector is for Catalonia's business environment.
The sector is largely made up of small and medium-sized companies (88.5% of the companies are SMEs), and 26.3% of them are startups. Moreover, 56.7% of the Catalan smart city companies export, and 13% are foreign subsidiaries.
"Barcelona is the third smart city in the world and first in Europe (Juniper Research, 2022)"
10.5 billion euros in turnover
Sectors and opportunities for investment
Catalonia has opportunities for foreign investment in the smart city sector for companies with a high technological development profile. Some of the international firms that have already set up in Catalonia are Engie, Cisco, IBM, HP and Ricoh.
The initiatives of clusters, technological centers and universities specialized in smart cities play an important role in the significant development of smart city activity in Catalonia. The region also has 64 municipalities with over 20,000 inhabitants, creating a testing ground for the new technologies developed by sector companies, not to mention the public administration's commitment in this area.
Moreover, Barcelona hosts once a year the Smart City Expo World Congress, the most important event related to smart cities worldwide that sets new trends and innovations for the future. In the 2022 edition, more than 1,000 exhibitors from 140 countries showcased their products and solutions, and representatives from more than 700 cities shared the major challenges facing cities today.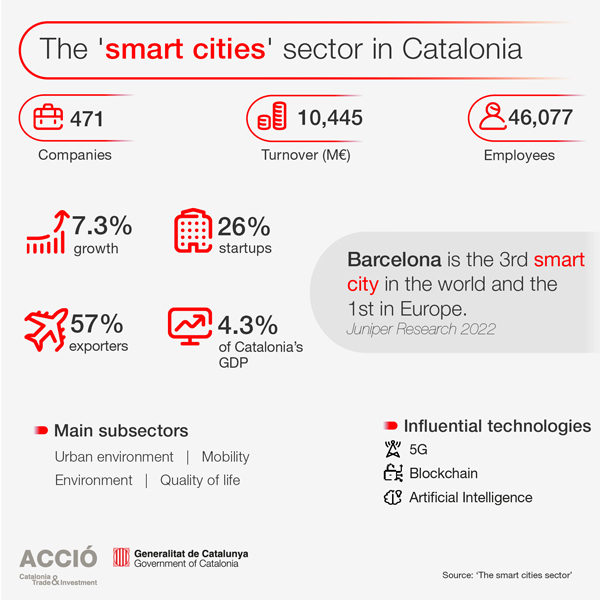 ​​​​​​​
Main players and events

in

Smart Cities

.
Check below which are the main institutions and events related to industrial systems & digitalization in Barcelona-Catalonia.
Related success stories

in Barcelona (Catalonia)
.