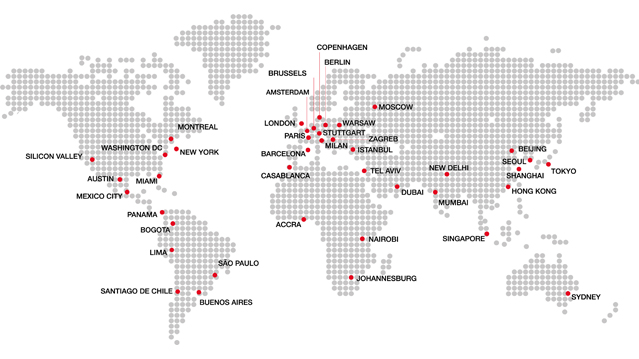 The number of Catalan companies internationalised via Catalonia Trade & Investment's offices around the world grows 12.5% in 2020
13 Apr 2021
Over 1,100 firms have either exported, internationalised their services or put into practice innovation projects around the world during the pandemic.
The Catalonia Trade & Investment's international offices handling most projects are those in Paris, London, Germany and Miami; while those showing most growth have been Tel Aviv, Lima and Mexico.
Furthermore, in 2020 Catalonia Trade & Investment attended some 1,800 queries from exporting companies (an increase of 12.2%) facing internationalisation challenges caused by Covid-19 or Brexit, amongst other reasons.
In 2020, Catalonia Trade & Investment's network of 40 International Offices gave assistance to 1,100 companies in their expansion and innovation processes: 12.5% more over the previous year. In total, these companies undertook 1,980 projects around the world via the international offices, 7.5% more than in 2019.
This is the balance of a year overshadowed by the Covid-19 pandemic situation, which added complexity to internationalisation processes – with changes in customs procedures, the implementation of new regulations and requirements for goods delivery and the impossibility of holding in situ international fairs or organising business trips, among others.
In fact, Catalonia Trade & Investment's offices reformulated their existing services to adapt to the current situation in order to guarantee the internationalisation of Catalan companies as well as furthering international cooperation projects in innovation areas.
As regards destination countries, the International Trade and Investment Offices that worked on the most projects were those in Paris and London – due to, amongst other reasons, Brexit and the need for Catalan companies with businesses in the United Kingdom to adapt – followed by those in Germany and Miami.
On the other hand, the ones with the highest project growth were those located in Tel Aviv, Lima and Mexico. The main sectors of the companies were food and gourmet products (9.5% of the total), ICT and digital transformation (8.8%) and chemicals and plastics (7.6%).
Accordingly, during 2020, the support of Catalonia Trade & Investment focused mainly on supporting Catalan SMEs to find the best entry channels into each market, detecting the specific country opportunities depending on the company and sourcing for the most suitable business partners.
On the other hand, mention must be made of initiatives to find new international tech partners and suppliers to carry out R&D and innovation projects aimed at developing new products and services or exporting technology, for example. In fact, international innovation projects are increasingly in demand as a new way to internationalize and discover technologies, new business models and global trends.
Thirdly, also noteworthy are the projects dealt with through the Supplier Search Service, a service that connects foreign companies with Catalan suppliers of specific products or services.
More exportation barriers
The situation caused by Covid-19 on a global scale and the uncertainty of Brexit, among other reasons, led to an increase in queries from Catalan companies encountering exportation obstacles and that dealt with them through Catalonia Trade & Investment's Technical Office on Internationalization Barriers.
Specifically, in 2020, 1,760 queries from Catalan companies were dealt with, 12.2% more than the previous year. They came from companies that needed support to obtain a specific certificate, discover the documentation and files needed to export a product or that required destination assistance to solve logistic and customs problems, for example.
More news

and

success stories

.