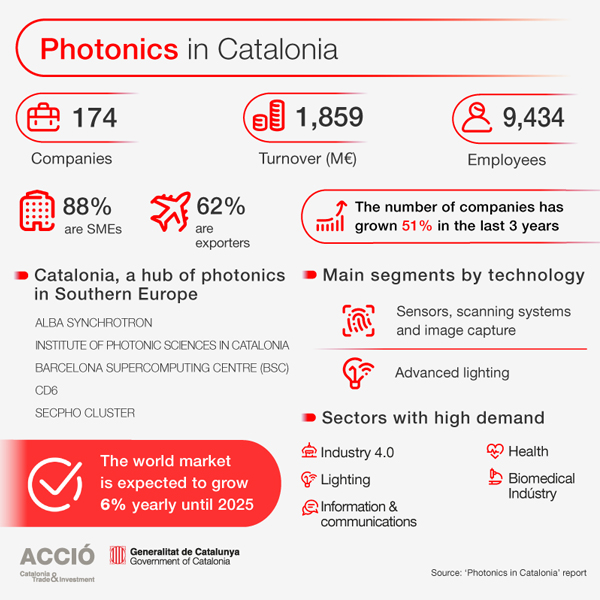 Report: The number of companies in the photonics sector in Catalonia grew by 51% in the last three years
12 Apr 2022
Catalan companies in the field of photonics have increased by 51% in the last three years and now reach 174. All of them have an aggregate turnover that has also grown by 9%, to 1,859 million euros, and generate 9,434 jobs.
These are data from the report 'Photonics in Catalonia' by Catalonia Trade & Investment.
Of the total number of companies in the photonics ecosystem in Catalonia, 88% are SMEs. In addition, it is a highly globalized ecosystem, as 62% are exporters.
On the other hand, 58% of the total turnover is more than one million euros, while 28% have sales of more than 10 million euros. This is a dynamic and growing field as 22% of companies are startups.
Sectors of activity
In terms of scope, 44% work in Industry 4.0, a figure that has grown strongly compared to 13% in 2018.
In Catalonia, this ecosystem mainly uses technologies such as sensors, scanning systems and image capture (42%), or advanced lighting (28%).
Photonics also uses technologies such as laser systems, communications and networking, display and display systems, photovoltaic systems, and quantum technologies.
Catalonia, a hub of photonics in Southern Europe
The technology report also highlights the relevance of the institutions and initiatives that drive the sector in Catalonia, with a strong emphasis on the field of research and the transfer of technology to the market through the generation of spinoffs.
The report highlights the fact that Catalonia has entities such as the Institute of Photonic Sciences of Catalonia (ICFO), the Center for the Development of Sensors, Instrumentation and Systems (CD6) or the SECPHO cluster, as well as top-level infrastructures such as the ALBA Synchrotron or the Barcelona Supercomputing Center (BSC).
In this sense, the report points out that 84 Catalan entities have raised up to 89 million euros in European research funds Horizon 2020 related to photonics between 2014 and 2020. This represents 2.5% of the total fund, a figure higher than that which would correspond to Catalonia by volume of population (1.5%).
Photonics on a global scale
According to the report, photonics is experiencing 6% annual growth and forecasts suggest that the global photonics market will reach more than 900 billion euros by 2025.
China has the largest market share in global photonics, with 29% of the total. Europe is the world's second largest photonics market, with 16%.
Its major producers are Germany, the United Kingdom and France, which together account for 70% of the photonics market share on the continent.
Download the report Photonics in Catalonia
More news

and

success stories

.