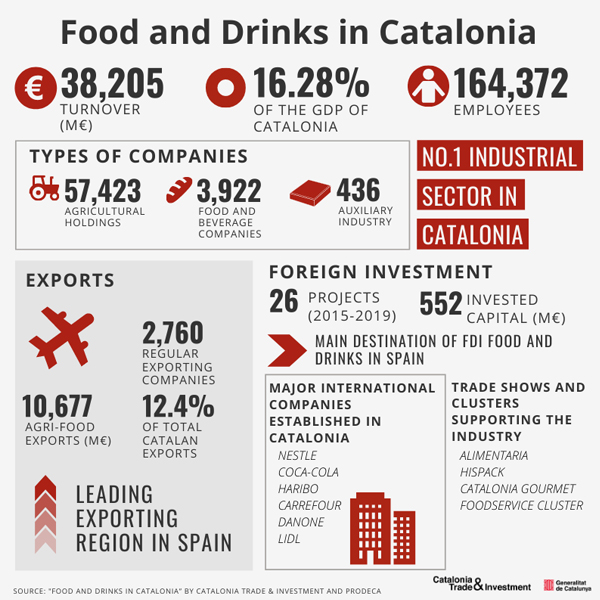 Report: The Food & Drinks sector in Catalonia, a top destination for international companies
27 Jan 2021
A rich Mediterranean culinary and agricultural background paves the way to Catalonia's leading food & drink industry. According to a study by Catalonia Trade & Investment, the food & drink sector is Catalonia's most significant industry with an overall turnover of €38,205M and creating employment for 164,372 people.
Barcelona and Catalonia offer a sophisticated market, the whole food and drink value chain, top research centers, talent and know-how for food and gourmet projects.
Behind the sector are 3,922 companies in Catalonia, more than 57,000 farms and 436 companies in the auxiliary industry.
First destination for foreign investment
Catalonia is the top food and drinks FDI destination in Spain, representing almost 1/4 of the Spanish sector in terms of projects (24.1%), capital investment (22.8%), and jobs created (24.4%).
26 FDI projects were recorded in Catalonia between 2014 and 2019, according to fDi Markets data. These projects represent a total capital investment of €552M, and 1,546 jobs created.
Leading international firms from the food & drinks sector that are investing in Catalonia include Nestlé, Cargill, Carrefour, Coca-Cola, Haribo, or Lidl, among others.
A strong past and present empower an even stronger future
Innovation is central to the Catalan food & drinks sector with top research centres – such as Eurecat, Leitat and the Alícia Foundation – devoted to technological innovation in food processing, to the improvement of eating habits and to food security evaluation.
Throughout all Catalonia, robust public-private partnerships empower the entire ecosystem with 14 clusters & associations, such as the Meat Cluster -which leads the food sector by the number of employees (40%) and turnover (32%)-, the Wine & Cava Cluster, the Foodservice Cluster or the Catalonia Gourmet Cluster.
The sector also enjoys major international tradeshows taking place in Catalonia, such as Alimentaria or Hispack.
With the necessary resources to optimize its output
All this activity is supported by a logistics network that serves 400 million consumers in Europe and the Mediterranean/Northern Africa in less than 48 hours.
Specific infrastructures and services, such as the Mercabarna wholesale market, Barcelona's Port and Airport, also work together to consolidate Barcelona as a key hub for fresh produce from Europe.
Furthermore, the Port of Tarragona maintains an indisputable leadership in the movement of agri-food products, both in Spain and the Mediterranean.
Download the full report on Food & Drinks in Catalonia here.
More news

and

success stories

.