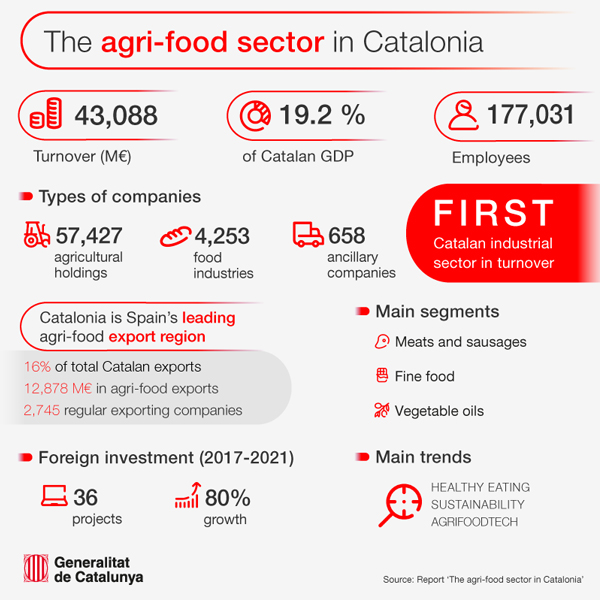 Report: Agri-food, a dynamic and thriving industry in Catalonia
11 Apr 2022
Bearing in mind the excellent culinary reputation of Catalonia and the number of Michelin-starred restaurants, it may come as no surprise that the agri-food sector is one of the Catalan economy's strong points.
In effect, it is a leading industrial sector with an overall turnover of €43,088M and over 177,000 employees. These are the latest figures according to the report The agri-food sector in Catalonia by Catalonia Trade & Investment.
With meat industries at the forefront, it's a highly mature sector thanks to its powerful business ecosystem throughout the entire value chain. In fact, the potential of the value chain is one of the keys to understanding the sector's success.
Ranging from suppliers for livestock, fishing and agricultural needs, to specialized logistics and services such as food safety, laboratories and analysis and food processing machinery, not to mention a dynamic retail and Horeca industry, it ensures that companies are surrounded by everything they need at all times.
Solidly integrated into the entire Catalan economy
If we look at the three main areas within the sector, we see that the food and beverage industry employs 90,500 people in 4,253 companies and generates a turnover of €30,090M; the primary sector is made up of 57,427 agricultural and fishing operations with 55,022 workers; while the ancillary industries are represented by 658 companies and 31,430 employees.
In terms of exports, Catalan agri-food sales abroad represent 16% of the total in Catalonia and come to over €12,878M, which is 21.78% of all Spanish agri-food exports. Meat products, quality food products, fruits and vegetables, as well as oils and wines and cavas are the most successful exports.
Attracting foreign investment
Catalonia's thriving agri-food industry has not gone unnoted by foreign investment, making it a leading location for agri-food FDI in Western Europe, ranking 5th region in number of projects, with 36 direct investment projects between 2017 and 2021, an increase of 80% compared to the previous five-year period.
Combined, this represented a total investment of 595 million euros and generated 2,161 jobs. Lidl, Danone, Florette and Coca-Cola are some of the companies that have invested in Catalonia during this period.
Staying ahead of innovation
One of the mainstays of the food and beverage sector in Catalonia is its innovative capacity. With leading technology centers such as Eurecat, Leitat or the Alícia Foundation and the presence of several international clusters, associations and companies, this sector is one of the great drivers of Catalan innovation.
Furthermore, out of the 1,900 startups today based in Catalonia, 120 are working in the agri-food sector, with success stories such as Heura, a soy-based alternative meat company that is pioneering this sustainable meat alternative from Catalonia.
The industry's main trends
The study also highlights the trends and main future challenges of the agri-food industry in three large areas.
Firstly, and in terms of sustainability, it is necessary to focus on more sustainable and Km0 foods or reduction of plastic use, among others; secondly, healthy eating and the apparition of new sectors such as nutrigenetics should be highlighted; and finally, the study points to agri-food technologies and innovation as a key part of the sector where digitization of agri-food production is also fundamental.
Download the report The agri-food sector in Catalonia
More news

and

success stories

.