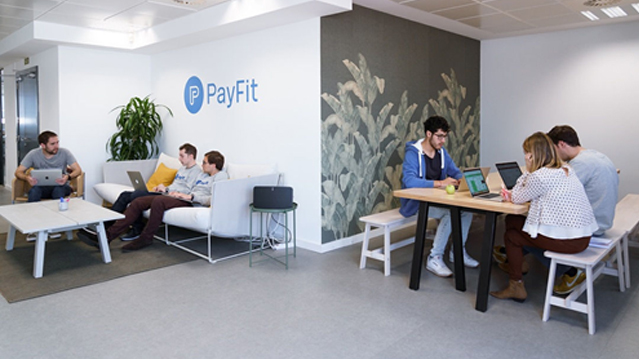 French company PayFit to increase Barcelona workforce by 25% in 2021 with up to 70 employees
12 Apr 2021
The tech firm, specializing in the automation of the payroll system and other human resources processes for SMEs from several sectors, will create 20 jobs this 2021
To set up in Catalonia, the company has had the support of ACCIÓ-Catalonia Trade & Investment
For the French company, established in Catalonia in 2018, "Barcelona has a large ecosystem of startups and is a very cosmopolitan city, with a great capacity to attract talent"
French company PayFit plans to increase its workforce in Barcelona by 25% during 2021 and reach 73 employees. The technology firm, specializing in the automation of the payroll system, will create 20 jobs in its subsidiary in Catalonia, from where it specializes in services for SMEs in several sectors, from industry to technology communication companies.
To set up in Catalonia, the company has had the support of ACCIÓ-Catalonia Trade & Investment, the Government's agency for business competitiveness. There are currently over 1,100 subsidiaries of French companies located in Catalonia.
PayFit offers a computer program to automate payroll management for companies, as well as other human resources processes, such as sick leave, vacation or employee allowances. The technology company designed its own programming code based on the regulations of different professional groups, which can be adapted to the needs of each company.
According to the company's country manager in Spain, Yoann Artus, "PayFit's goal is to automate the most bureaucratic and repetitive tasks for human resources managers so that they can focus on what really matters: the well-being of their employees". The incorporation of an automated system can also "reduce human error" that can impact the company's performance, especially in markets "where payroll is complex to manage".
For the French company, which opened its subsidiary in Catalonia in 2018, "Barcelona has a large ecosystem of startups and is a very cosmopolitan city, with a great capacity to attract talent." In addition, according to Artus, "it is very close to France, both geographically and culturally."
From Barcelona, ​​PayFit is mainly aimed at SMEs with up to 150 employees. The French technology company is looking to incorporate qualified profiles for this office (from engineers to managers and sales managers), which currently has around 50 employees and an independent structure from that of its headquarters in Paris.
Founded in 2016, PayFit serves 5,000 companies across Europe and has a global workforce of 550 employees. The company is present in Italy, Germany and the United Kingdom, as well as France and Catalonia. Since its creation, the technology company has closed several rounds of funding, the most recent one being 90 million euros announced a few weeks ago with the aim of achieving 100% growth compared to last year.
The company is supported by ACCIÓ-Catalonia Trade & Investment, which is dedicated to foreign investment attraction. The agency operates from Barcelona alongside a network of 40 foreign trade and investment offices around the world, aiming to attract new foreign investment projects to Catalonia while fully advising foreign companies to facilitate the investment process.
More news

and

success stories

.