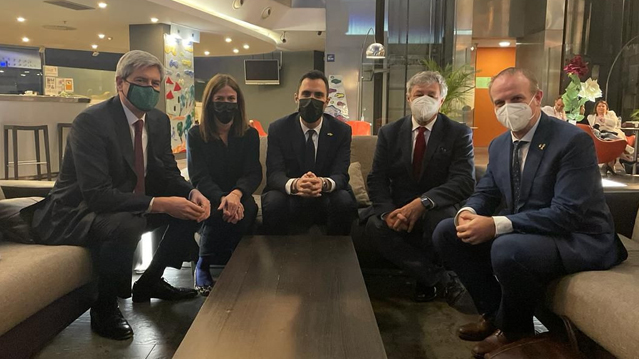 AstraZeneca will create up to 100 jobs in Barcelona with a new hub for developing rare disease drugs
07 Mar 2022
The Anglo-Swedish company will open this hub in the Catalan capital through the Alexion group company and will accelerate the development of new generation drugs
For this investment project in Catalonia, AstraZeneca will have the support of ACCIÓ- Catalonia Trade & Investment, the agency for the business competitiveness of the Department of Business and Labour
The company claims that its goal is to make this new hub one of the largest centers of clinical excellence and innovation for rare diseases in Europe
The pharmaceutical company AstraZeneca will open a development center in Barcelona to accelerate the development of new generation drugs in the field of rare diseases, a project that will involve the creation of up to 100 jobs specializing in R&D in the next two years. The company will open this new hub through the Alexion Group company, which specializes in rare diseases.
This investment project of AstraZeneca in Catalonia has the support of ACCIÓ- Catalonia Trade & Investment, the agency for the business competitiveness of the Department of Business and Labour of the Government of Catalunya.
According to the pharmaceutical company, rare diseases represent a significant unmet medical need, as of the nearly 7,000 rare diseases, about 95% have no treatment.
In this sense, the company's goal is to become "one of the largest centers of clinical excellence and innovation for this type of disease in Europe", according to the vice president of the new Development Hub in Barcelona, ​​Gonzalo de Miquel.
For Miquel, "Barcelona is fast becoming one of the most vibrant cities in Europe in the health sector, which is why it is an ideal location for this center, to explore and develop new therapeutic options that change the lives of patients suffering from rare diseases".
The Minister of Business and Labour, Roger Torrent, said that "we are extremely pleased that AstraZeneca has chosen Catalonia to locate this development center, a project that will be a boost for the entire life and health sciences sector in Catalonia, which already represents 8.7% of GDP and has established itself as one of the great drivers for the economy as a whole".
"High value-added investments such as AstraZeneca have a major impact in terms of job creation, scientific and social progress," Torrent said.
Based in Cambridge, United Kingdom, AstraZeneca specializes in the discovery, development and marketing of prescription drugs, primarily for the treatment of diseases in the oncological, cardiovascular, renal, metabolic, respiratory and immunological fields.
It is currently present in more than 100 countries around the world. In 2021, the Anglo-Swedish company acquired the Massachusetts-based company Alexion Pharmaceuticals, which specializes in rare diseases.
More news

and

success stories

.