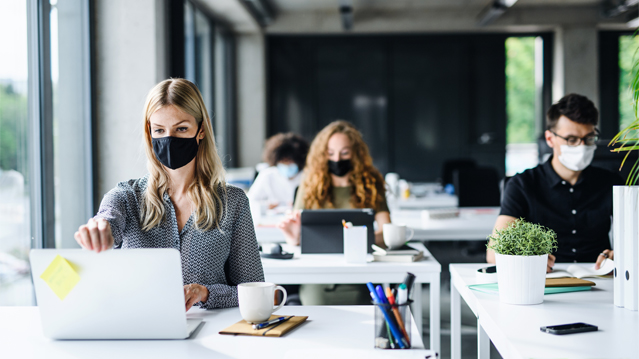 5 reasons why you'll find the tech talent you need in Barcelona-Catalonia
25 Feb 2021
Barcelona and Catalonia are attracting more and more technological projects with the number of foreign tech companies setting up in Catalonia growing 21% in 2019, mainly with projects from the United States, Germany, France, and the United Kingdom.
International companies agree that the key to the success of a tech-based project is finding the right talent - and they do it in Barcelona. Discover why!
1. Barcelona is the world's 5th most attractive city for digital experts
Barcelona ranks 5th in the list of the world's most attractive cities for digital experts. Not surprisingly, tech jobs are what mostly brings in foreign talent: 32% of foreign employees in Catalonia work in this area.
According to Barcelona Digital Talent, Catalonia's tech ecosystem is strong and has emerged even stronger from the crisis caused by the pandemic, as the number of professionals has grown by 20%. There are currently around 100,000 professionals in the ICT sector in Catalonia, with software developers being the most solicited.
More value-added profiles such as Artificial Intelligence, the Internet of Things, 3D Printing and blockchain are emerging with demand for them quickly increasing.
"Catalonia has very strong digital skills and a willingness for innovation"

Gianpaolo Santorsola, CEO of Adevinta Spain
2. Catalonia's university system attracts talent from abroad
The Catalan university system stands out for its ability to attract talent from all over the world. The number of international students has grown 37.9% over the last eight years and today Catalonia has a greater percentage of foreign students than countries such as Germany, Denmark, or Holland.
Twelve universities are home to almost 265,000 students in Catalonia and offer over 500 qualifications. The Polytechnic University of Catalonia (UPC) is the main institution for training digital professionals in Barcelona, and other important institutions in tech areas are the Autonomous University of Barcelona (UAB), the University of Barcelona (UB) or Pompeu Fabra University (UPF).
As far as business schools, Barcelona is the only European city with 2 business schools - ESADE and IESE Business School - ranked among the top 10, according to the Global MBA Ranking by the Financial Times. IESE Busines School is also ranked 1st in the world for executive education.
"A-players attract A-players, and this is what is happening in Barcelona"

Albert Serrano, Managing Director Veepee Spain
3. Barcelona is Southern Europe's leading startup hub
Barcelona and Catalonia have established themselves as Southern Europe's most relevant startup hub, benefiting from the dynamism and creativity of the professionals who work in emerging companies.
Today there are more than 1,500 startups in the region - which can be consulted at the Barcelona & Catalonia Startup Hub - that mostly work in 4.0 related technologies, such as Cloud Computing, Big Data, Internet of Things and Artificial Intelligence (64%).
Talent in the startup sector has a relevant international presence: 19% of all employees and 15% of founders are from abroad.
The Pier 01 building is the main meeting point for the Barcelona startup & entrepreneurial community and the largest of its kind in Europe. It is managed by Barcelona Tech City and hosts more than 100 startups and companies, incubators and accelerators.
Barcelona Tech City has announced the creation of more Piers in Barcelona, which will be dedicated to fintech, health and mobility.
"Barcelona attracts talent and knows how to retain it: it's the best place to develop your professional career"

Marc Gómez, CEO of ABB Spain
4. There is top-level scientific talent in Barcelona and Catalonia
Barcelona is Europe's 4th most innovative city, and talent comes out of its excellent scientific infrastructures. There are 800 research groups and more than 25,000 researchers that working in the region. It is noteworthy to say that with just 1.5% of Europe's population, Catalonia produces 2.6% of European scientific production.
Some of the state-of-the-art facilities that support and develop technology-related projects include the ALBA Synchrotron (the first particle accelerator in Southern Europe), MareNostrum - BSC (Spain's premium supercomputer and one Europe's foremost), or the Computer Vision Center, among others.
"Many international companies chose Barcelona as their digital hub because the talent pool is large: Barcelona is one of the most dynamic cities in the digital field in Europe"

Thomas Gendulphe, director of SQLI Spain
5. Catalonia Trade & Investment connects you to top talent
Catalonia Trade & Investment connects international companies with main sources of talent, both local and international, to set up or expand their multinational teams in Barcelona and Catalonia.
If you are considering setting up or expanding in Barcelona and Catalonia, our agency will put you in touch with Catalan universities and research institutions to help you find skilled tech talent, as well as with local professional associations such as Industrial Engineers in Catalonia or the Catalan Association of Telecommunications Engineering.
Our partner network can connect you to local headhunting and human resources agencies that will help you source digital talent, like Babel Profiles, Capitole Consulting, Digital Selection, or Mur & Partners, among many others.
Catalonia Trade & Investment also works closely with other agents and initiatives whose aim is to empower technology in Catalonia, such as the Mobile World Capital, Barcelona Global or SciTech Diplohub.
Our agency also offers a fast-track service to facilitate international mobility of executives and technical staff that are part of investment projects in Catalonia.
Thinking about locating or expanding in Southern Europe? Contact us and we'll help you succeed.
More news

and

success stories

.