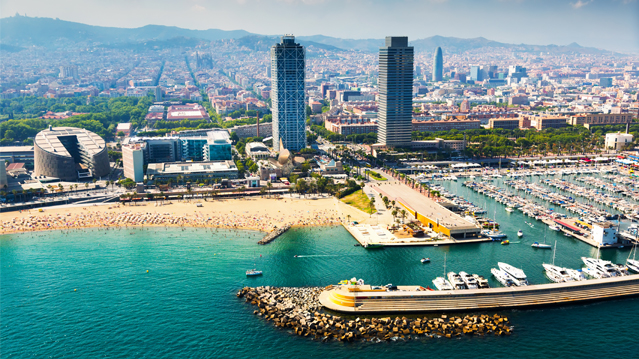 10 life sciences companies from the UK, selected to participate in the Fast-Track Programme to Barcelona-Catalonia Life Science Hub
26 Jan 2022
10 biotech and life sciences companies from the UK have been selected to participate at the Fast-Track Programme to Barcelona-Catalonia Life Science Hub, Catalonia Trade & Investment's initiative for UK firms looking to expand to Spanish-speaking markets.
The selected companies are Aparito, Eagle Genomics, Exploristics, GBUK Group Ltd, Kirkstall, NorthWest EHealth, Orphan Reach Ltd, Perspectum, and Talisman Therapeutics Ltd, from areas ranging from analytics software and wearable technologies to clinical trial platforms.
The Fast-Track Programme to Barcelona-Catalonia Life Science Hub will offer these companies specialized support to land in Barcelona-Catalonia.
During the first stage of the programme, the firms have pitched their projects to a panel of experts including Asabys, Amgen, Grifols, DDR, and Biocat, the institution that supports the life sciences and healthcare innovation sector in Catalonia.
At the same time, the selected participants have received valuable insights on how to enter the Spanish market.
The 10 companies will also attend in February a market access session led by the governmental organization of the United Kingdom the Department of International Trade and by Alira Health, an international advisory firm specializing in Spain and Latin America.
The UK participants will get support in connecting with Barcelona-Catalonia's vast life sciences talent pool and during the soft-landing process in the region.
Testimonials from the selected UK life sciences companies
The companies that participated in the event could verify that Catalonia provides access to a vibrant network of global players, as highlighted Maria Elena Martyak, Head of Product Marketing at Eagle Genomics: "Being a leader in the life sciences and biopharma industries, Catalonia represents an amazing opportunity for Eagle Genomics to continue to grow and develop multinational partnerships and relationships". The company supplies analytics software to the life sciences industry, applying network science to biology.
The UK company Aparito has developed a wearable technology that enables parents and physicians to monitor the health of diseased children. "This is a great step for us to enhance our footprint and presence in Catalonia. We're pleased to be part of the selected 10 companies and energised to move forward", said Dr, Elin Haf Davies, CEO of Aparito, after the kick-off session.
The Catalan life sciences ecosystem is the perfect gateway to the Spanish-speaking markets and beyond. Marie Kane, Director of Corporate Strategy and Deputy CEO of NorthWest EHealth, developer of a clinical trial platform, said: "Catalonia is a key market for global life sciences. The support of the Catalonia Trade and Investment team will be critical to our successful landing in this new market".
Talisman Therapeutics, which provides human stem cell drug discovery services, also participated in the programme. "We very much enjoyed the session and look forward to further discussions. We see a lot of potential in working more closely with the science base across Catalonia", said Mark Treherne, Chairperson of the company.
Aiden Flynn from Exploristics, a company that specialises in data analysis with regards to drug discovery and clinical development, stated: "We are delighted to be part of the Fast Track Programme. There is clearly a great opportunity for UK life science companies in Catalonia".
Another selected company was Perspectum, which develops products for the detection and measurement of liver, gallbladder, and pancreatic disease. Janete Alves, Business Development Manager said: "It was a pleasure to present Perspectum medical technologies to such a skilled panel on the Fast Track Programme to Barcelona-Catalonia Life Science Hub. The level of engagement between the panelists and the companies presenting was a successful example of how governments should support external industry investment into their regions."
Roger Costa, Manager of FDI Promotion & External Partners at Catalonia Trade & Investment, said at the kick-off session: "The UK is a priority for the Catalan Government when it comes to promoting and strengthening FDI exchanges. Catalonia is a very important industrial and tech region within the European framework and the best getaway to access South American markets". "Catalonia gathers more than 50% of the Spanish pharma industry, and Barcelona is one of the most important European cities in terms of scientific production", added Costa. The kick-off session was moderated by Biocat.
The Fast-Track Programme to Barcelona-Catalonia Life Science Hub is an initiative from Catalonia Trade & Investment's office in London, that works to help the UK and Irish companies to enter the Catalan market. Companies can get free support for their soft landing, such as legal advice, tax, business connections, recruitment, and location search.
More news

and

success stories

.