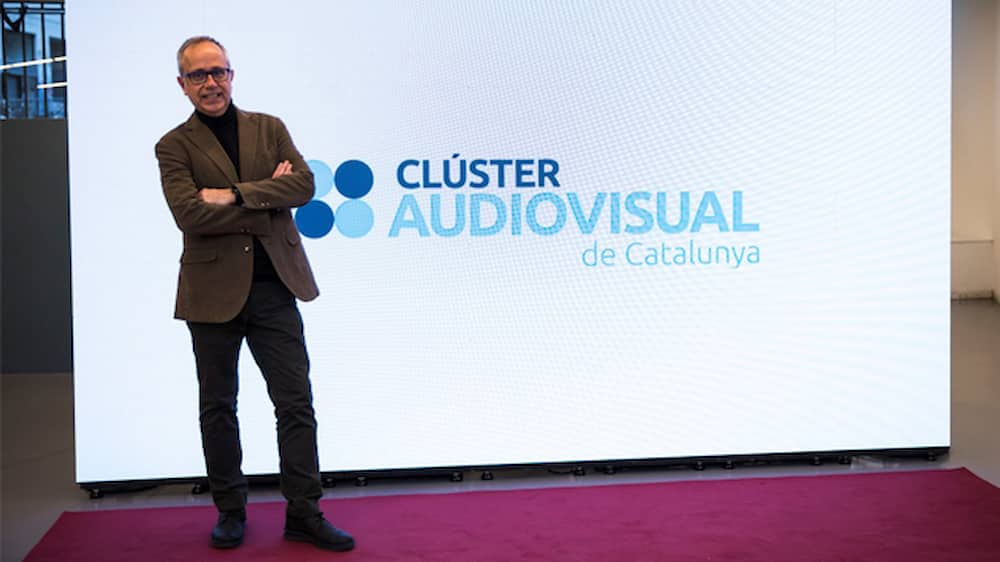 Eduard Gil

, manager of the

Catalan Audiovisual Cluster

: "Catalonia's talent is one of our audiovisual sector's main assets"

26 Apr 2022
Catalan Economy · International Events
The audiovisual sector employs 26,651 people in Catalonia and has a turnover of €6,702 million. The Catalan Audiovisual Cluster brings together companies and institutions based in Barcelona, all working together to build a strong and innovative audiovisual industry.
The cluster will be present from the 10th to the 13th of May at the Integrated Systems Europe (ISE) fair, sharing a stand with the Barcelona City Council (Pavilion 5 - 4A350) and holding a series of conferences on current issues such as, for example, the metaverse. The cluster companies Cellnex, Filmin and CCMA will also be participating in the ISE Innovation Challenge.
Eduard Gil, the cluster's manager, explains in this interview that the Catalan audiovisual cluster is one of the strongest in all Europe, with 11 universities working for the audiovisual industry, out of which the most promising talent is coming.
Why are foreign audiovisual companies investing in Catalonia?
Foreign companies can find in Catalonia the complete audiovisual ecosystem they need as well as a full range of suppliers.
They don't have to bring in people from abroad because there is an extremely powerful audiovisual muscle here that can provide them with all the necessary services, from locations to know-how, and so on.
This has been clearly demonstrated by how ISE has been received in Barcelona: our sector experience is unparalleled to anywhere else in Europe.
What opportunities does the ISE congress in Barcelona mean for the sector?
Barcelona is Europe's most important congress city. Behind that fact there is complete sector of integrated systems (AV), and the congress helps to boost an entire, already-existing industry. Multinationals are setting up in Barcelona looking for local teams.
ISE chose Barcelona because it wanted to grow, not to do what they were already doing in Amsterdam. They are extremely interested in exploring how the digital world hybridizes with the event world.
What are Catalonia's sector strengths?
We have a century-old audiovisual ecosystem: the true Spanish audiovisual ecosystem is in Catalonia. On sets in Madrid, you hear Catalan spoken because most professionals are from here.
There are now 140 members in the cluster, and the ecosystem in Catalonia doesn't exist in other areas of Spain. We have been making films for many years, not to mention the fact that communication and advertising have also been very important here.
We also have 11 universities with audiovisual studies, and this is something unprecedented: we are the audiovisual cluster with the most universities in Europe. Talent in Catalonia is one of our main assets because there is training and a consolidated ecosystem in this industry. What we're missing is a lack of investment momentum.
In addition, there's a reason why the video game sector has had such an impact on Catalonia: the talent that animation and special effects schools are generating in the world of video games. This doesn't exist anywhere else in Europe. It's no coincidence that major video game companies, such as Scopely or Ubisoft, have set up here, it's just because the talent ecosystem was already present.
What specific activities does the audiovisual industry include and what sectors does it impact?
The audiovisual cluster has the most wide-ranging value chain in Europe with 13 segments: film and TV production, post-production, audiovisual technology parks, distribution and exhibition, production services, television, radio and podcast, immersive experiences, technology, communication and advertising, video games, training and integrated systems.
In film production, for example, we are a powerful force and there is currently a new wave of Catalan filmmakers, many of whom are women. We have two Film Commissions and up to 4,000 shootings are done annually. Barcelona is in high demand for filming.
Within the distribution and exhibition segment, there are 120 audiovisual festivals in Catalonia. We are home to Europe's the most important platform, which is Filmin, the only one that has been able to take on the big players like Netflix or HBO. Their headquarters are in Barcelona.
In the immersive experiences segment, the cluster startups have been pioneers in areas such as virtual reality, holograms and the metaverse.
What facilities does Catalonia have in terms of the audiovisual industry?
We have the Parc Audiovisual de Catalunya, in Terrassa (Barcelona). It covers 22,000 square meters and two huge 1,500 square meter sets. There's also Neàpolis in Vilanova i la Geltrú, the Roca Umbert center in Granollers and the Tecnocampus in Mataró, among others.
The creation of an audiovisual hub is one of the objectives for the Next Generation funds in Catalonia. What's the current status of this project?
We've presented an audiovisual hub in the Next Generation call through ACCIO-Catalonia Trade & Investment and the Department of Culture of the Catalan Government. The project is called Catalonia Media City and it is the priority of this government to take it forward with a budget of 300 million euros.
We want to create an audiovisual hub in Catalonia in the Parc de les Tres Xemeneies, in Barcelona, to cover the shortcomings in the sector which is growing at a rate of 5% worldwide and 5.8% nationally, according to the latest data of PwC. Catalonia needs these infrastructures to keep the industry powerful.
What projects does the Audiovisual cluster have for 2022?
We've got a program of 35 activities this year, ranging from seminars, workshops and networking sessions.
For example, INPUT is an international meeting for all the world's public televisions. Every year, since 1978, it's held in a different city and this year it'll be in Barcelona this coming May, organized by the cluster.
At the start of the year, we organized Zoom Brands, a communication and advertising event to promote the area of events and brands. The ISA director, Mike Blackman, came as our special guest.
We're also organizing for this November the Audiovisual Talent Week, where all the universities compete together during two intensive days of pitches in categories such as fiction, non-fiction, TV programs, videogames and audiovisual technology.
Financing & Incentives

As a Catalan government agency, we provide expert support and financial aid for your business in Barcelona-Catalonia. We will assist you during the application process and negotiation.

See more

Access to talent

Access to all sources of available talent for international companies in Barcelona-Catalonia.

See more

Business Location Service

Get all the information about industrial buildings, land, business centers, or office spaces in Barcelona-Catalonia.

See more
More news

and

success stories

.