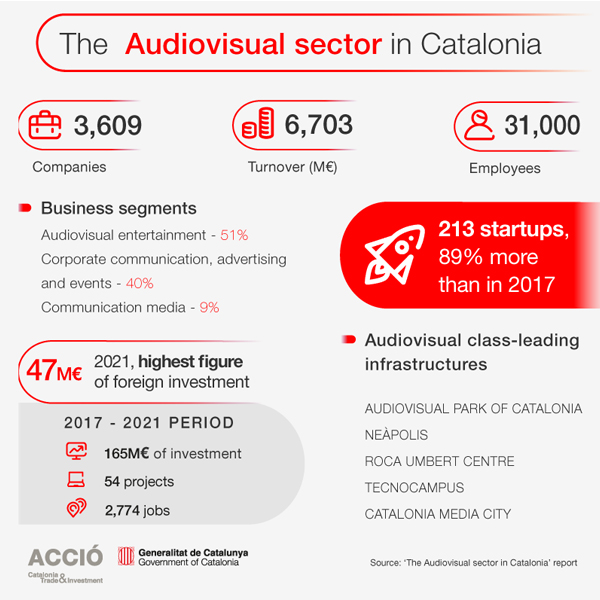 The audiovisual sector in Barcelona-Catalonia has a turnover of 6.7 billion euros and employs 31,000 jobs
13 May 2022
Catalonia's audiovisual sector is made up of 3,600 companies with a turnover of 6.7 billion euros and 31,000 employees.
These are the main conclusions of the study The audiovisual sector in Catalonia by Catalonia Trade & Investment released during the celebration of Integrated Systems Europe in Barcelona, ​​the most relevant event in the audiovisual sector in Europe.
According to the report, the 3,600 companies in the Catalan audiovisual sector are mainly engaged in audiovisual entertainment (such as film and series producers or video game developers), which accounts for 51% of the sector's turnover and 34% of the companies.
The second business segment is corporate communication, advertising and events (which handles all digital and branded content marketing services as well as real-time event organization), with 40% of revenue and 60% of the companies.
Finally, the media business segment stands out, accounting for 9% of the turnover and representing 6% of the total number of companies.
Foreign investment in the audiovisual sector
In the field of foreign investment, the report points out that Catalonia has attracted almost 50 million euros of foreign investment in 2021 in the audiovisual sector, a figure that represents a year-on-year increase of 37% and the highest ever recorded.
If analyzed in longer periods to avoid the volatile effect of this statistic, the volume of foreign investment in the last five years (2017-2021) has reached almost 170 million euros - 167% more than the previous five years - and the creation of 2,700 jobs.
The report also highlights the presence of 213 Catalan startups in the audiovisual sector (more than 11% of the total of 1,900 startups in Barcelona-Catalonia), a figure that is almost double than the one from five years ago.
Download the report The Audiovisual sector in Catalonia
More news

and

success stories

.