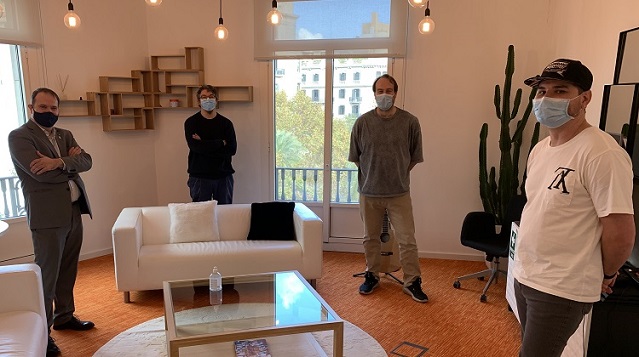 South Korean company Smilegate opens its first international studio in Barcelona to design triple-A video games
25 Nov 2020
South Korean company Smilegate has opened its first international video game studio in Barcelona, where it has created 35 jobs, so far. From Barcelona, as European headquarters, the company begins its international expansion into the western market and will focus on the development of triple-A video games, that's the highest category for game consoles. This category refers to those video games (for gaming consoles and computers) that have a higher graphic quality, design and script, that usually have continuity through sagas and are often adapted in the format of movies or series.
To set up in Catalonia, the company has had the support of Catalonia Trade & Investment, the Government's agency for business competitiveness. In fact, the CEO of Catalonia Trade & Investment, Joan Romero, held a working meeting with the Korean company this Wednesday. During the meeting, Romero emphasized that the fact that "a large company such as Smilegate chooses Barcelona to establish itself highlights the city's assets as an internationally recognized digital hub and as a pole of talent for leading sectors such as of video games".
Specializing in the development and management of video games from their creation until the sales strategy, the company is the creator of CROSSFIRE, one of the most popular video games in the world with approximately a billion players and sales exceeding 10.5 billion dollars (approximately 8.9 billion euros). They have also developed other renowned video games such as blockbuster MMORP, Lost Ark, and mobile game Epic Seven. The company is currently operating 'WCG (World Cyber Games)', a global eSports festival enjoyed by gamers around the world as well.
According to Yongil Kim, the CEO of Smilegate Barcelona, Smilegate's goal in Barcelona is to be "a successful Triple-A Open World Video Game Studio". The South Korean company representative believes "the novelty of having a video game studio that wants to develop an Open World game of triple-A quality, means moving forward in establishing Catalonia as a technological hub within the videogames sector as currently the sector focuses on games for mobile devices or independent products." "Smilegate group, a leader in Asia, in Catalonia will have a direct impact on the Catalan economy and a growth in the Spanish gaming industry", Kim said.
In Barcelona, Smilegate has a team of developers from all over the world specializing in fields such as technology, design and art applied to video games. The company plans to increase its headcount in 2021 and move to a bigger office space. "It also means a reactivation at the talent level, since it implies that all professionals trained in Barcelona will have the opportunity to work in the industry within our studio without the need for travel internationally to countries where triple-A video games are being developed", Kim said. "Barcelona's vibrant and lively youth culture set to the backdrop of gorgeous old world history is a powerful and inspiring combination", he explained. According to him, "the city welcomes creativity and supports technology industries such as ours with a strong infrastructure and high quality of life".
Founded in 2002 and headquartered in South Korea, Smilegate has a global workforce of over 2,500 employees. The company is currently in the process of expanding with offices in the United States, China, Southeast Asia and Europe.
The company is supported by Catalonia Trade & Investment, which is dedicated to foreign investment attraction. The agency operates from Barcelona alongside a network of 40 foreign trade and investment offices around the world, aiming to attract new foreign investment projects to Catalonia.
More news

and

success stories

.