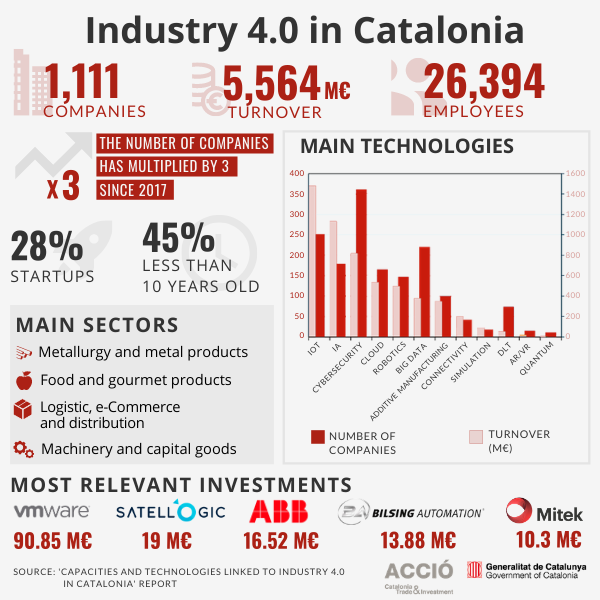 Report: Industry 4.0 in Catalonia, a solid growth sector
14 Apr 2021
According to the report Capacities and technologies linked to Industry 4.0 in Catalonia, Catalonia has firmly committed itself to the sector with some 1,100 companies working in this field – a number that has tripled since 2017 – and employing a total workforce of 26,394 people.
With a combined turnover of €5,564 million, 42.6% of these companies have a turnover of more than one million euros and 15.6% have a turnover of more than ten million euros.
The dynamism of Industry 4.0 here is also seen in the fact that 45.5% of the companies are less than ten years old, 28.5% of companies are startups and 31.3% of companies are exporting.
Industry 4.0 technologies in Catalonia
Most companies work in the following areas: cybersecurity, IoT, AI, Big Data, robotics, cloud, and additive manufacturing. While the Cybersecurity sub-sector alone is made up of 361 companies, the companies with the highest turnover are those focused on Artificial Intelligence and the Internet of Things.
On the other hand, the sectors that most demand Industry 4.0 solutions in Catalonia today are the metallurgy and metal products sector, followed by food and gourmet products and the logistics, e-commerce, and distribution sectors.
Industry 4.0 support ecosystem in Catalonia
Support for the sector also comes from different local agents: different Catalan clusters such as the Health Tech cluster and Packaging cluster; local professional and business associations such as the Catalan industrial and telecommunications engineering associations, the General Council of Chambers of Commerce of Catalonia and AMEC, the association of industrialised companies; and finally local trade fairs and events such as the Mobile World Congress and Smart City Expo World Congress.
Foreign direct investment in Catalonia
In the period 2018-2019, the USA was main investing country into the sector followed by Germany, Argentina, and Switzerland.
Noteworthy recent investments are the new Barcelona centre set up by the American company VMWARE, specialising in the development of corporate software and cloud infrastructure, and that has created up to 250 jobs in Barcelona due to its growth strategy to promote technology talent in Europe, the Middle East and Africa (EMEA).
The Argentinean firm Satellogic, a leader in high-resolution microsatellite imaging technology, also recently opened its headquarters in Barcelona, choosing the Catalan capital mainly because of the excellent supply of talent in computer science and artificial intelligence.
And finally, the Swedish-Swiss company ABB, which focuses mainly on industrial automation, opened its first customer innovation centre in Europe dedicated to robotics in Sant Quirze de Vallès, aimed at developing digital and automation technologies for companies.
Download the report Capacities and technologies linked to Industry 4.0 in Catalonia here.
More news

and

success stories

.