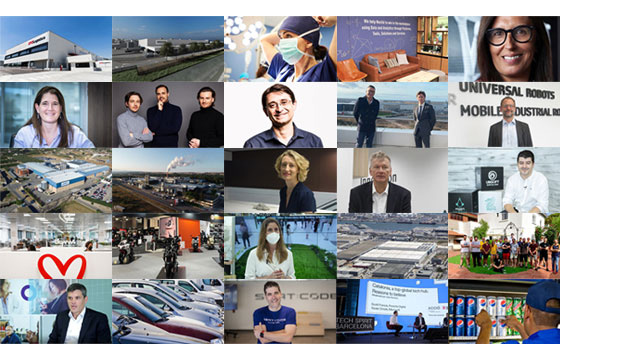 As we approach the end of the year, we'd like to review and look back on what 2021 has meant to Barcelona-Catalonia in terms of foreign investment.
Barcelona-Catalonia has flourished as a tech hub for global companies, welcoming new projects such as those from PepsiCo, Microsoft, Porsche Digital, or Festo.
Not in vain has Barcelona been recognised as the most technological city in Southern Europe (Business Insider), and the 5th most attractive city among digital experts to move to (Boston Consulting Group).
Barcelona-Catalonia, furthermore, holds its position as an industrial powerhouse in Europe; a fact that means that foreign companies can always find top-level suppliers in Catalonia throughout their entire value chain.
Therefore, many multinational companies have chosen Catalonia to establish their operations for Southern Europe, such as Amazon, Maersk, and Decathlon.
We'd like to invite you to have a look at the latest investments announced in 2021 and discover a variety of experiences from leading companies in Barcelona-Catalonia.
For 2022, our efforts will be focused on strengthening our key assets to keep attracting new investments: talent, innovation, industry, and competitiveness.
Catalonia Trade & Investment wishes you a safe and happy holiday season!
TELADOC HEALTH Discover why Teladoc Health located its international headquarters in Barcelona VERISTAT "Barcelona can play in the Champions League of health tech"
PORSCHE DIGITAL Catalonia, a global tech hub: the experiences of Porsche Digital and Microsoft NESTLÉ Nestlé creates over 100 jobs at its Global IT Hub in Barcelona since the start of the pandemic UNIVERSAL ROBOTS "Barcelona has an above average level of talent and skilled workers"

PARADOX INTERACTIVE Swedish company Paradox Interactive opens videogame studio in Sitges, where it plans to hire up to 30 people this year MICROSOFT "Barcelona is a great hub of innovation and talent attraction"
HUAWEI Mobile World Congress 2021: Huawei's commitment to Barcelona-Catalonia SEAT: CODE "Barcelona holds all the cards to be a major player in the mobility of the future" AAM Discover why AAM chose Barcelona-Catalonia to expand its business in Europe KEEWAY MOTOR "Catalonia makes logistics operations with China easy" FESTO "Catalonia is one of the industrial centers in Europe" TECHNICA ENGINEERING The German automotive firm Technica Engineering creates 35 jobs in its Sant Cugat R&D centre MAERSK Global logistics company Maersk chooses Barcelona to open its first platform in Southern Europe DECATHLON Decathlon invests 53.4 million Euros in a new logistics center in Barcelona JABIL US company Jabil to build a new paper bottle plant in Catalonia UBISOFT Ubisoft, developing AAA video games from Barcelona
KRONOSPAN Kronospan to invest 230 million euros and create over 180 jobs at a new plant in Catalonia DANONE "We invested 12M€ to become the first factory in Europe that produces both dairy and plant-based yogurts" THE KNOT WORLDWIDE The Knot Worldwide to set up its technology hub in Barcelona
LIGHTPOINT MEDICAL The British company Lightpoint Medical establishes its first southern European headquarters in Catalonia PEPSICO PepsiCo to invest in a new digital hub in Barcelona that will serve as a Center of Excellence AMAZON Amazon creates 270 jobs in Catalonia with the establishment of three new logistic sites in the Barcelona area BITPANDA Fintech unicorn Bitpanda opens a new tech hub in Barcelona
XPO LOGISTICS XPO Logistics opens new transport and distribution hub in Barcelona CRODA Croda opens its largest European distribution hub in Catalonia
More news

and

success stories

.