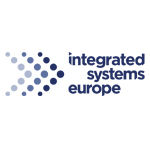 The world's leading audiovisual and systems integration exhibition, Integrated Systems Europe (ISE), will arrive in Barcelona on 10-13 May 2022.
ISE is the showcase for cutting edge visual and aural products and solutions where manufacturers and service suppliers will present the latest pro-AV innovations developed for the commercial and residential market sectors.
Over 800 exhibitors, set over six Technology Zones across five halls of the Gran Via will showcase the latest in multipurpose AV.
Some of the leading brands exhibiting at ISE 2022 include Alfalite, Barco, Christie, Google, KNX, LANG, Microsoft, Panasonic, Samsung, Shure, Sony and Zoom.
By 2023, ISE plans to contribute between €250 and 300M to the Barcelona economy, growing to €500M by 2026.
Integrated Systems Events' Managing Director, Mike Blackman, said: "I'm delighted, and honoured, to be standing here today five years since Integrated Systems Events decided to relocate the Integrated Systems Europe show to Barcelona".
Blackman added: "After 16 years in Amsterdam, it was time for us to find a new home for our show, and in just two weeks' time, ISE 2022 will open its doors at the Gran Vía, Fira de Barcelona".
Local participation from Barcelona-Catalonia
The Catalan Government will have a physical booth at ISE (the Catalan Pavilion located at 4A150) with the aim of promoting the audiovisual sector in Barcelona-Catalonia. Please download the catalogue with the Catalan Exhibitors at ISE 2022.
The Catalan Pavilion will host 30 companies dedicated to the development of hardware, software and services in the audio and video sector in areas such as virtual reality, content management platforms, 3D mapping, equipment management and audiovisual production, among others.
The list of the 30 companies is as follows:
Open Innovation Challenge
Catalonia Trade & Investment has also organized the Open Innovation Challenge. This consists of physical and virtual meetings between 7 corporates (Sony, Filmin, Mediapro, Catalan Corporation of Audiovisual Media, Cellnex, Vidneo and Arthur Holm) and companies and startups.
The corporates have presented 15 challenges that they need to solve, and they will have pre-arranged meetings with those companies with suitable proposals.
Companies can apply to the challenges before May 4th in order to obtain a meeting with a corporation. Participation is free of charge.
A show made for growing
The AV industry will grow to $329bn by 2026, with average growth rates of 7.2% CAGR according to AVIXA IOTA Report. Across Spain, the revenue from the AV sector will hit €3bn in 2022 and is expected to rise 6.2% by 2026.
From the organizers at ISE, it is expected that the show exhibitors will grow from 800 in 2022 to 1,775 by 2026. Likewise, ISE plans to increase the net floor space from 42,000sqm to more than 77,000sqm by 2026.
The audiovisual sector in Barcelona-Catalonia
There are currently more than 1,100 companies in the audiovisual sector in Catalonia, with a total turnover of 6.7 billion euros and a workforce of around 26,000 people, according to the study The Catalan Audiovisual Sector.
According to Eduard Gil, manager of the Catalan Audiovisual Cluster, "Catalonia's talent is one of our audiovisual sector's main assets". Gil explains in this interview that the Catalan audiovisual cluster is one of the strongest in all of Europe, with 11 universities working for the audiovisual industry, out of which the most promising talent is coming.
Linking up with the IOT Solutions World Congress
Also taking place on 10-12 May in Hall 4 of the Gran Via in Barcelona is IOT Solutions World Congress (IOTSWC), the largest international event devoted to industry transformation through disruptive technologies.
Together ISE 2022 and IOTSWC will present an unparalleled ecosystem for digital transformation to professionals from many industries. The linking up of the two events will provide a unique opportunity to explore the crossroads between two different sets of disruptive technologies.
Interested in investing in Barcelona - Catalonia?
Catalonia Trade & Investment's team of consultants will be present ISE 2022. Please contact us if you are interested in knowing more about the opportunities to invest in Barcelona-Catalonia.