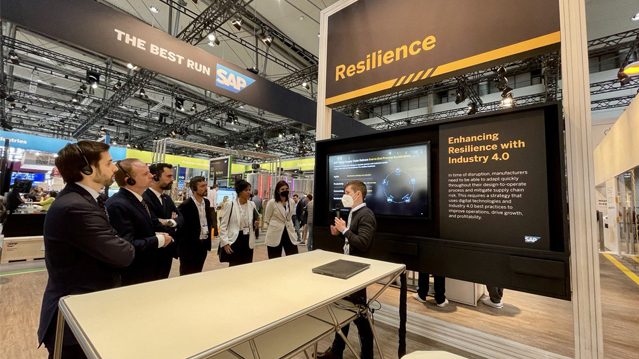 Internet of Things, Big Data and Artificial Intelligence: the tech most adopted by Catalan companies in 2021
03 Jun 2022
This was announced by Minister Torrent from the Hannover Messe, the world's largest industry 4.0 event taking place this week in Germany
Torrent announced that 34% of Catalan companies will invest in digital transformation in 2022, nine percentage points over last year
These are some of the conclusions of the Innovation Barometer in Catalonia prepared by ACCIO - Catalonia Trade & Investment which has analyzed these indicators for the first time
The Minister of Business and Labor traveled to Hannover to strengthen Catalonia's position as one of the southern European regions with the most industry 4.0 assets and to meet with foreign multinationals from this sector
The Minister of Business and Labour, Roger Torrent, announced this week that 34% of Catalan companies plan to invest in digital transformation in 2022, nine percentage points more than in 2021. Likewise, the most incorporated technologies in 2021 were the Internet of Things (IoT), Big Data and Artificial Intelligence.
These are some of the main conclusions of the Innovation Barometer in Catalonia prepared by ACCIO - Catalonia Trade & Investment, the agency for business competitiveness belonging to the Ministry of Business and Labour and that has analyzed these indicators for the first time. This was done via a survey using a globally representative sample of 1,200 Catalan companies with more than nine workers.
According to Torrent, "it's very important for more and more companies to incorporate technologies linked to industry 4.0 as it's the only way to become competitive in today's context". For the Minister, the growing interest in these technologies "is proof that Catalonia will continue to be a benchmark hub in Europe, fully adapted to the demands of sustainable and digitized industrial activity".
From the cradle of industry 4.0
Torrent revealed these conclusions from the Hannover Messe, the world's largest industry 4.0 taking place in Germany. The fair receives more than 200,000 visitors and features 5,500 industrial exhibitors from all over the world, as well as the participation of authorities such as the German Chancellor, Olaf Scholz, or Portugal's Prime Minister, António Costa.
During the event and accompanied by the Secretary of Business and Competitiveness, Albert Castellanos, the Minister of Business and Labour met with the German companies SIEMENS, SAP and Festo.
Likewise, the delegation held a working meeting with GEDIA, a multinational automotive components manufacturer established in 1998 in Catalonia where it currently employs 380 workers.
The participation of the Catalan institutional delegation in Hannover Messe also aims to strengthen Catalonia's position as one of southern Europe's regions with the most assets in the industry 4.0 field, with its solid industrial base and a growing ICT sector.
More investment in green transformation
As well as the field of digital transformation, the Innovation Barometer has also – for the first time – analyzed Catalan company investment in sustainable transformation. Consequently, it informs that 43% of Catalan companies plan to invest in green transformation in 2022, 10 percentage points over last year (32%).
According to the report, 32% of Catalan companies implemented actions related to green transformation in 2021. Firstly, through recuperating resources and the use of recycled materials, as well as with the supply of sustainably certified materials and with investments in the product cycle, business model or production process. And also through extending product lifespan, the acquisition of R&D in the field of sustainability or eco-design, obtaining environmental certifications, and turning to the sale of waste as a new business model.
Innovation means more turnover and jobs
Besides analyzing the indicators linked to sustainability and digitalization, the Innovation Barometer performed by ACCIO - Catalonia Trade & Investment also concludes that 51% of Catalan companies undertook innovative activity in 2021 (1 in 4 did so in collaboration with technology centers, research centers or universities). According to the report, Catalan companies innovated mainly in new products, in ICT systems, in developing business models and in marketing and sales.
In fact, most of these companies foresee an increase in turnover and efficiency in 2022 due to these innovation processes. Specifically, 58% expect to increase turnover, 54% in efficiency, 50% in productivity and 16% to create new jobs. Furthermore, the report shows that companies performing innovation tend to export far more than those that do not (57% of innovative companies are exporters, a far higher percentage than the 22% of non-innovative companies).
Download the Innovation Barometer in Catalonia (in Catalan).
More news

and

success stories

.