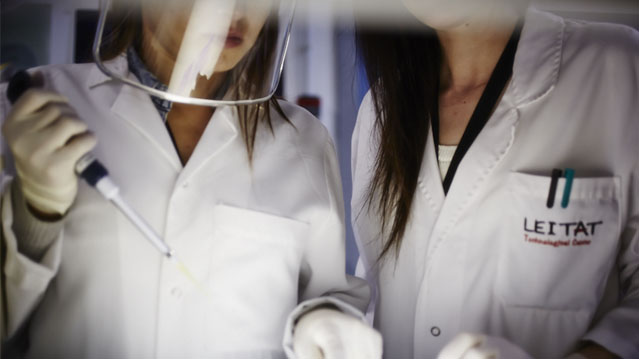 Eurecat and Leitat: R&D made in Catalonia
27 May 2020
Catalonia received the highest number of R&D investment projects in 2019 in all Continental Europe, according to fDi Markets. Eurecat and Leitat technology centres are key players in Catalonia's R&D environment.
Health and life sciences have been at the centre of their research since the beginning of the pandemic, when they started to work tirelessly in innovative projects aimed at helping to mitigate the consequences of Covid-19. "Technological innovation has been strategic in order to overcome this unprecedented challenge", says Xavier Torra, Eurecat's president.
Catalonia's two principal technology centres have put all their expertise to work in key projects such as the manufacture of respirators, the production of diagnostic kits and the detection of possible treatments against the virus: a research and innovation push using cutting-edge technologies, such as 3D printing, Big Data or Artificial Intelligence.
How will the Coronavirus impact the health industry in Catalonia?
"The health sector has shown an excellent capacity to adapt itself, implementing new protocols as well as new methodologies", says Joan Parra, executive vice-president and CEO of Leitat. For Leitat, "this exceptional situation, and specially the relevance of the new ventilator we have designed, has meant an increase in a lot of new international contacts asking for further collaborations", says Parra.
"The new healthcare scenario will be marked by a rapid digitalisation of health, with a significant increase in telemedicine," says Xavier Torra.
There is little doubt that the digitalization of health and telemedicine will make an exponential leap in terms of its large-scale implementation, because the technology is mature, and the Covid-19 crisis has suddenly revealed the urgent need for it.
"The barriers that have so far slowed down the implementation of the digitalisation in health will be overcome by the impact of the pandemic and will be adapted to our health systems in the 21st century." To achieve this, "decisions about access to health data and issues related to the privacy of this data will have to be accelerated," Torra predicts.
SUCCESS CASE: Artificial Intelligence to predict epidemic outbursts in real time, by Eurecat
The Eurecat technology centre has developed a solution for predicting epidemic outbreaks in real time through the analysis of wastewater, based on Artificial Intelligence. "The importance of this innovation is that it offers the possibility of getting information to stay ahead of events and carry out better resources management", says Xavier Torra, Eurecat's president.
This project was the winner of one of the categories of the #EUvsVirus hackathon, organized by the European Innovation Council, which competed amongst over 27,000 participants from more than 50 countries.
Another example of key projects is the validation of mask disinfection systems for Covid-19, using infrared and ultraviolet radiation technology, with a high potential for application in many sectors and activities.
Leitat has also developed the Q-VENT respirator, together with Barcelona's Sant Pau Hospital, Nissan and QEV Technologies, using a design aimed at helping supply countries with a shortage of such equipment around the world.
SUCCESS CASE: New ventilator and 3D-printed splitters for patients at ICUs, by Leitat
The technology centre Leitat has designed a campaign ventilator that is the result of the alliance with American company HP and the Consorci de la Zona Franca in Barcelona. It is a compact ventilator made out of 3D printed parts and designed to be industrially scalable, so that up to 50 units daily can be achieved at a cost 10 times lower than a conventional ventilator.
"The ventilator is now present and running in more than 20 hospitals", says Joan Parra. "We continuously receive inquiries about our solution and how to adapt it", he adds.
Leitat has also developed 3D-printed splitters that allow the connection of more than one patient to a single ventilator. "Thanks to this 3D printed piece, assisted breathing equipment can support two or more people simultaneously and with the same ventilatory requirements", Parra explains.
Leitat is working on other projects such as the preparation of phage display libraries, the generation of monoclonal antibodies for diagnosis or therapy, and new sanitation technologies for the elimination of the Covid-19 virus in the air.
The numbers behind Eurecat and Leitat
Eurecat, the Catalan Technological Centre, combines the experience of more than 650 professionals who generate an annual turnover of 50 million euros and give service to over 1,600 companies. It participates in 160 major national and international consortium R&D projects of high strategic value and has 88 patents and 7 spin-offs to its name.
For its part, Leitat has a team of more than 340 people. The technology center participates in 96 European projects, as well as 175 national projects that involve a total of 58 different countries. In 2019, Leitat generated over 27 million euros in revenue and worked with 1,500 client companies.
More news

and

success stories

.