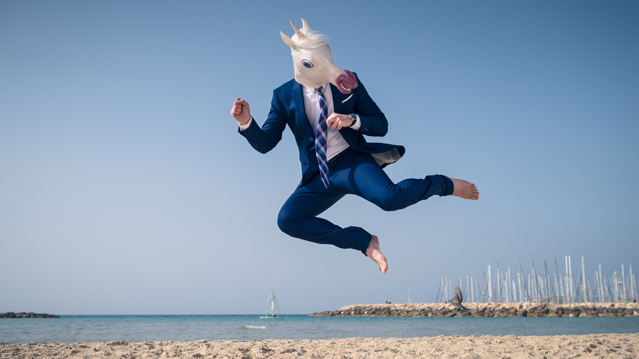 Barcelona, unicorn territory
28 Jan 2022
Unicorns are fantastic creatures that seem to enjoy Barcelona's great Mediterranean weather. The Catalan capital ranks 4th in Europe in financing rounds for startups, and in recent years this active financing activity has led to several local companies getting unicorn status.
The very last one to reach this milestone has been TravelPerk, a startup that operates in the travel business sector. A few days ago, the company announced a new investment of $115M that increased the company's valuation to over $1B.
"When we founded TravelPerk, we wanted a home city that reflected our company's culture and identity. Barcelona is exactly that: it's vibrant, dynamic and filled with ambition and opportunity", says Avi Meir, TravelPerk's cofounder.
Barcelona, home to 6 unicorns
Barcelona is a highly relevant European hub for tech innovation, and before TravelPerk several other companies based there saw their business grow to become unicorns; i.e., companies valued at more than $1B.
Among them, we can find Wallbox, a Barcelona-based startup in the mobility sector which has shown great growth since its foundation in 2015. Wallbox entered the New York Stock Exchange in October 2021 and now is about to advertise its electric car chargers during the Super Bowl commercials in February.
Eduard Castañeda, CPO and co-founder at Wallbox, had said then: "We may be an exception now, but we believe we will not be in the future given Catalonia's startup and scale-up scene." And his statement has been proven to be right.
Other unicorns in the Catalan ecosystem are Letgo, Glovo, Edreams, and Adevinta, with company valuations ranging from €1,062 to €11,768 million.
A hub for future unicorns in Europe
Catalan startups raised 1,479 million euros in investment in 2021, 246% more than in 2020, and the highest figure on record.
Barcelona is a highly innovative city, open to the world, and that has positioned itself as the 7th European hub with the highest number of future unicorns. Over the last five years (2017-2021), companies in Barcelona-Catalonia raised €4,178 million.
According to Natalia Mas, CEO of ACCIO-Catalonia Tarde & Investment, "these figures show that Barcelona is an ideal place not only to create startups but also to make them grow because it has become a hub that attracts foreign investors and talent, especially in the digital field".
European unicorns established in Barcelona-Catalonia
Over the month of January, other European unicorns that have established their headquarters in Barcelona for Southern Europe have raised significant investment amounts.
This is the case of French neobank Qonto, which closed a round of €486 million a few days ago. Qonto opened its Spanish headquarters in Barcelona in 2021 and now plans to invest over 100 million in the local market.
"Barcelona is a privileged geographical point from which to keep growing in Spain for its connectivity, the availability of talent, and a quality of life that it will also allow us to 'import' top-level professionals from other markets", said Carles Marcos, Country Manager Spain for Qonto.
Another example of a successful startup established in Barcelona is Payfit, also from France. The company just raised €250 million in a financing round. Yoann Artus, Country Manager Spain at Payfit, says: "There is a great ecosystem of tech profiles in Barcelona, and having access to them was essential for us to locate here".
Checkout.com and Backmarket are still more examples of foreign companies that have chosen to locate in Barcelona and are growing from here. The UK unicorn Checkout.com just raised the huge sum of €870 million.
And Backmarket, a French company specializing in refurbished electronics, closed this month a funding round of €450 million. The firm has just opened offices in Barcelona, where it plans to hire 50 people.
Barcelona-Catalonia Startup Hub
To provide more information about the Barcelona-Catalonia startup scene, Catalonia Trade & Investment has created the Barcelona & Catalonia Startup Hub, a comprehensive directory that identifies every startup with information about their activity, funding stage, and business model.
The directory includes over 1,700 startups and allows for searches by sector, technology, region, business model, or company size.
Interested in knowing more?
We are the one-stop shop for international companies looking to establish or expand their operations in Catalonia. Contact us and we will help you grow.
More news

and

success stories

.