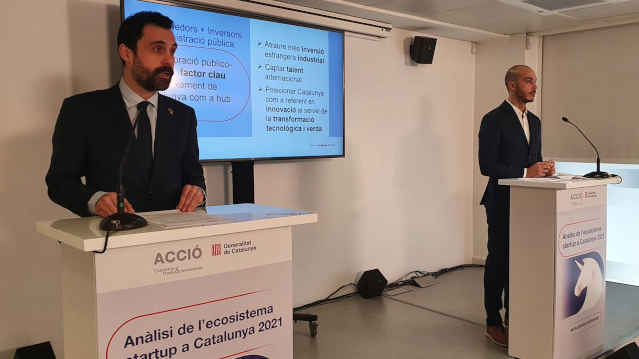 A Catalan Government study reveals 1,900 startups in Catalonia in 2021, 11% more than the previous year
07 Feb 2022
According to an ACCIÓ- Catalonia Trade & Investment report presented by minister Roger Torrent, startups generate employment for 19,300 people
Virtually half of Catalan startups work with deep tech and, in terms of sectors, largely in health, business services, and ICT
The report states that 1 in every 4 workers in these startups are from abroad and 73% of the startups work for international clients
There are currently 1,900 startups in Catalonia (2021), 11.4% more than in 2020 and 26.4% more than in 2019, before the Covid-19 pandemic. This is one of the main conclusions of the Barcelona & Catalonia Startup Hub – 2021 Analysis done by ACCIÓ - Catalonia Trade & Investment – the agency for business competitiveness belonging to the Ministry of Business and Employment – presented this Monday in a press conference by the Minister of Business and Labour, Roger Torrent, and the Director General for Innovation and Entrepreneurship, Lluís Juncà.
According to the document, the Catalan startup ecosystem has grown steadily over recent years, with an increase of 75% since 2016, the first year of the series.
Minister Torrent said: "We are in a very good position, being established as the first hub for startups in southern Europe. This helps us to position Catalonia as a leading country in innovation to favor the technological and green transformation that the current world demands".
For Torrent, "this is the result of the combined efforts of many people over the last 20 years: entrepreneurs, investors, and public administration." "In other words, public-private partnerships are a key factor in the growth of Catalonia as a hub for startups," he said.
In this sense, Minister Torrent emphasized the Government's desire to continue intensifying public support for the increase in the number of deep-tech startups "in order to continue growing in quantity and quality", given that "emerging companies with a solid base are the previous step to future unicorns".
Generating employment
The report states that Catalan startups employ 19,300 people (2020 figures, the latest available), 10% more than in 2019. In other words, 1,800 new jobs were created in Catalan startups in 2020 despite the situation caused by the pandemic. This rise in jobs has meant that startups have gained momentum in recent years: in 2018, 85% of Catalan startups had less than 10 employees, a percentage that drops to 76% in 2020.
In this sense, the General Director of Innovation and Entrepreneurship, Lluís Juncà Pujol, emphasized that "the size of Catalan startups is increasing more and more, which makes them more robust and able to generate added value to be more scalable and have a global impact".
Startup turnover has also grown similarly. In 2018, 77% of Catalan startups had a turnover of fewer than 500,000 euros, while in 2020 this percentage shifted to 67%, meaning the number of higher revenue companies has increased. Despite the Covid-19 crisis, the global turnover of Catalan startups remained stable in 2020 with a volume of 1,710 million euros.
An ecosystem with a global outlook
The report presented this Monday points to the strong international connection of the Catalan startup ecosystem. First of all, 26% of the workers at Catalan startups are from abroad, 17% when we talk of founders. Most incoming professionals work in the areas of technology (22%), management and strategy (21%), sales (17%), marketing (16%), and operations (13%), and mainly come from Western Europe. (41%), North America (15%) and South America (15%).
Furthermore, for the first time, the study also includes the international presence of Catalan startups. Thus, it outlines that 73% of startups have international clients, which account for almost half of their turnover (47%).
Catalan startups are committed to tech
The report presented on Monday highlights how Catalan startups are committed to technology. Specifically, it points out that 47% of companies work with technologies related to deep tech; that is, those based on scientific discovery or innovation in engineering. In terms of technologies, what stands out is the use of artificial intelligence and big data (36% of the total), cloud and edge computing (14%), automation (10%), the Internet of Things and sensors (9%), connectivity (4%), augmented and virtual reality (4%), bioengineering (3%) and blockchain (3%). What's more, according to the report, 46% of Catalan startups have a patent or system to protect their knowledge, such as a utility model or trade secret.
As regards sectors, Catalan startups show a distinct inclination to health (16% of the total), business-software solutions (13%), and ICT (7%). Also noteworthy are the companies that work in the travel and leisure field (6%), fintech (5%), food tech (5%), and energy (5%).
For Juncà, the sectoral distribution reflects "the reality of Catalonia with a large number of research centers and large public and private institutions that make health the cornerstone for this leadership among startups"
A hub for creating and growing startups
The study also explains that 52% of new Catalan companies have founders with previous experience in creating startups, a percentage that was 45% in 2020. In fact, according to Startup Heatmap Europe, Barcelona, as a hub, is the founders' second preference in the EU for setting up startups due to its international connectivity, the strength of the entrepreneurial community, trust and perception felt by founders, and performance and long-term impact on job and business creation. Barcelona, therefore, stands right behind Berlin and ahead of cities such as Amsterdam, Munich, Lisbon, and Paris.
Historic investment record
Catalan startups raised 1,479 million euros in investment in 2021, according to the ACCIÓ report based on data from the international Dealroom database. This is 246% more than the 2020 investment volume and is the highest figure in the historical series. A total of 207 rounds of investment by Catalan startups was closed in 2021. This means Barcelona ranks as the 4th city in the European Union in terms of the most rounds of funding closed last year, only behind Paris, Berlin, and Amsterdam and ahead of Stockholm or Munich.
Regarding the 2021 investment figure of 1,479 million euros raised by startups, Barcelona here ranks 6th in the European Union ranking. 51% of this amount comes from rounds of over 100 million dollars (or 88 million euros), a figure that demonstrates the maturity of this type of project in the Catalan startup ecosystem. Furthermore, the volume of the other rounds in the lower sections (between 0 and 100 million dollars or 88 million euros) came to 724 million euros, which is also the highest figure in the historical series for accumulated investments of these amounts.
The Catalan startup directory
The study is based on data from the Barcelona & Catalonia Startup Hub digital platform, a directory created by ACCIÓ in 2016 that lists startups that are a maximum of 10 years old, tech-based, with scalable, duplicable, and applicable business models in global environments, and fast-growing in nature.
Download the report Barcelona & Catalonia Startup Hub – 2021 Analysis
More news

and

success stories

.