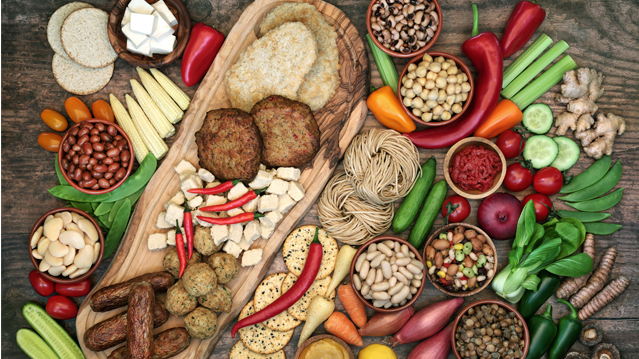 4 reasons why Catalonia is the next hub for the alternative protein in Europe
29 Mar 2022
Food industries are the No.1 sector of Catalonia's economy. Currently, it is shifting towards the new plant-based trends to become a hub for the alternative protein market in Southern Europe.
Population increases and global food demands have highlighted the need to find alternative sources of meat protein. By 2040 it is estimated that 60 percent of meat will no longer come from animals.
Catalonia-based companies like Heura Foods, Flax & Kale, Zyrcular Foods, or Nova Meat are all benchmarks in the European food sector and coming up with innovative, sustainable and healthy solutions based on alternative proteins.
With a gastronomy famous the world over, Catalonia has all it needs to make it unique as the go-to location for new businesses in alternative protein.
The Alimentaria Trade Show in Barcelona, moreover, which is taking place from April 4 to 7, will showcase the latest innovations in the market.
1. A strong agri-food sector, the leading industry in Catalonia
The food industries generate a turnover of €38,205M in Barcelona-Catalonia, which is equivalent to 16.28% of Catalonia's GDP and directly employs 164,372 people.
Most leading food companies in the world, such as Nestlé, Danone, Unilever, Kellogg's, Haribo and Griffith Foods, have set up productive centers, R&D departments and laboratories, and logistics activities in Catalonia.
Major brands are adapting to consumers who are reducing their meat consumption and getting more options to increase the sources of alternative protein on the market.
Barcelona-based Heura is one of the companies in the spotlight in Europe as regards plant-based alternatives. Bernat Añaños, co-founder, affirms that "The fact that we are surrounded by industry in Catalonia makes you learn very quickly. It makes you have access to resources and people who have a lot of experience in this sector. We're pretty sure that anywhere else in the world it would have been far harder".
Añaños also highlights Catalonia's connectivity and distribution capabilities to the rest of the world as one of the industry's strengths.
2. A unique gastronomy that sets the base for food innovation
Catalonia is world-famous for its unique gastronomy, based on the Mediterranean diet. Spain is a major producer of fruits and vegetables, which main ingredients for the plant-based industry.
The region attracts huge interest in gastronomy-related tourism, one of its assets being a group of Michelin-star restaurants. It is this talent in gastronomy that is being transferred into food technology and leading the way into alternative and more sustainable ways for meat-based products.
A good example of this is Flax & Kale, a renowned restaurant that started one of the biggest plant-based product brands in Spain. CEO Jordi Barri says "In Barcelona, there is a very international ecosystem. Brands created in Barcelona, ​​like ours, have international potential and vision. From the very beginning, we test our innovations not only with the local customer but also with the international one".
Flax & Kale offers a vegan meat product line, a selection of dairy-free cheeses, and bottled kombucha. The production is centralized in a modern R&D facility in Lleida (Catalonia). "There is a lot of talent in the Catalan agri-food sector: we have universities, innovation centers and R&D", adds Barri.
Heura also highlights the importance of gastronomy in Catalonia to lead the change: "I think we can change the food sector from Catalonia. In the beginning, they said, "You guys should have been born in Silicon Valley." And we answered: "Actually we had to have been born here because the protein transition has to be led from where we like to eat the most," says co-founder Bernat Añaños.
3. A powerful meat cluster that is embracing alternative protein
Globally, plant protein is already growing at an accelerated rate. Generation Z has increased plant consumption by 550% and consumes 60% more plant proteins than millennials.
In Catalonia, the meat sector is of great significance, employing 37,000 people and with a combined turnover of 12 billion euros. The Catalan Meat Cluster, Innovacc, recently approved changing its name to become "Innovacc - Meat and Alternative Protein Cluster".
With this evolution, the cluster has shown its commitment toward a broader scope of action as regards alternative proteins. Some of its meat product producing partners have already recently unveiled new product lines that include vegan products, hybrid vegetables or others with combinations of vegetable foods that remind us of the taste of meat. Furthermore, they are also making a significant technological commitment to laboratory meat.
In the view of the plant-based companies, this accumulation of initiatives is highly appreciated: "We are in contact with many meat companies. We are working towards creating a protein transition where everyone is involved. What's great about what's happening in Catalonia is that a good part of the traditional meat industry is also making the transition and driving change. That's the best news of all", says Bernat Añaños from Heura.
4. The Alternative Protein plan, a Next Generation priority
Catalonia has included the development of alternative protein within the package of 27 priority initiatives for the European Union Next Generation Funds.
The goal is to develop a hub for innovating and making products derived from plant protein. The project has several areas linked to different points in the value chain: from the promotion and conservation of plant genetic resources, specifically the varieties of native pulses; to the final product manufacture; as well as the production plants for concentrate and textured protein.
The initiative includes universities, research centers, business clusters and companies aiming to make Catalonia an international ecosystem of reference in alternative protein.
Companies in the sector applaud the initiative: "Barcelona and Catalonia must lead this protein transition. Our diet is highly based on sustainability and vegetables, on health and on taste. It's the perfect place to do it", says Bernat Añaños from Heura.
Do you want to know more?
Join us at Alimentaria Trade Show from April 4-7 in Barcelona or contact us for more information.
More news

and

success stories

.