Dutch multinational AkzoNobel invests €32 million to open a metal packaging factory in Catalonia
Business Investments · Chemistry & Sustainability
17 Nov 2023
The company will create 40 new job positions with the construction of the new production center in Vilafranca del Penedès (Barcelona), scheduled to commence operations by mid-2025.
The Dutch multinational AkzoNobel has announced a €32 million investment to build a new metal packaging factory in Vilafranca del Penedès (Barcelona). The new facility, set to be operational by mid-2025, will generate 40 new job opportunities. For this investment project in Catalonia, AkzoNobel has received support from the Government through ACCIÓ - Catalonia Trade & Investment.
Yesterday, the Minister for Business and Labour, Roger Torrent i Ramió, and the Production Director and Coordinator of AkzoNobel Iberia, Sergio Olivas, unveiled the cornerstone laying ceremony for the new premises.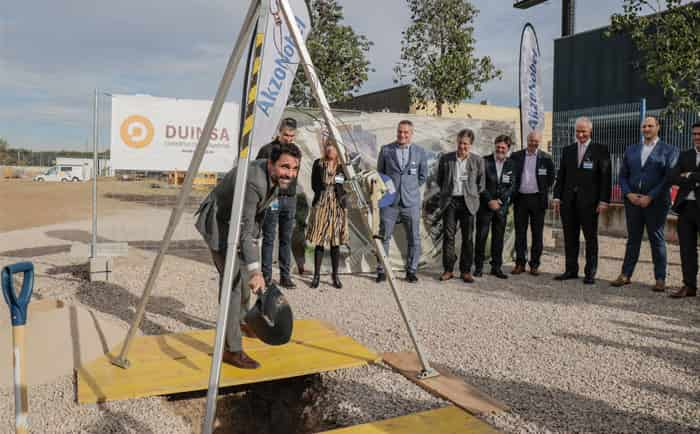 ​​​​​​​
During his address, Minister Torrent pointed out that "AkzoNobel's project in Vilafranca del Penedès, announced today, exemplifies Catalonia's willingness to showcase the path we want to take: towards a modern, highly technological, sustainable industry that respects the environment."
The Minister emphasized that "Catalonia has been and remains a predominantly industrial region," emphasizing that "we would like to see industry playing a more substantial role in the future economic framework of the country due to its capacity for generating high-quality jobs, stability, and social cohesion".
In this context, he highlighted the launch of the National Pact for Industry, with a budget of €3.5 billion until 2025, and ACCIÓ- Catalonia Trade & Investment 's support for attracting productive foreign investment projects to Catalonia.
The new factory, to be built alongside the multinational's current production plant in Vilafranca del Penedès, where 140 people are employed, will export its production to Europe, the Middle East, and Africa. The packaging produced at the new Catalan facility will be bisphenol-free and intended for beverage cans. The facility will be highly automated, reducing carbon footprint by up to 26% compared to current technology.
The Production Director and Coordinator of AkzoNobel Iberia also highlighted the significance of the project, emphasizing that "it marks a strategic step to strengthen our position as leaders in the paints and coatings market, while responding to the needs of the metal beverage packaging industry."
Furthermore, Olivas stressed, "The investment demonstrates our commitment to the future of the metal packaging industry and aligns completely with our belief that bisphenols are no longer necessary for creating safe coatings for the metal packaging industry."
AkzoNobel, with over 32,000 employees worldwide, is a multinational headquartered in the Netherlands, operating in more than 150 countries. In Catalonia, it employs 1,200 people at offices and production plants in Vilafranca del Penedès, El Prat de Llobregat, Vallirana, and the Zona Franca of Barcelona. In fact, the company recently invested €14 million to relocate automotive paint production to the Zona Franca, a project that led to the creation of 80 new job positions.
Setting up your company

Catalonia Trade & Investment assists foreign companies in starting a business in Barcelona-Catalonia.

See more

Post-investment service

We offer an aftercare service following your company's establishment and helping you expand your activity in Catalonia.

See more

Financing & Incentives

As a Catalan government agency, we provide expert support and financial aid for your business in Barcelona-Catalonia. We will assist you during the application process and negotiation.

See more
Related

news

and success stories

.