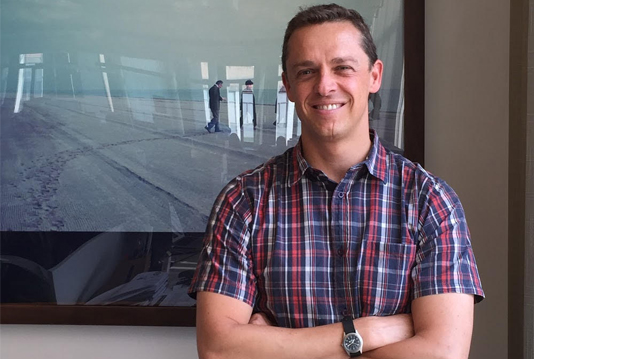 Ventura Barba, CEO of Advanced Music (Sónar): "In a few years, Sónar's digital content will compete with Netflix"
25 May 2021
Ventura Barba is the CEO of Advanced Music, the company behind the prestigious Sónar Festival. A pioneering electronic music festival, started in 1994, and which – in pre-pandemic times – had congregated more than 125,000 people in Barcelona.
The Sónar Festival formula has expanded internationally to a large number of cities, such as Mexico City, Hong Kong, Athens and Istanbul, among others. The pandemic, however, has forced the events sector to reinvent itself.
According to Barba, the sector's recovery will go hand in hand with the audiovisual sector and the convergence between these two industries. That is why he believes that attracting the Integrated Systems Europe (ISE) fair to Barcelona will serve to explore new digital formats, as well as to position Barcelona as a magnet for international projects.
Next week, the Integrated Systems Europe (ISE) fair, a global reference in the audiovisual sector, will be held in Barcelona for the first time. Why is it important for you, as a Catalan company, that the city has attracted this fair?
For us it's extremely important that the ISE has come to Barcelona. It is a great audiovisual fair in a very broad sense. We hope that over the years Barcelona will consolidate itself as a connection center and as a hub for the audiovisual sector.
We are a hybrid company that comes from music, but our proposals cross into other industries such as the audiovisual field. For us, what really matters is the relationship between audiovisual work and other parallel industries, because we act as links between them.
This hybridization that we can create between the audiovisual sector and video games, or music, or immersive spaces, is the role we want to play within the ISE.
What will you present at the fair? What are your goals?
We will take part in a conference where the future of the audiovisual industry will be discussed, as a "sector of sectors", and all the possibilities it has to talk to other sectors. We are ambassadors of a series of professionals - creators and companies of creativity - that we understand as precipitators of innovation and with this capacity to move the audiovisual field into other sectors.
What do you think ISE will bring to the city of Barcelona?
It's a great starting point because it will give visibility to an entire community. In Barcelona there is a very precise map of the traditional audiovisual sector, but we believe that there are also many agents who are working on the borders of this audiovisual sector. So, I think it's a good time to map out these other agents so they can work with each other.
The ISE will also promote Barcelona's ability to be a landing place for international projects. Today it is a very complex world and any project needs the involvement of many agents.
Therefore, turning Barcelona into a backbone of this process is very important, and holding the ISE here will make it a legacy and make things start to happen. We have already seen this with the Mobile World Congress. We must begin to uphold the role of Barcelona and Catalonia in the non-traditional audiovisual sector.
What's the audiovisual ecosystem of Barcelona-Catalonia like?
I think it has a lot of power; we have really powerful universities. It is also true that we are able to attract talent and Barcelona stands out globally as being a hub capable of combining people from abroad and people from here.
Are we good at positioning ourselves as creators and in terms of innovation?
Yes, but everything moves very fast and we must always be trying to stay as far in front as possible. We need to be sexy enough to attract outside talent and make it play with the talent here. It needs daily dedication.
This year we won't celebrate the Sónar as we know it, but you've scheduled a festival for the fall, right?
Due to the pandemic, we weren't able to celebrate the annual Sónar in June in Barcelona, but we will have a new music and Artificial Intelligence festival in October. This is the first time that this festival has landed in Barcelona and we are behind it.
The idea is to create alliances between science, technology and art. We want to explain the applications and challenges of AI in music creation. We work with a number of companies and creators that go beyond the exclusively music sector, and that thanks to AI, is expanding.
Are we talking about the music of the future?
Yes, we are talking about things that will mark the future of the creative industries. What we will do is explain the applications and challenges of AI combined with music creation. We will bring together technology scientists, on the one hand, and creators, on the other, to see how they can collaborate and create AI tools that help create music.
Will you also export this formula to other countries, as happened with Sónar?
Yes. Obviously, the pandemic put us into pause mode in all the cities we work with. The last Sónar was in February 2020 in Istanbul. I think it was the last festival held in the world. If all goes well, on October 2 we will go back to holding Sónars globally starting with Istanbul and then other venues will be added.
So, you already have a calendar starting this fall?
Yes. The situation is going back to normal, depending on the health recovery in the various regions, which is running at different speeds. In Barcelona, we have a date for June 2022, and we have already announced a handful of artists.
We are very happy with our public. We gave them the chance to get a ticket refund and very few people took us up on it. They have a lot of confidence in us.
How has the pandemic affected you?
It has been dramatic. Our industry means mass gathering of people, so we have been affected the most. For two whole years, two seasons, we've been unable to hold our biggest event. The result has been negative, but even the worst times can teach you something positive.
What have you learnt?
We've had more time to think about other areas of business beyond our day to day work. Previously, the time we had to think about strategy was very limited, because every two months we had a festival somewhere in the world and we were always in a production mindset.
Having this free time has given us more perspective, and we have focused more on Sónar + D and initiatives on AI, robotics or 5G. We have focused on everything that Sónar has to offer, not just the big music festival. The pandemic has given us a point of reflection and we have made a strategic plan for 2021-2024.
We have started working with hybrid and digital formats. We need to see if we are able to shift from being an events sector, whose main resource was ticket sales in face-to-face events, to being able to add a digital layer to this.
What is the future of the events sector?
I think there is a possibility that promoters of music events become audiovisual promoters. That's why it's great for us to be at ISE. There is a digital layer that overlaps with the face-to-face one. I think that in a few years, people will be able to enjoy Sónar without taking a plane from Australia and we will have digital content that will compete, for example, with a Netflix series.
It will be entertainment very similar to that of the audiovisual sector. And it it's great for us to be able to be at the ISE to find out how the audiovisual sector exploits its contents. We have a lot to learn. I think we are in a post-pandemic world where the consumer has changed their priorities and their way of consuming entertainment and education. Getting to know everything that ISE can bring us will be fantastic for us.
Why should businesspeople go to Sónar?
Any entrepreneur, in any sector, should take a walk through Sónar + D, Sónar by day, and Sónar by night. At Sónar + D, you can capture the creativity and innovation that comes from creators, whose application goes far beyond traditional creative industries.
Anything a creator is imagining or developing is beneficial in sectors as far away as the automotive, healthcare or tourism sectors. We have examples of how these "anti-disciplinary" teams are able to bring benefits and innovation. Walking and sniffing around innovation makes you reflect on your day to day and your priorities, no matter your sector.
Another reason is that the whole industry talks about millennials and generation Z: and we've got them here at Sónar. Sometimes executives have to turn their backs on Power Points and get to know their consumers and customers face to face. It is a good opportunity to meet the people we want to sell services or products to.
Related

news and success stories

.